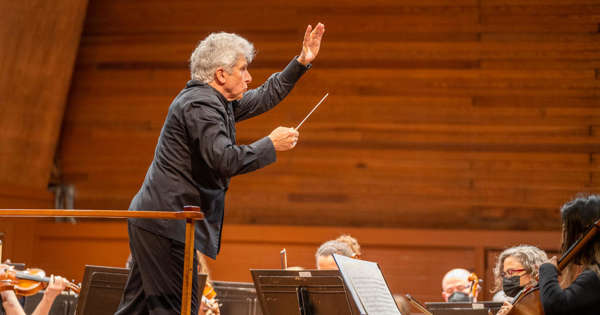 The Colorado Music Festival summer concert series returns this year with 20 performances of orchestral and chamber music, as well as educational performances.
The series is known for attracting world-renowned classical music composers, conductors and performers and will run from June 29 through Aug. 6 at the Chautauqua Auditorium, 900 Baseline Road in Boulder.
"A festival is a celebration of creativity, and we are so fortunate to bring to you some of the greatest performers alive today, including artist-in-residence Joshua Bell, along with the extraordinary talents of eight of today's brilliant composers," Peter Oundjian, music director, said in a statement. "It is such a thrill to hear today's voices alongside — and interacting with — groundbreaking voices from the past, giving us a unique window into centuries of the greatest in creativity."  





© Provided by CBS Denver
Colorado Music Festival Music Director Peter Oundjian Geremy Kornreich, Shiny Machines


Among the performers are violinist Joshua Bell – who will open the series on June 29 and 30 and close the series Aug. 3 and 6.
Five-time Grammy-winning composer John Corigliano will be Colorado Music Festival's 2023 composer-in-residence and will be honored on July 13.
Then on July 16, a new symphony will perform composer Adolphus Hailstork's "JFK: The Last Speech," which was inspired by former President John F. Kennedy's last public speech. The symphony itself will comprise members of the Amherst Class of 1964, who witnessed Kennedy deliver that speech on Oct. 26, 1963.





© Provided by CBS Denver
Adolphus Hailstork Colorado Music Festival


"My writing will reflect the autumn season, the solemnity of the moment, and the unique oratorical gifts of Kennedy the president, and the profound literary gifts of [Robert] Frost the poet," Hailstork said in a statement of the composition.
On Sunday, July 2, the festival will feature its family concert performance of "Peter and the Wolf + Goodnight Moon," conducted by Kalena Bovell. "Peter and the Wolf," is a symphonic fairytale that introduces young listeners to the instruments of the orchestra. There will be a number of other performances geared toward children.





© Provided by CBS Denver
Kalena Bovell Jamie Pratt


Tickets for people 18 and under, as well as students with current school identification, will pay just $10 per ticket. For more information, visit coloradomusicfestival.org/ticket-info.
For more information or to purchase tickets, visit ColoradoMusicFestival.org or call the Chautauqua box office at 303-440-7666. Tickets go on sale March 7.
CBS News Colorado is a sponsor of the Colorado Music Festival.