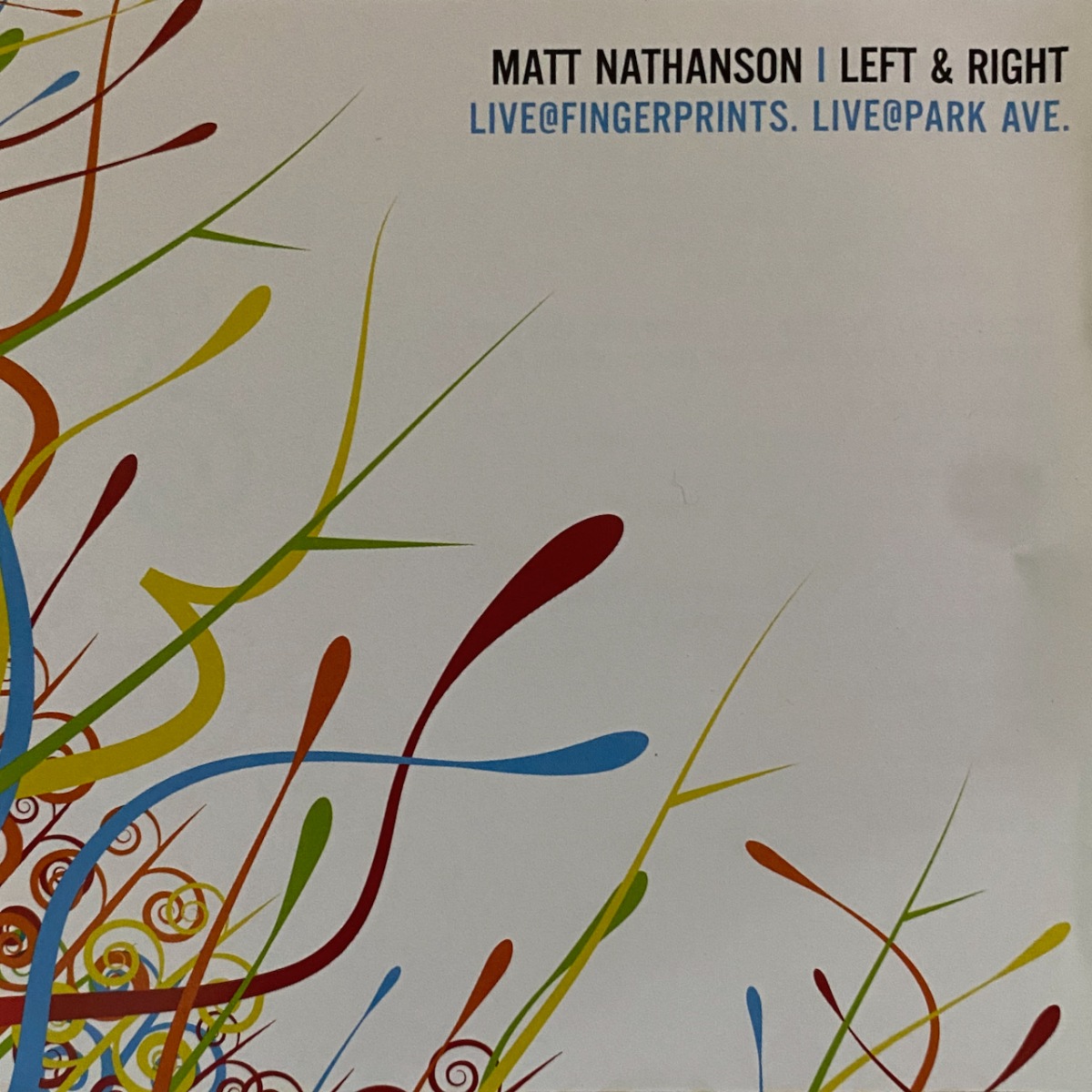 Matt Nathanson is one of my favorite artist and songwriters, if you haven't noticed by all the stuff I post on here about him. I am not officially doing a series on him, but merely posting all the cool Singles and E.P,'s I have of his. One of those is called 'Left & Right: Live at Fingerprints. Live at Park Ave' and it is an E.P. that was released back on August 5, 2008. It was recorded at two separate solo acoustic in store appearances along his 2007-2008 tour for his 'Some Mad Hope' album. The shows were the ones at Fingerprints in Long Beach, California (Tracks 1-3 & 7-8) and the other was at Park Ave CDs which I believe is in Orlando, Florida (Tracks 4-6).
What is great about this release is how intimate the shows are. How casual the whole thing is. It is basically Matt and a guitar and the crowd. His banter is pretty hilarious at times like when he curses and then he sees a little kid the crowd and apologizes to the little person, but still goes on with his totally inappropriate banter. He opens with an acoustic performance of the song "Car Crash" which is already an amazing song, but here, it feels so personal and emotional as Matt really digs deep and gives it his all. Quite stunning.
Then back to the unusual crowd banter that goes off on so many tangents like talking about Bret Michaels 'Rock of Love' and phone sex. It is so weird, random and so freaking funny. He then goes in to "Come on Get Higher" and this song shines acoustically. This might be one of his biggest songs (which isn't saying much as he got very little airplay). One of the most beautifully, well-crafted pop songs with such great melodies. Quite stunning…wait, I've said that already. Well, it is true.
Then his next crowd interaction they totally misses his joke about how he wrote the song first and then knew what it was about later. I thought that was pretty funny. Then he goes on about Dog the Bounty Hunter and mullets…I mean seriously, who talks about this stuff, but without it, this disc wouldn't be as cool and as special. Then he sings "Gone" and it is another emotionally driven song that is sad and haunting yet sounds so incredibly heartfelt. It will move you, at least it does me.
He goes in to "All We Are" next which is raw and so intimate you can't help but be swallowed up by the power of the song. Another amazingly brilliant delivery. Now, one of the coolest things on here is his aching cover of Bruce Springsteen's "No Surrender". I wasn't familiar with the song previously, but I feel it is Matt's song now. His vocals soar and the song feels so personal to him and only great singers can do that when it isn't their song.
There is nothing better than these intimate settings with an artist. It is fly by the seat of your pants, off-the-cuff moments that make it so unique and enticing. An exciting release and a must have for any Matt Nathanson fan. These type of releases aren't on Matt's Wikipedia page and can only be found if you look at Discogs and that is how I found it. It was a hard one to find, but finally got a hold of it and I couldn't be happier. My Overall Score is a 5.0 out of 5.0 Stars and that is not being biased. It is that cool of a piece to have!!