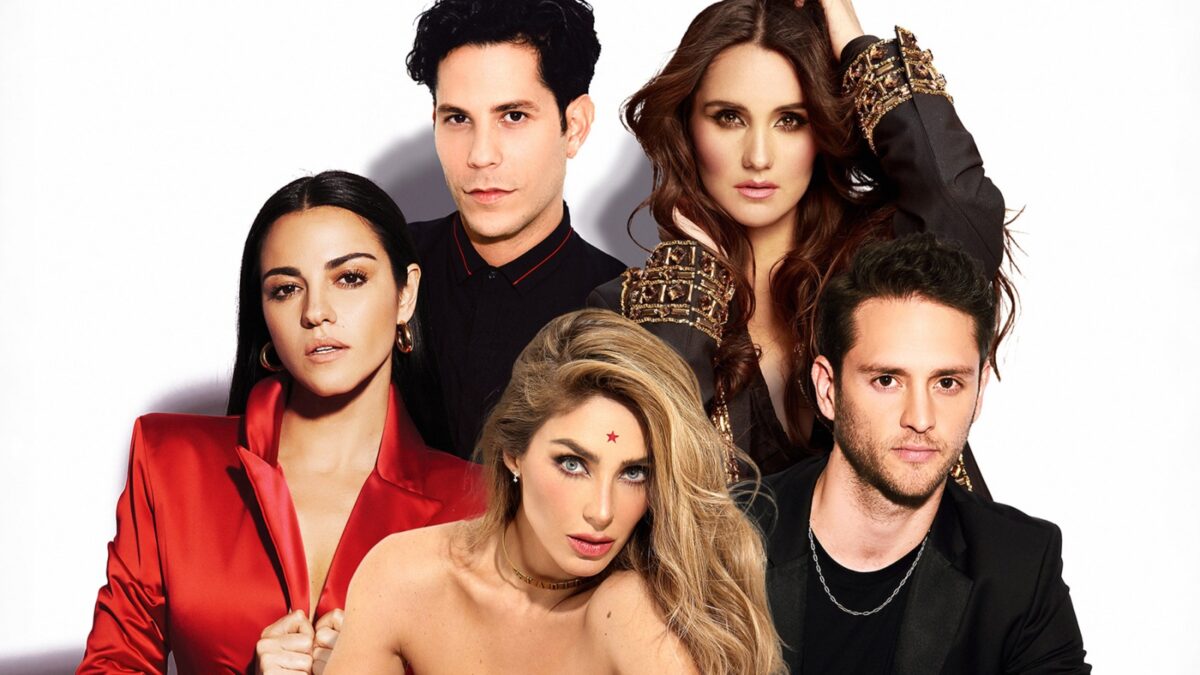 Almost 20 years ago, the members of RBD came together for the first time on the Mexican telenovela Rebelde. Quickly, the series — which followed teens who formed a band at a fictional private school — became a household staple, propelling the group's members to make the show's band a real thing. RBD eventually became a sensation and a pop culture staple for many Latinos.
On Thursday, 15 years after RBD went on hiatus, the beloved Mexican pop group announced that they're officially heading on a stadium and arena tour this fall, energizing longtime fans and new generations who discovered RBD after the band's music became available on streaming services during the pandemic.
"The music of RBD was living in the hearts of our fans," Dulce María tells Rolling Stone. "But in 2020, when our music was put on streaming services, there was a boom. When RBD was what it was, there were no streaming services, just CDs. Now that younger people can listen, the nostalgia was reborn."
RBD's five returning members — Dulce Maria, Anahi, Maite Perroni, Christian Chavez, and Christopher von Uckermann — caught up with Rolling Stone ahead of their tour announcement and shared why now is the perfect time for a reunion. "Our group is more than friends. They're family," Von Uckermann says. "We want to end this journey in such a loving way." (RBD was originally made up of six members, but Alfonso Herrera, known more recently from Ozark, is not returning.)
"Regardless of how different each of us is, something bigger brings us together. It's the love, the sisterhood," Dulce adds. "We want to bring back this love that people have given us: We're not stopping the dreams, and it's something beautiful."
RBD first teased that a reunion was on its way last month when the five returning members — minus Herrera — made their profile pictures blank. They each posted a video that spliced clips from Rebelde with an in-person reunion, captioning it "Soy Rebelde," the band's tagline.
Maria, known for her iconic blood-red hair, got to see how fans craved early aughts nostalgia over the past year, as she joined the "2000's Pop Tour," a multi-artist tour in Mexico, headlined by Paty Cantú and Belinda. "People go crazy over that era," she says.
Anahí, known for her role as Mia Colucci, and who joined Karol G during her stop in Mexico City to perform "Sálvame," says the reunion is aimed at giving back to the group's longest-lasting fans. "It's been beautiful to know that people keep the group in their hearts," she tells Rolling Stone. "To live this moment with my fellow members is pure magic."
For Chavez, reuniting with RBD has an even more personal meaning. He'll be able to take the stage fully embracing his identity as a queer person after feeling like he had to hide it during RBD's success. Now, Chavez is ready to be "completely myself" on this new tour.
"I'm excited to shine as a genderfluid, queer person onstage," he says. "While in RBD, I was fighting to be myself, to love how I wanted to love. I came out and sacrificed, perhaps, a better professional life."
In 2007, as RBD was on a North American tour, Chavez was forced to come out after he was blackmailed by a tabloid that had acquired photos of his wedding ceremony to ex-husband B.J. Murphy. He had previously denied identifying as gay for fear of what his identity might do to his career. "I love to see how people don't have to go through what I did," he says of how much acceptance for the gay community has changed over the years. "I love seeing how new generations don't care what other people think."
Earlier this month, Perroni, who continued her telenovela career after Rebelde, announced that she was pregnant and would be welcoming her first child. Following her announcement, speculation about whether she'd have to pull out of an RBD reunion filled tabloid headlines in Mexico.
But Perroni is set and committed to this project "al 100%." "I would have never signed up for this if I couldn't be there," she says. And though welcoming her baby will be the "most important moment of my life," she has her mind set on touring with the group. "I'm about to share a stage with my brothers and sisters. We're back together and we're filled with energy as we go into this," she says. "I'm ready to live this euphoria."
As for Von Uckermann, who focused on his acting career after RBD disbanded, he says he "never imagined" that returning to the group being part of his journey, but that now he wouldn't have it any other way.
"There was a lot of learning and we represented something so large," he says. "Doing this is our way of ending this cycle and thanking our fans, who after years, continue to listen to the music. We want to allow new generations, who never went to the shows, to see us perform."
Soy Rebelde Tour Dates
Aug. 25 – El Paso, TX @ Sun Bowl Stadium
Aug. 27 – Houston, TX @ Minute Maid Park
Sept. 1 – New York, NY @ Madison Square Garden
Sept. 2 – Fairfax, NY @ Eaglebank Arena
Sept. 3 – Greensboro, NC @ Greensboro Coliseum Complex
Sept. 8 – Chicago, IL @ Guaranteed Rate Field
Sept. 10 – Denver, CO @ Ball Arena
Sept. 13 – Phoenix, AZ @ Desert Diamond Arena
Sept. 14 – Las Vegas, NV @ MGM Grand Garden Arena
Sept. 22 – Miami, FL @ Miami-Dade Arena
Sept. 23 – Orlando, FL @ Amway Center
Sept. 24 – Atlanta, GA @ Lakewood Amphitheatre
Sept. 27 – Edinburg, TX @ Bert Ogden Arena
Sept. 30 – Arlington, TX @ Globe Life Field
Oct. 1 – Austin, TX @ Moody Center
Oct. 6 – San Jose, CA @ SAP Center
Oct. 7 – Sacramento, CA @ Golden 1 Center
Oct. 8 – San Francisco, CA @ Chase Center
Oct. 13 – San Diego, CA @ Viejas Arena
Oct. 15 – Fresno, CA @ Save Mart Center
Oct. 19 – Los Angeles, CA @ Banc of California Stadium
Nov. 17 – São Paulo, BRA @ Allianz Parque
Nov. 19 – Rio de Janeiro, BRA @ Estadio Nilton Santos Engenhão
Nov. 24 – Monterrey, MEX @ Estadio Mobil Super
Nov. 26 – Guadalajara, MEX @ Estadio 3 de Marzo
Dec. 1 – Mexico City, MEX @ Foro Sol