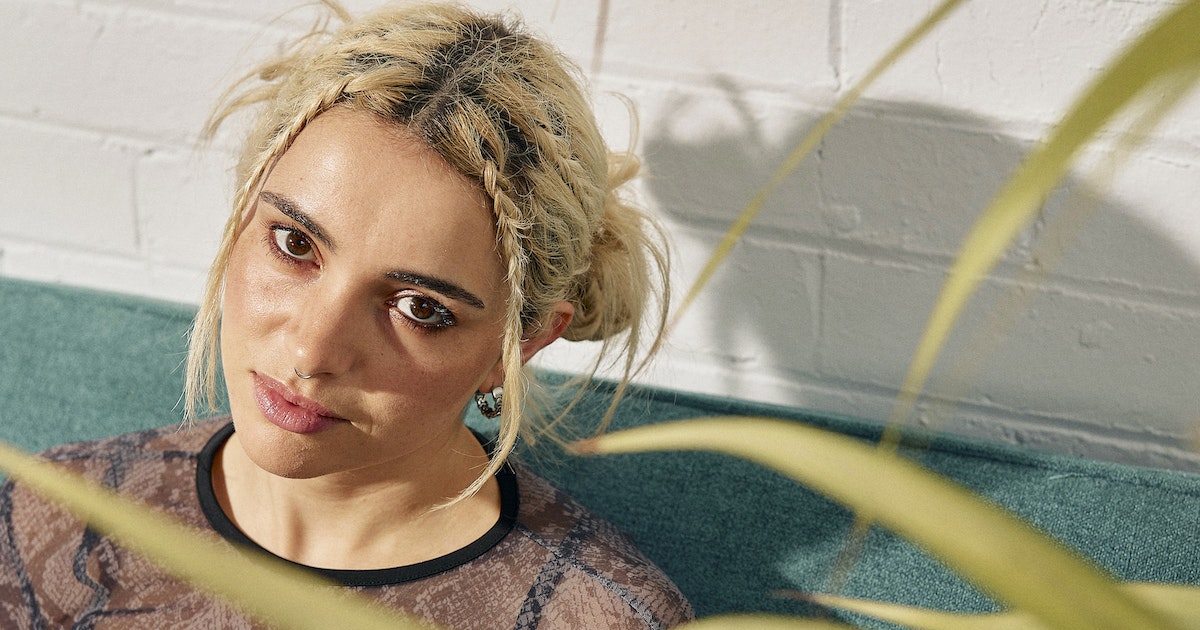 It's easy to imagine that someone who has spent the majority of their early career producing music, solo in their bedroom might feel disconnected from the world outside their four walls. But this couldn't be further from the truth for Melbourne-based singer, songwriter and producer, Memphis LK. 
Having dedicated time to sharing her knowledge and skills with women in her community, to playing Mildura's first-ever Pride event, and experiencing the joy of fans singing her own lyrics back to her just one day after they were released into the world, LK understands the importance of actively connecting to the world around her.
For musicians like LK, music is undeniably in their blood, so we've teamed up with Australian Red Cross Lifeblood to dive a little deeper and uncover why (LK's dad is national treasure Paul Kelly—if that doesn't suggest she was born with music flowing through her veins, we don't know what does). 
Read on to learn about LK's most memorable moments of her career so far, why community is so important, and her favourite post-blood donation snack. 
Can you tell us a little bit about your music journey to date? 
When I was like 15, I started discovering artists like Four Tet, James Blake and Burial and became obsessed with electronic music—particularly the more experimental stuff. I started out making loops in GarageBand and singing over them. Then when I was about 18, I found out about Ableton (a music production software) and realised I could create literally any sound that I wanted all on my own, without having to rely on anyone else and it blew my mind. I was in a couple of bands before I started releasing solo music in 2019. I spent pretty much all of 2020-2021 working on my production (in lockdown) and feel like I'm in a place now where I'm so confident in what I'm doing. My EP is coming out in January and it feels so good to be releasing music I'm really proud of. 
What has been your most memorable or rewarding moment so far in your career? 
The day after I released my track, 'Whip', I played a show and people were screaming the words and I nearly cried on stage. Also, the messages from people saying my music inspires them will always be an amazing feeling. 
Music runs in the family, have you always wanted to create your own music?
I'm lucky that I grew up in a house where creativity was encouraged, so music always felt like it was an option for me—that's something I'm really grateful for. I've pretty much made music in some capacity since I can remember and really became extremely obsessed with it when I started producing my own music. That was the moment everything clicked and I was like, 'oh, okay—this is what I'm meant to be doing'. 
Your music is a captivating mix of dreamy lyrics and fast-paced layers, does this contrasting combination reflect how you see the world? 
When making dance music I'm drawn to sounds that have conflicting moods. I like to contrast the hard and the soft, the dark and the light. I'm a Libra and quite sensitive so I guess I feel a lot of the darkness in the world but I also feel the light—corny. I  also feel like that's probably just my personality too, a little bit nice and cute but don't mess with me.
Who or what has been your biggest influence in creating your unique sound? 
Four Tet. I've always been so inspired by how he is able to put so much emotion into dance music. 
Walk us through the music writing process for you; are you a creature of habit,  or do you thrive in spontaneity? 
I've learnt over the last few years that my creativity thrives through routine and repetition so I try to be pretty disciplined with it. The spontaneity and magic are more likely to arise if I set myself up properly to receive it.
You've already given back so much to your community, organising free DJ  workshops for women and gender-diverse folks in Melbourne and playing  Mildura's first pride event—how important is giving back to the community for you? 
It's really important to me, and I can only speak from my own experience, but as a young female in a male-dominated industry it's so easy to think you're not good enough, or you'll never have the skills to be at that top level, so I've always wanted to help people build those skills and that confidence in any way I can. On a  broader note, I feel like community is something that's taken a bit of a backseat in general. Our society feels pretty "me" centric, people seem to focus a lot on themselves but often aren't extending that care and compassion to others. I hope we can get back to a place where we all value community and connection more. 
Speaking of giving back, how important is donating blood to you?  
This was my first blood donation and I wish I'd started doing it sooner. I admire people who regularly give blood because it's an entirely selfless act and the result is that you save people's lives. 
There's a little bit of slow, quiet time during blood donation, what are your top three go-to tunes to relax and fill the time?  
I actually have four; Pure Shores by All Saints, What Once Was by Her's, She Just Likes To Fight by Four Tet and Wakin On A Pretty Day by Kurt Vile.  
What's your go-to post-donation snack? 
Vegan sausage roll, for sure.  
What's next for Memphis LK in 2023? 
Summer festivals, EP release, some exciting collaborations, more writing,  London, vegan sausage rolls.
When you give blood, you're more than just a donor—you're the Lifeblood of Australia. For more information on where to donate, head over here. 
Editor's note: This article is sponsored by Lifeblood and proudly endorsed by Urban List. To find out more about who we work with and why read our editorial policy here.
Images: Supplied, Urban List