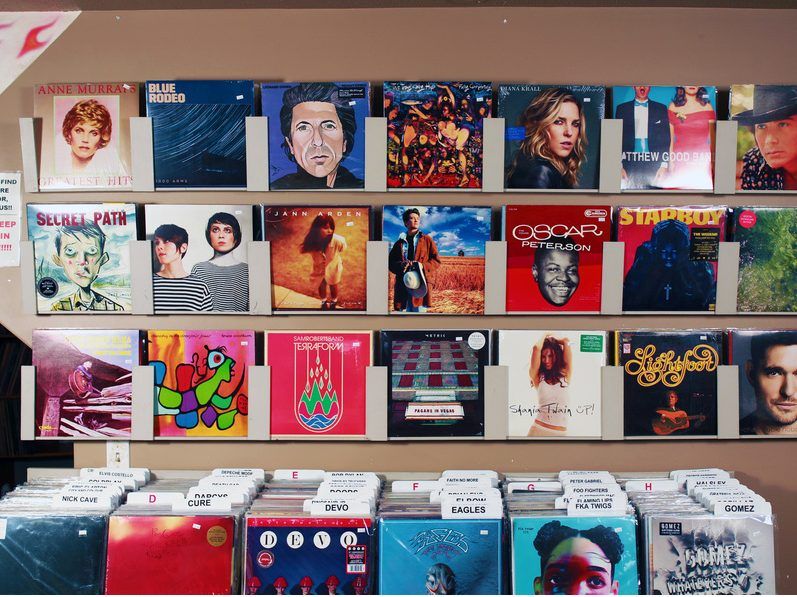 Reviews and recommendations are unbiased and products are independently selected. Postmedia may earn an affiliate commission from purchases made through links on this page.
Article content
Finding the perfect Christmas gifts for friends or family can be a complicated and time-consuming endeavour. The good news is if you have a music fan on your list, there are plenty of unique items to choose from. You can easily impress your cousin who plays 11 instruments or your favourite co-worker with the impeccable record collection.
Article content
Be mindful of tastes, however. A ukulele might not go over well with someone who wants to be the next DJ Tiesto, and your Black Sabbath-loving brother probably won't appreciate a Taylor Swift-branded vanilla-lavender candle. (On the other hand, he might love it. People are complex creatures.)
Article content
Here are a few gifts that should hit the right note with music lovers.
Gift certificates for independent record stores
Whether it's obscure vintage vinyl, new CD releases or cassette tapes by local bands, you can find it all at Calgary's independent record stores.
Turn It Up Records & Hi-Fi also sells record players and speakers, while Heritage Posters & Music has an excellent selection of framed and unframed posters, signed memorabilia, magazines and other unique musical mementos.
Article content
For fans of more underground and independent music, Sloth Records, Melodiya and Blackbyrd Myoozik have the best selection. Or, if spending hours digging through stacks of wax is a favourite pastime, some cash to spend at Recordland and Hot Wax would most likely be appreciated.
Concert tickets for local venues
Did your best friend mention a good show coming up? Why not buy a pair of tickets? Musicians and venues (small and mid-sized rooms, in particular) could use the support these days. Purchasing tickets in advance helps ensure bars, clubs and theatres won't have to cancel due to poor ticket sales. Or, buy merchandise straight from the artist's website. A true fan will always appreciate a new T-shirt, hoodie or toque.
Article content
Annual membership to Studio Bell/ National Music Centre
The iconic building in East Village opened its doors to the public seven years ago and since then has hosted numerous exhibitions, concerts and special events. Canada's musical history is told over five floors in Studio Bell. Highlights include stage costumes worn by Avril Lavigne, k.d. lang, Deborah Cox, Shania Twain and more, as well as interactive displays, fascinating vintage instruments, memorabilia from Canadian Songwriting Hall of Fame and Canadian Country Music Hall of Fame inductees and an ambient audio art installation.
If a year-long pass wouldn't go to good use, you can also gift a 'Backstage Pass' tour, which includes a close-up look at TONTO, a massive analog synthesizer famously utilized by soul great Stevie Wonder in the early '70s; and the Rolling Stones Mobile Studio, which was used to record seminal albums by the Stones, Led Zeppelin, Bob Marley and The Who.
Article content
For stocking stuffers, the NMC gift shop sells an array of music-inspired knickknacks. (NMC.ca)
Festival passes
The summer festival season may seem like some far-off dream when snow covers the ground, but Calgary is blessed with many amazing music festivals – Sled Island, The Calgary Folk Music, Calgary International Blues Festival and JazzYYC to name a few. And the lineups are always stellar.
For more immediate festival fun, Big Winter Classic kicks off Jan. 26 and the Calgary Folk Fest-backed Block Heater festival is set for Feb. 9-12.
Music cruises
For the most special music fan in your life, consider the unforgettable gift of a music cruise.
During the past decade, music cruises have taken off in popularity. For one, it's a relatively easy way for artists to make a good chunk of change and for fans, they can watch their favourite acts (sometimes multiple times) and enjoy a vacation at the same time.
Article content
No matter the musical taste, be it '80s pop, modern country, metal, blues or 2000s emo-punk, there's mostly like a cruise. For example, Cayamo's 15th Annual Journey Through Song with Andrew Bird, Neko Case, Allison Russell, Jeff Tweedy of Wilco, award-winning bluegrass-inspired band Trampled By Turtles and more sails from Miami to St. Maarten in February.
Also in February, the Rock Legends Tour sets off from Fort Lauderdale with Roger Daltrey, Deep Purple, The Marshall Tucker Band, Randy Bachman and more; or the Broadway Cruise with Tony-winning stars Kristin Chenoweth, Alan Cumming and Laura Benanti brings musical theatre favourites to the high seas in March. (Cayamo.com; Rocklegendscruise.com; Thebroadwaycruise.com)
Article content
Donate to community radio
Full disclosure, I host a program on Alberta radio station CKUA. But long before I was ever involved with CKUA, I donated to community radio.
Stations such as CKUA and Calgary's campus station, CJSW are an important part of the cultural fabric of the province.
You can support curated radio and give a very cool gift in a couple of ways. Donate to CJSW and receive branded swag and a Friends Card, which offers discounts at a variety of local businesses. Or, donate an hour of programming in someone's name on CKUA and that person can choose a handful of songs to play on the show and hear their name on air. (CJSW.com/donate; CKUA.com/support)
Soak it up
If big-ticket gifts like music cruises are out of the question, but you still want to make an impression, a showerhead with an attached Bluetooth speaker might do the trick.
The speaker can connect to phone or computer playlists, allowing the most music mad on your Christmas gift list to shower with a soundtrack. (Kohler.ca)