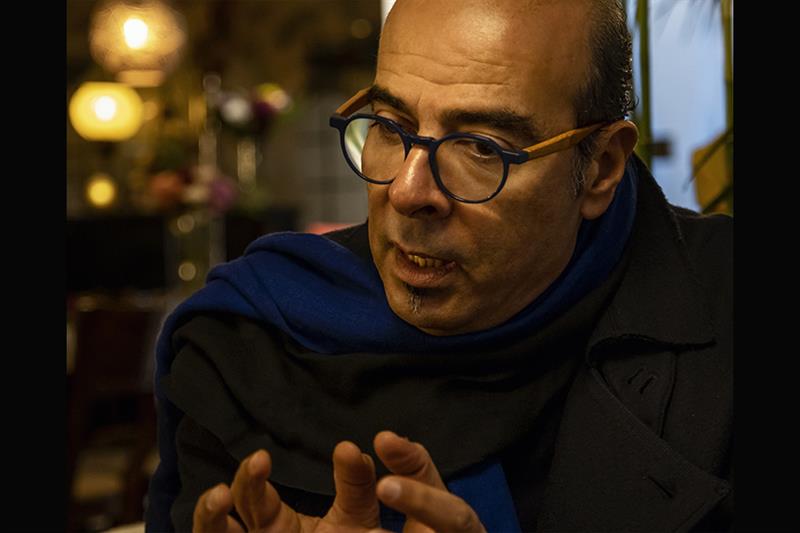 As we sit in a Zamalek café, maestro Nader Abbassi's mind is preoccupied with many commitments: two upcoming concerts, one featuring Egyptian soprano Fatma Said at the Grand Egyptian Museum (20 January), and the other with the Cairo Symphony Orchestra. They follow in the footsteps of a busy few weeks that recently included the Abdel-Wahab Symphonic project's premiere in Riyadh and the Nutcracker ballet at the Cairo Opera, among others.
A musician who has been awarded numerous recognitions and whose name resonates with a large public, Abbassi is the force behind the United Philharmonic Orchestra, of which he is the founding director, and which he conducted during two grand globally broadcast national events in 2021: the Pharaohs Golden Parade and the reopening of the 3000-year-old Avenue of the Sphinxes in Luxor.
Of course, those huge concerts did not happen by chance. Abbassi's history as a musician includes playing bassoon, singing, composing and conducting, generating enough momentum to keep his name almost permanently in the headlines. As we begin to talk, I discover that I am in the presence not only of an internationally renowned musician, but also of a captivating storyteller. He begins by taking me to his childhood marked by his first steps in the performing arts, a story that is extremely entertaining when told with his sense of humor, which reveals a lot about his boundless dedication to music and explains the formation of an artist we know today.
"As a child, during family gatherings, I would prepare a stage and set chairs for the audience. I would then take a broomstick and pretend it was a microphone for the children who, as I saw it, all had to participate. I would be the last one to take the stage," Abbassi laughs, recalling how that final appearance got the most applause.
Many years later, he was conducting the orchestra with those same, now grown-up family members in the audience. "After the concert, my family members congratulated me, not without reminding me of those great times we had as kids and how I used to 'torture them' with our performances." He swiftly adds, in a more serious tone, that one can recognise a musician from a very young age, especially when home performances take all sorts of creative formats.

Photo: Ahmed Hassan
Although Abbassi's first performances featured the Arabic repertoire, there was a strong presence of Western music in his household. "My father was from Alexandria, educated in French schools and fond of Western music, especially musicals. He had a very European mind. My mother was originally from Fayoum and more steeped in Arab culture, yet she followed my dad's ideals and music tastes."
Stressing his father's "modernity", Abbassi says he followed his choices, experimenting with many instruments, at first with darbouka and keyboard. "I was around 14 years old, when a friend from the Higher Institute of Ballet encouraged me to take up music in a professional way and join the Cairo Conservatory," an institution which at the time had many renowned foreign teachers.
Abbassi's entry to conservatory was yet another saga of self-realisation. "I remember the first day… I walked through the corridors, hearing the voices of practicing singers and instrumentalists coming from the closed rooms. I was mesmerised. I didn't feel there was anything odd about this. On the contrary, I recognised this as my life, my home."
The maestro started his formal music education with bassoon (also called fagot). "The music professors at the Conservatory believed that my physicality – height, long fingers, etc – justified this choice. I was told 'either bassoon, or bye bye'. It was awkward for me to hold the instrument and hear its deep sound. I wanted to play music, I wanted piano." Abbassi incorporated composition into his studies, and that made the piano an important part of his course of study.
"Of course, I loved piano more, dedicating a lot of time to it, until my bassoon teacher, a strict Russian musician, brought me back to my senses. 'Either you become the best at your main instrument, win the competitions, or you end up no one,' he told me, making me study at least eight hours a day."
Abbassi listened to his teacher and his dedication to bassoon paid off, eventually granting him the first bassoon player position at the Cairo Symphony Orchestra. While on that road, Abbassi's interest in singing was yet to find its own path. "It was more imitating other singers, I'd say," he explains, recalling how he always experimented with vocals, imitating the various textures of other singers. His talents were noticed by a voice teacher, Violette Makkar who invited him to vocalise lessons, only to discover his unique basso profondo, the lowest bass voice type and a unique timbre in the operatic repertoire. As his vocal lessons progressed, preparations for Verdi's La Traviata were underway, and he was perfect for the role of Barone Douphol.


​Photo: Ahmed Hassan
Though this encounter with singing on stage took place shortly before Abbassi left to continue his studies in Switzerland, it left an unforgettable mark on his formation, a fact that bore fruit many years later.
Over three years in Geneva, Abbasi established himself as a renowned bassoon player, joining numerous orchestras and becoming first bassoon at the Geneva Chamber Orchestra. Yet, as Egypt was calling him back to resume his obligations to work as a bassoon teacher at the Cairo Conservatory, Abbassi wanted to remain in Switzerland. "I want to sing," he told one of the professors who, understandably, was not thrilled with the idea. While pointing to Abbassi's lack of formal education in operatic singing, due to the rarity of his bass the teacher agreed to let the young man audition for the singing classes. A perfectionist by definition, Abbassi was bound to succeed. "Long story short, I stopped playing bassoon and began singing. In the following five years, I landed numerous roles at the Opera House in Zurich."
Of course, when speaking of Abbassi's life, nothing ever stays as it is. As his singing career began to flourish in Switzerland, the late Egyptian musicologist Samha El-Khouly (1925-2006) insisted that Abbassi should have a go at the Egyptian composing competition. And so he did. Between Dusk and Dawn, a symphonic poem inspired by the story of Raya and Sekina, brought him the first prize. When the news reached Switzerland, he was offered to expand the composition into a ballet, the recording of which he also conducted. "This was my first experience in conducting a big work, a challenge for which I took a few months conducting studies with a German conductor based in France," he reveals. This led to an invitation to take the baton of the Cairo Symphony Orchestra in one of its concerts.
The push and pull involving Switzerland and Egypt, led to his home country offering Abbassi the position of a principal conductor of the Cairo Opera Orchestra performing opera and ballet works. "At first I was very reluctant, yet eventually I accepted the position in 2002, the year I conducted Verdi's Aida, the mega production staged at the Pyramids in Giza and featuring numerous international singers." Abbassi remained the principal conductor of Cairo Opera Orchestra until 2010, a role which in the last years overlapped with being in charge of the Qatar Philharmonic Orchestra (2009-2012) too.
During his time as an opera conductor In Cairo, Abbassi's baton led orchestras in countless works in Egypt and internationally, at the Marseille Opera House, Opéra de Bordeaux, Ireland, Russia, during the Glimmerglass Festival New York, in Greece and China, among others. The list includes operas such as Maria Golovine, Dialogues des Carmelites, Hamlet, Un Ballo in Maschera, La Belle Helene, countless takes on Aida, Carmen, La Traviata, La Bohème, Madama Butterfly, Barbe Bleue, and the musical Kiss Me Kate, to name but a few.
As with almost everything in Abbassi's life, the musician says that he found himself conducting "by pure chance, and working with operas gives me a particular joy. Opera is a marvelous form of art. What helped me progress in it is simply my background as a singer. It is important for a conductor to understand the tiniest intricacies of a voice." Indeed, it takes a skillful and experienced musician to understand the internal acoustics of a singer's vocal apparatus, their internal resonance, and the covering that they use. Those details of which many audience members are not even aware, are in the mind of a conductor as he supports or even guides the singer through the many arias interlaced with mise-en-scene. "In my career, I lost my voice once. I had to go through a reeducation, a process which has additionally helped me to understand the many layers of voice, challenges and ways of overcoming them."
Numerous Egyptian ballet dancers see Abbassi as the conductor of their choice, bringing us to his experience as a ballet composer. "The ballet story is a bit different. It relies on strong communication between the conductor and the dancers, their tempo and movement. I admire ballet too, and maybe this allowed me to find a special language with this art form."
From bassoon and singing to composing and conducting, Abbassi's multilayered experiences have only enriched his musical vision while allowing him to master many aspects of music. When asked what he loves the most, he takes a minute before saying, "Undeniably, I love opera. It is a full art. The operas have everything in them: music, words, singing, drama, the whole mise-en-scene… Yet, if the opera is not done properly, it pains me. However there are other musical forms that I appreciate a lot as well. Some works are wonderful as symphonic works, with all their phrasings and musical depths."
As he plunges into the classical repertoire, structured by centuries of great Western composers, or touches on Arab repertoires, Abbassi never forgets the audience. He points to a concert in which he conducted Omar Khairat's orchestra a decade ago. In the video that was shared by many YouTube users, shortly after Khairat's solo on piano, Abbassi reintroduces the orchestra while turning to the audience and leading them to clap to the music. The concert and video saw mixed reactions, with some critics calling the maestro's actions an unnecessary show and others applauding the interactive initiative. "I saw it as an opportunity," the maestro comments. "This very concert and this video brought me closer to the public. I see it as a simple gesture that resonated with new listeners flocking to the concerts. It prompted me to think about tailoring the classical music concerts so they can resonate with the listeners, interlacing the heavier works with lighter compositions." Here Abbassi reminds us of countless Western music compositions which are engraved in Egyptian listeners' minds, often without them being aware of the fact. Numerous old Egyptian movies as well as countless animated movies use classical music in their soundtracks.
Following this concert, the very first he conducted with the Cairo Symphony Orchestra saw a high attendance with Abbassi's name filling the halls. For regular music attendees, the figure of a conductor is not always well understood; the maestro simplifies it in a few sentences: "The conductor is simply a music director controlling the tempo, phrasings, dynamics. However the role of a conductor is to conduct, not to count. Even listeners who are least aware of those technical components are still fully aware when the maestro is musically honest. I always think about the musicians, the composer, but also about the listeners who need to feel their importance. We need to introduce listeners to music without terrifying them. This process begins with programming, through studies of the compositions, vision applied to them, to the honesty in presenting one's thoughts at the hands of the orchestra." Abbassi explains that when setting a programme, the audience is his first parameter. A concert presented to students will be very different to one performed for experienced classical music listeners, the audience coming to the Cairo Opera House differs from European listeners attending a summer concert in an open air setting for instance.
With this huge baggage of experience, thoughts and achievements, founding of the United Philharmonic Orchestra was a natural step in Abbassi's musical development. The large ensemble has given a number of concerts since 2017, accompanying singers such as Fatma Said, Gala El Hadidi, Elhamy Amin in one concert, followed by The Three Egyptian Tenors concert (2018), performing music by Amar El Sheraie (2018), then a concert featuring the Lebanese soprano Majida El Roumi on several occasions included in Cairo Opera House (2018), in the mega concert at the Pyramids' Sound and Light Theatre (2019) and at the Cairo Royal Al Qubba Palace (2021), all the way to the Pharaohs Golden Parade (April 2021), which celebrated the transport of mummies from the Egyptian Museum of Cairo in Tahrir Square to the National Museum of Egyptian Civilisation (NMEC) in Old Cairo. The orchestra also participated in the grand concert during the reopening of the 3000-year-old Avenue of the Sphinxes in Luxor (November 2021). The latter two events shed international light on the orchestra and Abbassi himself.
As the conductor explains, the United Philharmonic Orchestra is a melting pot of musicians from all walks of life, comprising those who work at the Cairo Symphony, Cairo Opera, Alexandria Opera Orchestras, Arabic Music Orchestra, in addition to independent formations. "It is united in terms of musicians and their generations, religions, musical genres and cultures, styles of performances," Abbassi explains, adding that the orchestra allows him to perform on all occasions and out of every repertoire, be it Western classical, symphonic, operatic, Oriental, film music, or mixed compositions, often featuring unique instruments. "The orchestra also fills gaps separating many artists, musicians and singers, who otherwise keep competing with each another. In the United Philharmonic Orchestra and Choir they all stand for one cause, one concert, one performance."
Music to the Pharaoh's Golden Parade – one of Abbassi's biggest sources of pride – was composed by an Egyptian composer, Hesham Nazih. The work included chants in the Ancient Egyptian language sung by an Egyptian soprano, Amira Selim, with lyrics of the hymn "A Reverence for Isis" taken from inscriptions on the walls of the Deir Al-Shelwit temple in Luxor. Other lyrics were taken from the Book of the Dead and the Pyramid Texts, topped with songs in Classical Arabic and Egyptian Arabic performed by Reham Abdel Hakim and Nesma Mahgoub, respectively.
"Nazih presented a truly great work. If you focus on music, you will find a lot of classical components fused with American-style grandiosity, very Star Wars-like. The choral part adds the power of Carmina Burana to old Egyptian lyrics. The Isis aria has an Egyptian scent yet if you listen well, you will find that its choral, symphonic music is not easy by all means."
Abbassi underlines the joy he experienced while conducting the piece. What astonished him even more than the impact it made internationally was the way it resonated with locals who had never attended a large symphonic or choral event. "I met simple people who were humming the melodies drawn from the parade. What more can one wish for? The parade music is truly international, a term that cannot be limited to differences in languages or simple melodies interconnected in music. It is the depth and intelligent composition that created this cultural blend, one that speaks of the depth of our history."
Abbassi's baton in both the Golden Parade and reopening of the Avenue of the Sphinxes – with the latter also featuring several of his own original compositions – has opened many new doors to the conductor. One of the most recent great endeavors is the Abdel-Wahab Symphonic, a project that saw the light on 10 December at the grand Abu Bakr Salem Stage in Boulevard Riyadh City, followed by performances at the Cairo University concert hall. Performed by the United Philharmonic Orchestra, the concerts featured singers Reham Abdel-Hakim and Loai. The project presents works composed by Mohamed Abdel-Wahab (1902-1991), the prominent Egyptian singer, actor and composer – with a new arrangement for the big orchestra written by Ahmed El-Mougi, Amir Gado and Mohamed El-Ashy. "The musicians embroidered Abdel-Wahab's compositions – many of which we did not have notations for – with a new musical concept, one that testifies to Abdel-Wahab's progressive mind," Abbassi says. The Abdel-Wahab Symphonic is the result of an idea presented to Abbassi by Abdel-Wahab's grandchildren. As everyone involved hopes, the project will yet tour many European and Arab countries.
As we conclude our conversation, the maestro is about to begin rehearsals for the concert of the internationally renowned Egyptian soprano Fatma Said who will be the first female singer to perform at the new Grand Egyptian Museum on 20 January. Immediately after this concert, on 21 January, Abbassi will move to the Cairo Opera House to conduct the Cairo Symphony Orchestra in a concert including works by Rossini, Shostakovich and Liszt, and featuring solo violinist Salma Sorour. Abbassi will then return to the Cairo Symphony in April, yet even prior to that we will definitely see him in numerous other concerts, details of which will be revealed in a due time.
I realise that in our short time at the café, this great storyteller had to leave many musical tales untold. Whatever they are, they all contributed to Abbassi's huge reservoir of experience, fed and shaped his passion. They all made of him the remarkable musician he is today. We are yet to attend many concerts during which the maestro's unique musical journey will resonate in each music bar of his partitura.
*A version of this article appears in print in the 19 January, 2023 edition of Al-Ahram Weekly.
Short link: