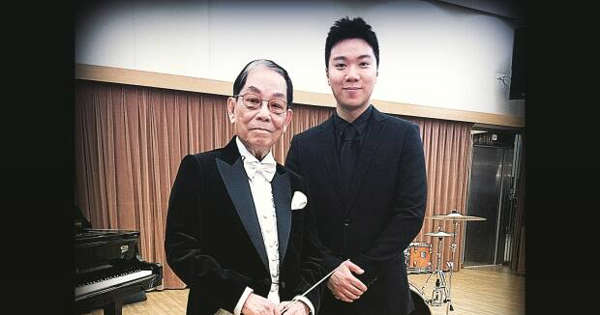 Tributes are pouring in for renowned Hong Kong composer Joseph Koo, who died in Vancouver on Tuesday.
Koo, 92, was dubbed the "godfather of Cantopop" or Cantonese pop music for laying the foundation for the genre through his TV drama theme song compositions.
He was also known for writing the scores to Bruce Lee's Fist of Fury and The Way of the Dragon.
"Before him there wasn't really such a thing as Cantopop," said Allan Lau, a music producer from Vancouver, adding that most people in Hong Kong would listen to English or Mandarin songs.
"He is to Hong Kong music what Bruce Lee is to Kung Fu and martial arts.
"I guarantee you that there isn't a single Cantonese-speaking person or a Hong Kong person who didn't grow up listening to his music or have been influenced by his music," he added.
Koo moved to Vancouver in the 1990s, and retired in 2015. He composed more than 1,200 songs in his decades-long career.
His farewell concert in Hong Kong — where Lau played keyboards and piano — drew about 12,000 people.
"I will always remember that that was my little gift for him," Lau said.
Dominic Chung Siu Fung — Koo's assistant in the 1970s, who continued to be friends with the composer while he lived in Vancouver — says Koo was a kind person, who was always eager to help young musicians. 
"Anybody who wants to learn music from him, any question you want to ask him, he will answer you," Chung said.
"He taught me how to use music to be a professional."





© Lien Yeung/CBC
Dominic Chung Siu Fung says Joseph Koo always helped young musicians.


Lau, who says he was inspired by Koo's music to move to Hong Kong and pursue Cantopop as a career, recalls having lunch with the composer in Vancouver when he was in his late 80s.
"He was doing fine, but I knew that he was getting up there in age," he said. "And so I knew that the time would be arriving, but I just never expected it to hit so suddenly.
"This is a monumental loss … You're never prepared for the death of someone you admire so much."
Cantopop is in good hands, he says, because of Koo's everlasting influence on the many musicians he taught. 
"It will live on and so will his music."