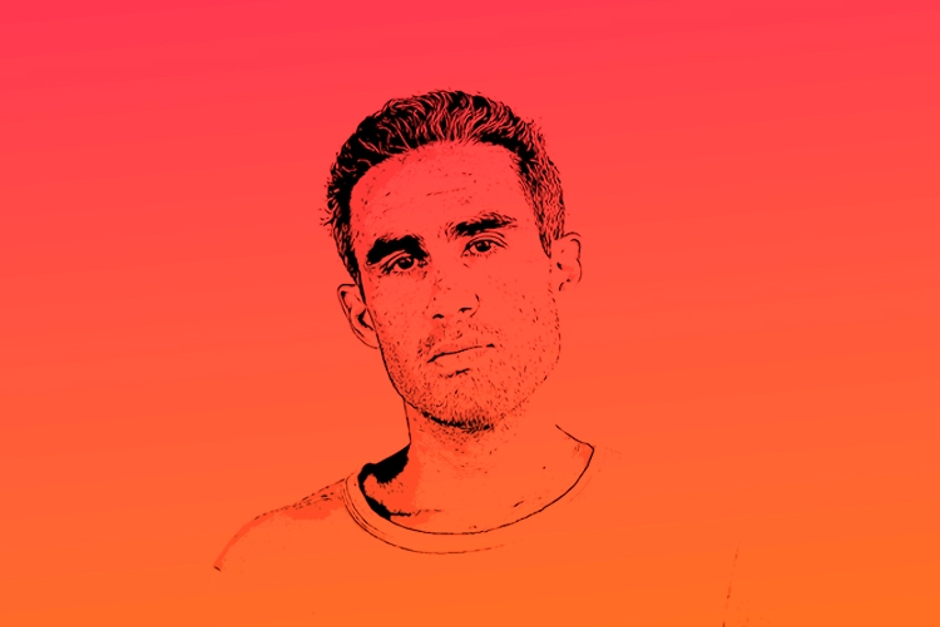 Dan Berg, aka Fireberg, is a Brooklyn-based experimental/electronic music producer who combines sound art, synthesis, and sampling to create untraditional grooves and beats. Now, celebrating the launch of his own Mishbaka label, Fireberg returns to the scene with 'Call of the Phoenix', his latest EP and first release on the imprint. Featuring three tracks touching on transformation and renewal, each track is reincarnated or remixed into new evolutions.
EG caught up with Fireberg to learn more about the release of 'Call of the Phoenix', his newly launched Mishbaka imprint, views on the state of the scene, and more.
EG: Hi Dan! Welcome to EG. It's a pleasure to have you here with us, as always. Where are you based right now?
Fireberg: Hi EG! Thanks for having me. And thanks for your continued work in telling artists' stories! I'm based out of Brooklyn, New York.
EG: Thank you! By the way, congratulations on the release of 'Call Of The Phoenix'! What has the initial reception been like?
Fireberg: Thank you. Yeah, it has been quite a process and I'm so glad the record is finally out. The reception has been good. I'm not much of an analytics guy, but there have been buckets of handclap and fire emojis, so I guess that means it's liked :), kidding slightly on that, but I do wonder sometimes what to use as a metric to answer that very question. Sales and streaming numbers are nice, but they're so fleeting and impersonal. I will say, the DJ and radio support has been exciting on this release, and there's been a few seemingly diehard fans coming out of the woodwork, which is comforting and motivational.
EG: So, what can your fans expect to find on 'Call Of The Phoenix'? Is there a conceptual or emotional trigger to it?
Fireberg: The album is an exploration of concepts around rebirth and renewal. The phoenix is an ancient mythical symbol depicted as a bird who continually regenerates, burning to ash and then emerging from those ashes, as a new being. As I've explored psychedelics and other healing modalities quite deeply over the past few years, this concept resonates deeper and deeper with me. In one way, it's quite obvious to describe this process as it's something that shows up everywhere, from the flowers to the moon, to our cells, and the very essence of life and death. But, on another level, we're taught or "sold" other models all the time that suggest something else. For instance, the apocalyptic or entropy model in which life is kind of just a descent into chaos and disorder. Or, we often can get stuck viewing our life as one singular climb up a mountain, and then we judge whether we've reached the top, or whether we're climbing fast enough. Focusing on the less personal, cyclical, process-oriented paradigm is what I'm both sharing as a practice of my own and suggesting or inviting for the listener. This can be achieved in many ways with the music: through dance, contemplation, somatic experiencing, or social connection.
EG: The EP comes with a remix by Prince Of Queens as well. What do you look for when listening back to a remix of a track of yours for the first time?
Fireberg: My first layer of assessment is whether this track will appeal to a new crowd or region with complimentary tastes to my own fan base. And that process starts with the remix artist selection. I want to know that those I'm working with have a unique identity and set of drivers with their brand and that, ideally, there's a message or focused intention with their work. Then, after that, I listen to the track in the same critical way I would assess my own ideas or creations. "Does the music take me on a journey? Does it transport me to a new space? Is there a sense that there's a human emotion or some sense of passion being delivered that came from the artist's heart?"
Felipe, aka Prince of Queens, floored me when he sent back his remix. It did exactly what I was hoping, diving deeper into the Latin elements of the track while also moving into a more psychedelic, dub space, and somehow also heightening the energy. It's been great getting to know Felipe during this process, seeing how he works, and learning his philosophy around music. I'm really excited to have him as one of the first artists featured on the label and I'm eager to hear where he goes with his sound.
"The phoenix is an ancient mythical symbol depicted as a bird who continually regenerates, burning to ash and then emerging from those ashes, as a new being. As I've explored psychedelics and other healing modalities quite deeply over the past few years, this concept resonates deeper and deeper with me"
EG: As you just said, 'Call Of The Phoenix' is out via your own Mishbaka imprint. Can you anticipate anything on that front?
Fireberg: Mishbaka is just a newborn child! This is the first release on the label and we've learned so much, already, about the industry and how we wanna show up as a brand. There has been deep attention to detail throughout the process, not just with the music, but also with the packaging, the artwork, and promotional content. Authenticity is really important to me, so I want to continue to explore my intentions with the imprint and what kind of experience and community I'd like to create. I still have a few other collaborations and Fireberg releases in the pipeline and there's more I want to learn about the business side of things before I dive too deeply into expanding the artist roster, but all in due time…
EG: Let's dive into your origins. How and when did you come across electronic dance music? Was there a record or show that pushed you down the rabbit hole?
Fireberg: There were a couple of records that I had on rotation in high school that were in the electronic realm. Some titles I remember were: The Prodigy's 'The Fat of the Land', a compilation called 'Verve: Remixed 3', 'Buddha Bar', and Moby definitely had an impact as well. I didn't even know that these were "electronic", so to speak. I wasn't going to raves, growing up. Mostly I was listening to hip-hop, classic rock, and Motown or soul. I'm still kind of that way. Even now, I'd more likely listen to Billie Eilish or an indie artist like Benny Sings, or perhaps some ambient or ceremonial sounds, than whatever's hot and new in the EDM world. The interest in electronic music really comes directly from the machines and the studio process. And then, once I moved to New York, I started experiencing the underground club scene and appreciating that then-counterculture expression. Recently, I've been taking an interest in drum & bass, so I hope to incorporate that more when I get some time in the studio next.
EG: How do you usually keep entertained when not in the studio? Where does your inspiration come from? Any new books, movies, or series you'd recommend?
Fireberg: I currently have a deep interest in philosophy, psychology, and spirituality. I like reading about these subjects and I have recently been exploring concepts around Judaism and Kaballah, which has always been a more watered-down interest in the past. I like going to the Kava bar these days since alcohol and other substances have become a little less appealing over the past few years. I like getting out into nature or taking a swim when the weather is nice.
One movie I watched recently that really inspired me was a documentary called 'A Trip to Infinity', all about infinity and its many forms and functions. It was super inspiring and the animation in it is incredible!
EG: What are your thoughts on the current state of the scene? What would you like to see more and less of?
Fireberg: Honestly, I often have this fear—or perhaps, a founded observation—that the DJs are kind of taking over the music industry. I can't tell you how many music venues have disappeared in NYC, and it's only the clubs that survive. There are still, of course, the large, corporate venues, but the medium- or small-size, intimate venues don't seem to be able to make it. I blame the DJs 🙂 My theory is, much like the trap that many men fall into with pornography, the standards can become very distorted once you get used to something being falsely polished and stripped of human qualities like vulnerability and imperfections. If people continually hear mastered music coming out of the PA speakers—tracks that have been perfected over many months or years in the studio—when they hear the raw musical performance, it doesn't satisfy the same need. Social media often has the same effect, where people continually reinforce a polished side of themselves and as a user, you tend to forget that and start accepting it as reality.
Clubs are also at fault, though I totally understand their motivation—it's way cheaper to pay a single DJ and have just a set of CDJs than to hire a live sound engineer, buy and maintain a backline, and deal with the less predictable crowds that come with musicians as opposed to the "partygoers." So I'd like to see more risk-taking in performances and, perhaps I'm biased, but more instrumentalism. I have my own work to do around that, so no judgment, I totally understand the need to maintain the status quo and conform.
Resentments aside, though, I also truly appreciate the art of DJing and the inherent musicality in that craft. I can see the importance of DJs as curators and as a crucial tentacle of the distribution process. I just think there could be a little more balance in how our channels highlight these different roles. And hats off to artists like Nils Frahm, Bonobo, or LCD Soundsystem, who are keeping the flame of instrumentalism alive.
"My theory is, much like the trap that many men fall into with pornography, the standards can become very distorted once you get used to something being falsely polished and stripped of human qualities like vulnerability and imperfections"
EG: What's next for Fireberg? What particular milestones are you looking forwards to now?
Fireberg: What's next is I'll take some time in retreat to re-assess how I'd like to be impactful and be of service. There was a good degree of burnout that happened over the course of this campaign and with the label launch. I'm excited that a lot of things are set up now and that I can expand off of what we've built, but I'm interested in figuring out how I can re-focus on fostering the creative spark and also exploring ways to have an authentic connection, either socially or through music. I'd like to continue to develop the team for the next set of releases as well. I don't understand these people that are able to do everything themselves…
I'm developing my live rig and workflow which, as much as I had wanted to bang that out simultaneously with the production and label tasks, just didn't seem possible. I'm hoping to start a regular live stream from my studio with invited guests and perhaps some interviews, as well. It might be either a Twitch thing or maybe a podcast too. Beyond that, I want to make another ambient album and perhaps record some music for meditation or other ceremonial functions. I have another full-length album that I hope to complete in the next year that is much more songwriting-inspired, with my own vocals as well as some featured artists. Lots to do… but again, my main priority is developing strategies and processes for maintaining balance and a slow pace so that I don't burn out and can apply my full potential to what I'm doing.
EG: Thank you so much for your time, Dan! We wish you all the best for the future.
Fireberg: Thanks EG. I appreciate this opportunity to share! Keep up the good work 🙂
Fireberg's 'Call Of The Phoenix' is out now via Mishbaka. Purchase your copy here.
Follow Fireberg: Facebook | Soundcloud | Instagram | Spotify