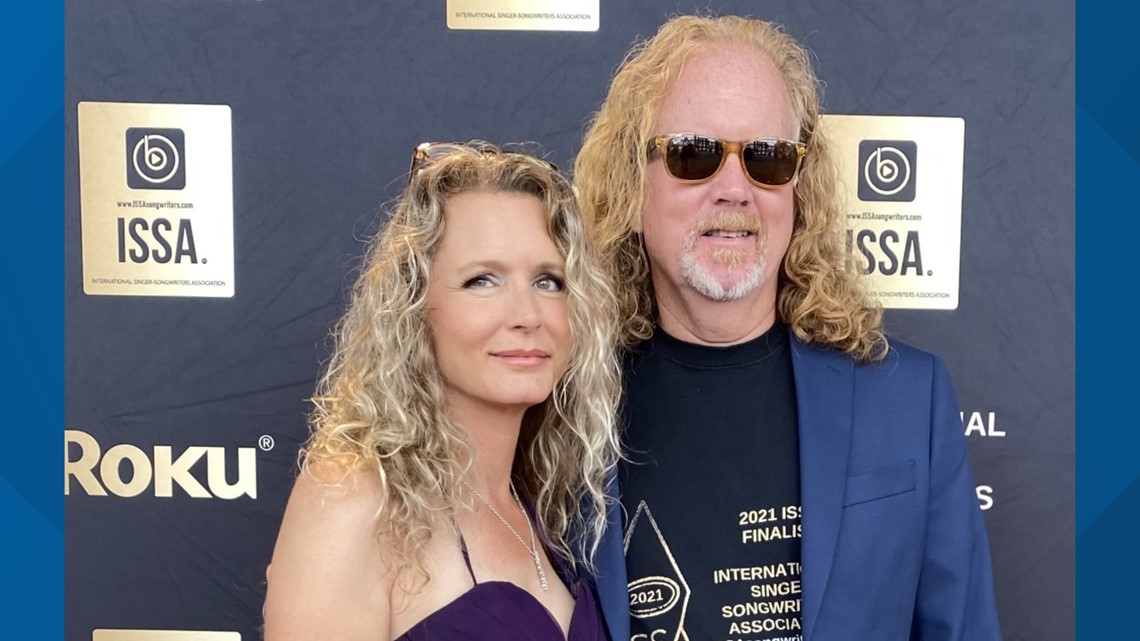 In addition to their two nominations, Walter Finley and April Dawn will be performing at the event.
NORTH MYRTLE BEACH, S.C. — North Carolina country music duo Walter Finley and April Dawn were looking forward to Saturday night. The couple was nominated for "Duo of the Year" for the third year in a row and "Country Tour of the Year" for the Carolina Country Music Awards. And they hauled home the win for Country Tour of the Year!
The couple, who have won the "Duo of the Year" award twice before, also performed at the ceremony, which was held at the House of Blues Myrtle Beach.
"It's a great sense of, well, belonging — and being acknowledged is a wonderful feeling," Finley said. "To work your whole life at something, and then somebody acknowledges you, it's beautiful."
Finley and Dawn said the Carolina Country Music Awards feels to them like a "big, huge family of musicians" from across the Carolinas gathering under one roof.
You can stream WCNC Charlotte on Roku and Amazon Fire TV, just download the free app.  
Finley has been a musician for years, and when he was encouraged to try writing country music, he decided to fully immerse himself. Finley moved to the Columbia area in South Carolina as he honed his country music craft, then found himself in Myrtle Beach and eventually Lake Norman.
It was Lake Norman that brought Finley and Dawn together. 
Finley was playing at a party at The Point in Lake Norman and Dawn was there as a photographer. When Finley asked the audience for requests, Dawn tried multiple times to give suggestions. Each time, Finley didn't know the song enough to play it. Finally, he jokingly asked if she could play it — she said yes. 
As time went on, Finley and Dawn learned their voices fit perfect together.
"That's how it all started," Finley said. "Then she started coming to my gigs, and one day she stood up and sang every song, every harmony note — perfect. I think the next day there was two microphones at every gig and it's going on five years now."
Dawn grew up on a farm near Concord. The daughter of two bluegrass music teachers, she jokes she's as country as it gets. Finley said he always dreamed of having someone to sing harmonies with, and now he has it. Their story is even captured in Finley's song, "April Dawn."
Now, the couple gets to perform together for shows across the Carolinas and beyond.
"When when Walter says gig, I beat him to the car," Dawn said. "I've got my backpack, I'm ready to go. Let's go play music."
For the latest breaking news, weather and traffic alerts, download the WCNC Charlotte mobile app.  
Even during the pandemic, they found a way to share music with others — setting up on a dock on Lake Norman and performing for boaters week after week. 
The couple said the chance to connect with others through music is unbeatable.

"The best part is performing," Finley said. "No matter what's going on in your life, whatever is going on, you could be in the worst pain — while you're performing you feel nothing, you feel free. It is the best feeling."
Finley and Dawn hope their music has a positive impact on others.
"Walter and I feel the same way, we feel like as artists, we have a very special and very important duty to put music out to make people want to live a good life, to make them want to live an honest life," Dawn said.
Finley said he's performed across the country, but being a part of the country music scene in the Carolinas feels less like competition with other musicians — it feels more like a family. 
Contact Emma Korynta at ekorynta@wcnc.com and follow her on Twitter.