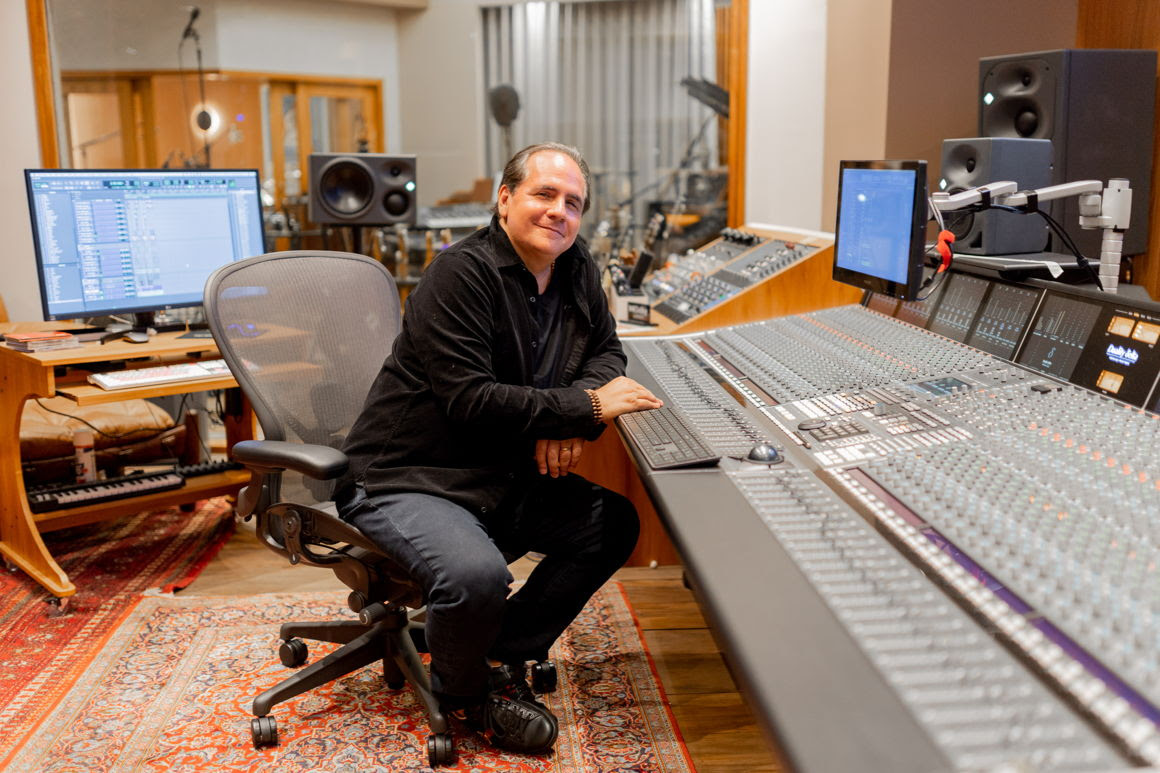 Fortaleza, Brazil, December 5, 2022 — Premiered at the end of September on YouTube, Brazilian musician and composer Ricardo Bacelar's documentary Immerse explores the intricacies of the production of his first fully immersive album entitled Congênito. The album was created in Bacelar's own Jasmin Studio, one of the most advanced Dolby Atmos-certified residential facilities in the world. Working together with recording engineer Melk Dias and multiple-Grammy award winning mixing engineer Beto Neves, the documentary explores the creative and technical processes behind Bacelar's work on the album and reveals some helpful tips on how they created the immersive tracks.
Creating and composing music has always been Bacelar's greatest motivation and passion. From his early, when he used to listen to his paternal grandfather recording Rodas de Choro on his Philips tape recorder, to starting to play music instruments at the age of 14, then joining a band named Hanoi Hanoi when he was 18, Bacelar has always had a strong link with recording.
Now one of Brazil's most renowned multi-instrumentalist and composers, Bacelar's dream of being close to music the way he wants to be finally became a reality last year, when he built his own Jasmin Studio, designed by US acoustic design firm WSDG in with recording and mixing engineer, and immersive audio specialist, Daniel Reis, helping to select the right equipment.
The first album produced there is Congênito, a mix of pop, world, jazz, and fusion which Bacelar produced alongside Melk Dias, and sang, and played every instrument and which he wanted to record as a "truly human album".
Beto Neves, an award-winning mix engineer, was also invited to mix on the album. Being a pioneer in immersive, surround sound in Brazil, Neves's role was to help turn Congênito into a full-scale Dolby Atmos project. "The songs are filled with an array of rhythmic, harmonic and melodic possibilities. Maybe it's one of, or even the first album in the world to be recorded as an immersive Dolby Atmos album, but with analogue processing," he explains.
According to Neves, listening in Dolby Atmos is akin to HDR on a TV, where you can see even the small pockmarks on someone's face. "It's the same thing for audio in Dolby Atmos. You have resolution and space, not just the space between left and right, but 360 degrees of sound to add even more information and open up the possibility of painting this canvas and truly express the richness of the album's sound in the recording," he adds.
One of the tricks used when recording the Maracatu drums of Caetano Veloso's song A tua presença morena, was to record some of them twice. "This creates the sensation of volume, of size," reveals Bacelar.
"We wanted to give the impression of a percussion group playing, but as Ricardo is playing alone, we created the powerful sound of a huge amount of percussion. We add to this by using a Neumann KU 100 high up so that we can record the sound of the room. The explosion of the drum in the room and the multiple recordings achieves this sensation," adds Melk.
"It's like in cooking," says Bacelar. "Sometimes need more seasoning or extra ingredients."
Bacelar is never satisfied with his first recording, and says a composer should always have in mind that they have to know and look for what the song needs: "You can hear something that's technically really good, everything's perfect, but there's something missing and you don't know what it is. That something is always emotion. It's what moves the listener. They can feel it and so can I."
Click here to watch full documentary.
# # #
​
​About Jasmin Studio
​Ricardo Bacelar is a composer, arranger and producer based in Brazil. His Jasmin Studio was designed by renowned studio architects WSDG and includes state of the art equipment including a Solid State Logic 48-channel Duality Delta SuperAnalogue recording console. It is equipped and certified for Dolby Atmos Music production and incorporates a facility-wide Dante network infrastructure.
Latest posts by Hummingbird Media, Inc.
(see all)