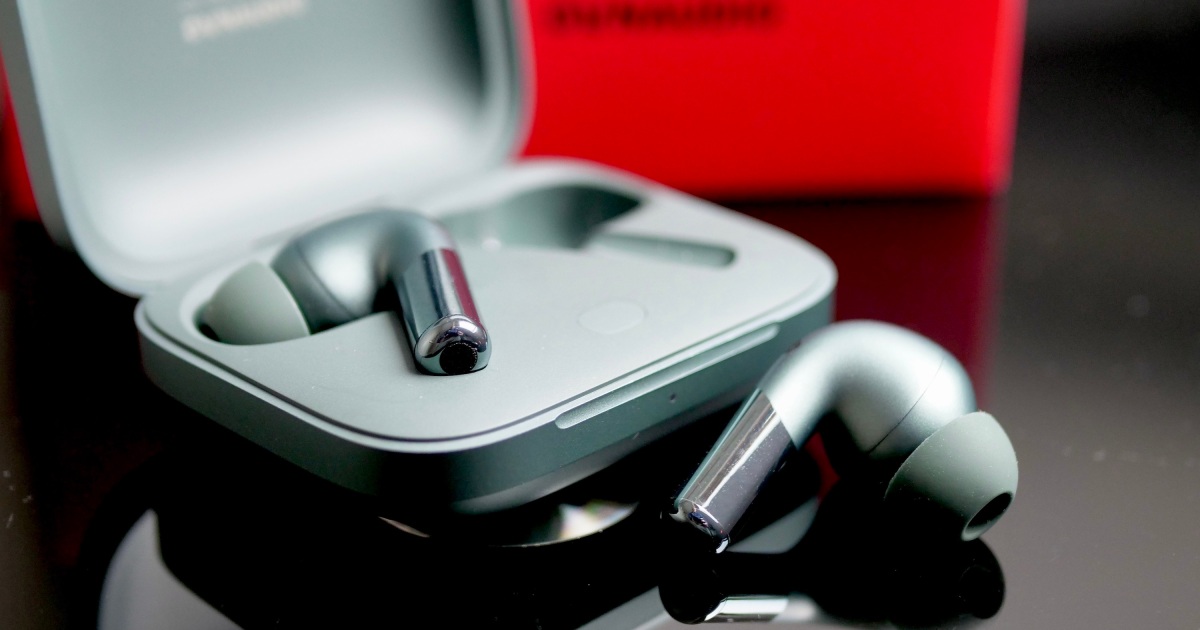 OnePlus Buds Pro 2 review: cool buds with a talent for music
MSRP $179.00
"The OnePlus Buds Pro 2 have excellent musical performance and long battery life but are let down by active noise cancelation that's less effective than the competition."
Pros
Great Dynaudio-tuned musical performance
Long battery life
Dual Connection works well
Android and iOS compatibility
Cons
Poor ANC and transparency performance
Limited Spatial Audio support
The OnePlus Buds Pro 2 force you to answer a difficult question before you buy them: Do you value wonderful musical fidelity over having the most effective Active Noise Cancelation (ANC)?
If the answer is yes, then OnePlus's partnership with Dynaudio should put the Buds Pro 2 on your radar. If you want the best of both worlds, then they may not be so attractive, as I found out after a couple of weeks of listening to them. Here's what they are like.
OnePlus Buds Pro 2: design and fit
These small earbuds blend a matte finish with polished stems for an eye-catching look, and the Arbor Green color seen in our photos is made to complement the Eternal Green color of the OnePlus 11 smartphone. The OnePlus Buds Pro 2 are also available in black. The case is in the same color and is made of slightly textured plastic. This makes it light, but it does feel like it'll scratch easily, and I really wouldn't want to accidentally tread on it, as the lid doesn't feel like it'll survive without cracking.
The design itself hasn't really changed over the OnePlus Buds Pro, but there are tiny alterations. The dimensions have changed by a millimeter or two, and the weight of each 'bud is up by half a gram. The case is lighter though. The Buds Pro 2 share the same IP55 water resistance rating for the earbuds and IPX4 rating for the case too. This means you'll be able to listen in the rain, and sweat won't bother them either.
I like the fit of the Buds Pro 2. OnePlus says the earbud casing has been streamlined for a better fit, and they certainly do nestle comfortably in my ears. They haven't fallen out when I'm exercising, but they can feel like they don't seal very well for me, and that's due to OnePlus unfortunately only including a choice of three differently sized alternative silicone ear tips, which is a little restrictive. I found the middle ones a little too small, and the largest ones a little too big. I doubt I'll be the only one, but all ear shapes are different.
This is the only negative thing to say about the earbuds' fit and comfort, but I do think that if the silicone tips were slightly more adaptable, or a set of foam alternatives were included, the OnePlus Buds Pro 2 would have almost perfect in-ear fit and comfort.
OnePlus Buds Pro 2: connectivity, controls, and app
The OnePlus Buds Pro 2 connect using Bluetooth 5.3 with both Android and iOS devices. If you use a recent OnePlus phone with OxygenOS 12 or 13, all the settings can be found baked into the operating system — but only if you go searching for them as for some reason they're hidden away. If not, then you need to download the HeyMelody app available from Google Play or the App Store. Some features, such as Spatial Audio, are not available on iOS. I had no problem switching between devices, the Bluetooth range has been excellent, and the connection has been rock-solid, too.
I like the Dual Connection feature here, where the Buds Pro 2 will connect to two devices simultaneously. To enable this you have to activate it in the settings menu, as it's not on by default. The earbuds happily stayed connected to my phone and computer at the same time and played back audio without complaint. It's a handy feature that works really well. Fast Pair is also available, and it has taken only seconds after pressing the button on the case to pair with all the devices I've tested.
You control the Buds Pro 2 with touch controls on the stems, which provide a button-like haptic response when you press or squeeze them. The controls are sensitive and easy to locate due to the long stems. Switching between noise cancelation being on, off, or in transparency mode is awkward, as it plays a nondescript sound to accompany the modes. Due to the sometimes loose fit and the noise cancelation's effect not always being that pronounced, you end up cycling through the modes or reaching for the app to confirm which setting is active.
The app also provides the option to personalize the noise cancellation feature, an equalizer, a Game Mode, a fit test, and a "Golden Sound" mode that tunes the sound based on your hearing and inner ear structure. It certainly changes the sound of the headphones when you use it, and you can save different profiles, too. Finally, there's Zen Mode Air, where one of five different ambient sounds (from white noise to a seashore sound) are stored and played on the earbuds.
In the future, OnePlus will add a feature that will apparently inform you about your posture using the earbuds, but it has not provided an exact date outside of it being this year. Controlling the OnePlus Buds Pro 2 and using the app isn't any better or worse than other true wireless earbuds, but squeezing the stems is slightly less awkward and uncomfortable than pressing the body of the 'buds, as you would pairs like Samsung's Galaxy Buds 2 Pro.
OnePlus Buds Pro 2: Listening and sound
Each OnePlus Buds Pro 2 earbud has an 11mm and 6mm driver, co-created with Dynaudio, inside, with support for SBC, AAC, and the LHDC 4.0 Lossless codec. I listened to the OnePlus Buds Pro 2 using the OnePlus 11, an iPhone 14 Pro, a 2020 iPad Pro, and an M1 Mac mini, using Tidal, YouTube Music, and my own collection of music, plus YouTube, Netflix, Disney+, and Vimeo.
Duran Duran's A View to a Kill is a great example of where the Buds Pro 2 excel. A strong bass kick that doesn't overpower the ever-present mid-bass and percussion, with centered, realistic, and powerful vocals inside a wide soundstage. They make that almost over-produced stereo effect that continues throughout the song really come alive, so it's involving and exciting. They sound excellent.
Not every track is so successful, and the Buds Pro 2 can sound muddy and confused in guitar-driven pop tracks, like they're struggling when pushed hard, leaving you a little disappointed. Oasis's Don't Look Back in Anger (Tidal's remastered version) isn't as full or rounded as I expect, for example, and The Bluetones Marblehead Johnson doesn't have as much punch as I want either.
For my preferred choice of music, having vocals front-and-center is important, and almost regardless of what you listen to, the Buds Pro 2 certainly succeed here. Voices have way more depth and emotion than the Nothing Ear 1's, and there's more bass than the Apple AirPods Pro. I have not been able to test them against the AirPods Pro 2 though. Compared to the original AirPods Pro, the OnePlus Buds Pro 2 have a fuller, more vibrant tone, but they can't match the AirPods' wonderful precision, stereo separation, and balance.
The OnePlus Buds Pro 2 are superb for vocal-forward music.
But it's how they handle vocals that has really made me warm to the OnePlus Buds Pro 2. The cute voice of each Woo!Ah member is distinct during Rollercoaster, where the baseline really pumps away throughout, making it immersive, fun, and exciting, just as the song should be. Vocals remain clear and centrally staged during Nogizaka46's Koko ni wa Nai Mono, and the build-up to the chorus sounds fantastic because of this. Genuinely, the OnePlus Buds Pro 2 are superb for vocal-forward music.
I find AirPods Pro are clearer and more controlled, but the Buds Pro 2 have a greater capacity for deeper bass and therefore can be more exciting to listen to. I've used them for video calls on my Mac and for voice calls with various phones, and call quality is excellent. However, the active noise cancellation (ANC) can cause problems, which I'll come back to later.
OnePlus Buds Pro 2: Spatial Audio
Spatial Audio, now part of Android 13, has two different settings, Fixed and Head Tracking, which are adjusted in the phone's settings. I tested the feature using the OnePlus 11, which OnePlus announced alongside the Buds Pro 2. Dig into the complicated settings menu for Spatial Audio and you get a demonstration of both modes so you can hear the difference. Later in February, a specially tuned Spatial Audio EQ designed by composer Hans Zimmer will be added through an update.
Watching spoken word on YouTube you do notice the Spatial Audio effect, but it's not as effective as Apple's implementation. The problem is where it shifts from left to right when your device is not in the center of your view, as it can distinctly mute the opposite earbud. It gives you the odd feeling the earbud has suddenly stopped working, especially with additional pressure created when you have noise cancelation activated. It takes a few seconds to reorientate itself and sound more natural.
The effect is slightly less distracting when listening to music, but it does drastically change the sound of the music. There are all kinds of algorithmic magic going on in the background to make Spatial Audio work, and not everyone is going to appreciate how it alters the tone, bass, and vocals of different songs. I'm not convinced there's much value in Spatial Audio on Android yet, and when it's not as seamless as it should be, the feature becomes more of a distraction than anything else.
Spatial Audio did not seem to have an effect when watching Netflix (but I don't pay the Premium subscription level, so this may be part of the problem) or listening to Google Podcasts. It's not a feature I would choose to use very often on the Buds Pro 2, due to the strange sensation it currently gives, and the lack of wide cost-free support.
OnePlus Buds Pro 2: Active Noise Cancellation
I don't like the OnePlus Buds Pro 2's noise cancellation system. Not only is it a pain to actually activate, as discussed above, but I don't think it's very effective. In certain listening situations, it can be bafflingly hard to tell the difference between on and transparency mode, due to outside sounds being artificially introduced by both. With ANC on, subtle outside sounds can take on a metallic, strangely amplified timbre. It's the same with your own voice when using the transparency mode, and it's nowhere near as pleasant and natural as the AirPods Pro.
I'm wearing them as I type this, and although noise cancelation is on I can still easily hear myself typing on a mechanical keyboard, and it's not even an especially loud one. Worse, these ambient sounds that aren't blocked out, tend to become harsher when mixed with voices, and particularly on calls, this can make it uncomfortable to have ANC on.
Louder sounds are suppressed using ANC, including passing traffic or dull, continuous noises like ambient conversation and machinery, but it's far less effective than the Apple AirPods Pro and the Samsung Galaxy Buds Pro 2. I have reached for both these when I really want to isolate myself, despite really liking the way the OnePlus Buds Pro 2 sound when playing music. I'm using the OnePlus Buds Pro 2 ahead of release, and there's a chance a software update will fix this odd performance, but I can only review what I hear.
Effective noise cancellation is an important feature for me, and the OnePlus Buds Pro 2 fall well short of the competition. I don't know whether this is a software problem, an issue due to the earbuds not always sealing well, or just the way they're supposed to be, but I know ANC is usually a lot better than it is here.
OnePlus Buds Pro 2: Battery life and charging
Expectations regarding the Buds Pro 2's battery life are high due to some big claims from OnePlus. On paper using the 520mAh case battery, you can expect 25 hours with ANC on and 39 hours with it off, and nine hours from a single charge (ANC off) of the 60mAh battery in the earbuds. The case has a fast charge feature that should provide three hours of listening time from 10 minutes charge. There's also wireless charging built into the case.
The battery life has been good. Playing music and using the headphones for voice and video calls, between multiple devices, for three and a half hours with ANC on depletes them from 100% to 50%. This suggests you should get around seven hours of continuous use. This is longer than you'd likely get from the AirPods Pro and the Samsung Galaxy Buds 2 Pro, both of which should deliver around five hours with ANC on.
OnePlus Buds Pro 2: Price and availability
The OnePlus Buds Pro 2 cost $179 and will be available from February 16, with pre-orders opening on February 7. They come in the Arbor Green color seen in our photos, and an Obsidian Black color too. You'll be able to buy them through OnePlus's own store and through Amazon. In the U.K. the OnePlus Buds Pro 2 cost 179 British pounds, and they will also be released on February 16.
You're in a difficult position with the OnePlus Buds Pro 2
Dynaudio's presence can be heard in the sound produced by the OnePlus Buds Pro 2, and it has brought them alive. I really enjoy listening to music on them and appreciate the punchy bass and the wonderful way they treat vocals. They're also lightweight and comfortable, even after three or four hours of continuous use, and the battery life is excellent. Cross-device compatibility is great, and the fundamentals are all in place to make living with the Buds Pro 2 painless. However, the ANC feature doesn't perform well, Spatial Audio is a gimmick, and the price increase over the OnePlus Buds Pro is unfortunate.
I've turned to the AirPods Pro and the Galaxy Buds 2 Pro for in-ear ANC duties, both of which isolate me from outside sounds far more effectively. They are both more expensive, but the brilliant Sony WF-1000XM4 can be found for about the same price as the OnePlus Buds Pro 2, as can the Jabra Elite 7 Pro. Both are better purchases if ANC is a feature you use a lot. The disappointing ANC casts a shadow over the OnePlus Buds Pro 2, as does the increased price, which is unfortunate considering how good they sound when simply playing music.
Editors' Recommendations