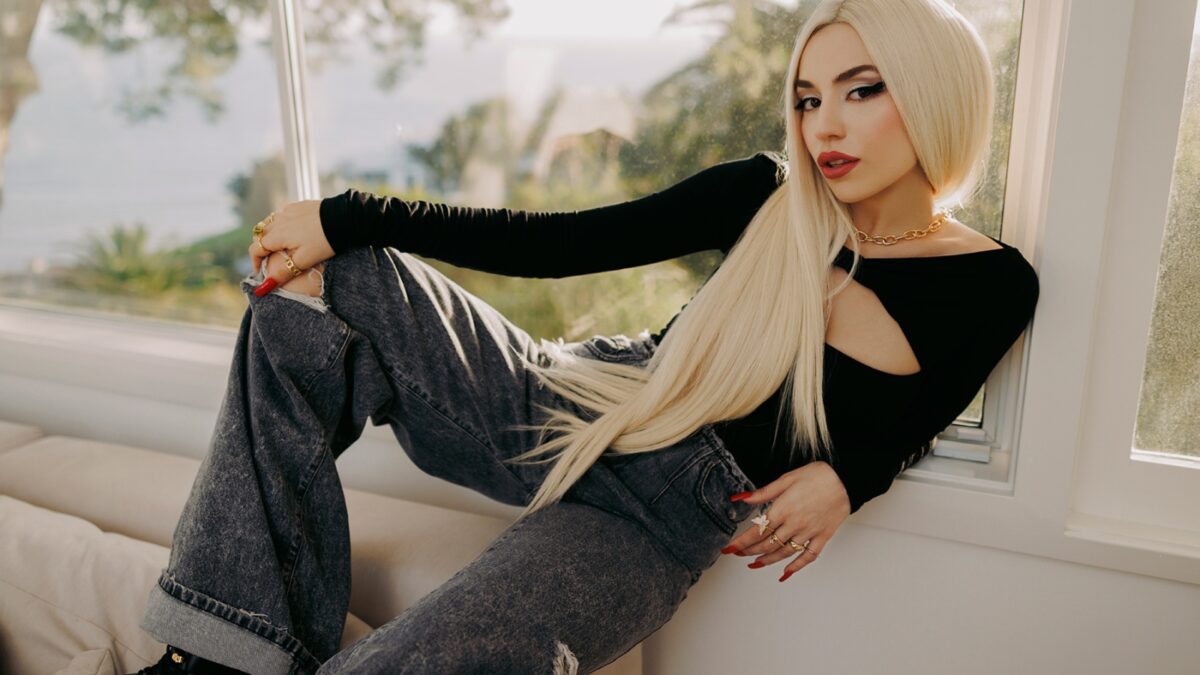 The night her hit "Sweet But Psycho" came out, Ava Max almost quit music. 
It was 2018 and she'd been at home in her  Los Angeles apartment. Her mind started to race: She needed a breakthrough song, and this could be the one – if only it would take off.
"No one knows this but I had a mental breakdown," she says now, almost five years later. She got down on her knees and started praying, even though she's not religious. "I'm like, 'God, please, if you're listening. I need to pay for my gas. My parents, I want to buy them a house. I just want to help the people I love and I want to perform on big stages and I want to have fans and I want people to relate to my music.' I was yelling this at the top of my lungs," she recalls "I said, 'If "Sweet but Psycho" does nothing, I'm done.'"
Max remembers that she started to cry, but she quickly got up, wiped her face, and told herself, "Oh my god, bitch. Get yourself together." 
Luckily, the universe listened to her prayers: "Sweet But Psycho" became a force. Spotify added the track to their New Music Friday playlist – the only pop song featured that week, she says. "Isn't that crazy?" Before she knew it, it had racked up 1.4 billion streams. The song's sticky melody was a stark contrast to popular chart-toppers at the time, which included Drake's "In My Feelings," Travis Scott's "Sicko Mode," and Ella Mai's "Boo'd Up." Many artists were veering into R&B, but Max wanted to double down on upbeat, pure pop. "'Sweet but Psycho' kind of paved the way for pop music again," she says. 
On Friday, the Albanian-American pop singer is giving us pure dance-pop once again as she releases her sophomore album Diamonds & Dancefloor. Across 14 songs, all executive-produced by Canadian hitmaker Cirkut, she shows off her signature electro-pop melodies with some Nineties synths and a touch of disco. It's her first project after signing with Scooter Braun's SB Projects, and her most honest yet. The album is inspired by major heartbreak she experienced over the last two years and although Max has been private about her personal life in the past, she's putting everything out there on this record – something that shows just how far she's continued to go since "Sweet But Psycho."
The album isn't just an evolution from her debut Heaven & Hell. She's looking at it as a kind of catharsis, one that she's excited to share with the world on Jan. 27. "I'm happy it's not going to be mine anymore," she says. "I'll be like, 'Okay, it's over. All the heartbreak is over. And now, we can just dance.'"
I meet up with Max in mid-January and on the drive to her place, I find a 2008 pop/R&B EP that she recorded as a 14-year-old under her first stage name, Amanda Kay. She knew early on that she wanted to be a pop star and was already fighting to make it happen. Once I arrive at her hill-perched house with a view of Malibu beach, I tell her I listened to a copy of the project online. "I'm going to cry. This is horrible," she jokes. I play her a snippet of a song called "Touch," and she starts humming along. "Isn't that funny, listening to that? It's baby me."
Max remembers that she struggled early on, but kept pushing toward the music career she wanted. "I was just trying to make an EP and get signed and no one wanted to sign me," she says. "I was like, 'Fuck you. I'm still going to try and make it.'" 
Max admits that even though she always wanted to be a pop star, she's not actually a fan of the razzle-dazzle, "lights, camera, action" part of fame. "People think I can just sing on stage and be crazy. But it's like, I have to turn that on," she says. "That's Ava Max. By myself, I'm Amanda." 
Making music always came naturally to her, and it helped that her parents supported her ambitions. Max's mom Andrea and dad Pavllo fled Albania in the early Nineties, seeking a better life. "If they didn't risk their lives, I wouldn't be here," she says. "They came here with nothing."
After settling in Wisconsin, where Max was born, her parents balanced three jobs each to support her and her brother Denis. Her mom worked at a movie theater, a bakery, and as a housecleaner, while her dad juggled cab driving, baking pizzas, and doing electrical engineering. "It's like they didn't sleep," she says. "I remember my mom broke her shoulder and still went to work and was cleaning with a vacuum with her broken shoulder." Their work ethic inspired her to keep on pushing for more in her own career. "That's what they call the American dream. They just didn't stop," she says. To her, Diamonds & Dancefloors represents the strength and resilience she learned from her family.
In many ways, the album feels like a new side of Max. "I'm actually really shy," she says. "I just want to hide sometimes. I'm a little hermit." As we chat, Max cozies up on the couch, wrapped in a sherpa coat, tucking her feet under her. She usually prefers to keep her personal life and her career separate, but that's all changed on Diamonds & Dancefloors, which is full of intimate lyrics about heartbreak. She knew fans were going to have questions about what happened, so she's decided to open up and tell me about it. "In a way, it does make me uncomfortable because I don't like sharing my private life," she says.
Throughout our conversation, Max is cautious with what she shares. She went through two break-ups over the last three years, and the second one, a relationship she ended last June, "really killed me." By the time she ended that relationship, she'd already released Diamonds & Dancefloors's lead single "Maybe You're the Problem," a synth-pop song that "flew out" of her and captures what she was going through with her previous partner. "You know what I realized?" she says. "That you can't lose yourself for anyone. And I almost lost myself last year for someone. This person wanted me to change who I was, my eccentric self. I didn't realize that at the time. But all my friends and family, they didn't even recognize me." 
On "Maybe You're the Problem," Max sings about finally realizing that the person she's with refuses to take any accountability for their behavior. "Drama always follows you home, but I won't be waiting no more," she declares on the track. It reflects how she took back her own autonomy. "I just had to choose myself," she says. "I was like, 'I've worked my entire life for my career. I'm not going to let someone take that away from me." 
Though most of her album was complete at that point, Max chose to postpone the record and get back into the studio with Cirkut, who she calls the "Einstein of music" and her best friend. She wanted to pair her soul-crushing lyrics with upbeat,dance-ready melodies. "When I was in the studio, that was all I could write about: sad lyrics and what I went through," she says. "But I turned it into dance music."
What came out was some of Max's best work yet. Max's vocals shine on "Ghost" as she sings about "feeling haunted" by her ex over sparkling synth lines. On the disco-drenched "Hold Up, Wait a Minute," Max questions her partner's connection with a past love. And her most emotional song on the project, "One of Us," started as a ballad but transformed into an empowering anthem about coming to terms with the end of a relationship. "Of course, I made it into a dance record," she says with a laugh. "I have a problem. I just want to dance. I'd rather cry and dance."
Max worked so hard on the album that she had little time to dwell and mourn about her personal life. "A week after my breakup, I wasn't in my bed crying. I actually did Pride in London and I didn't cancel it," she says. The emotions did get to her at one point during the performance: "No one saw, I turned around and I started bawling, and then I had to get myself together," she remembers. "It was a week fresh, but I couldn't cancel on my fans." She got to "Maybe You're the Problem," and belted out the lyrics with her voice quivering, closing her eyes as she powered through the song. 
"I think performing got me through it," she says. "I healed through my performance."
She's also been going through other changes: She has a new look to go with the new album. She's switched up her signature "Max Cut," an asymmetrical hairstyle that's a shoulder-length bob on one side and long on the other. "I just wanted to have fun for a second," she says. "But I definitely think she's always going to be a part of me… It's not gone forever."  She finally feels like she's in the driver's seat of her career, a feeling that's permeating every part of the creative process: Just a few weeks before the album's release date, she even decided to change the album artwork. "Now, I'm in control of my entire career and it feels good," she says. 
Mostly, she's excited for people to follow her down such a deeply personal path. "People don't know this, but it's just the beginning for me. I've just scratched the surface," she says. "I look around and I'm like, 'Look, you did what you wanted to do, but now what do you want to do? What's the next step?'" She's figuring that part out, but already, she's come so far from the Ava Max that was once so close to giving up.