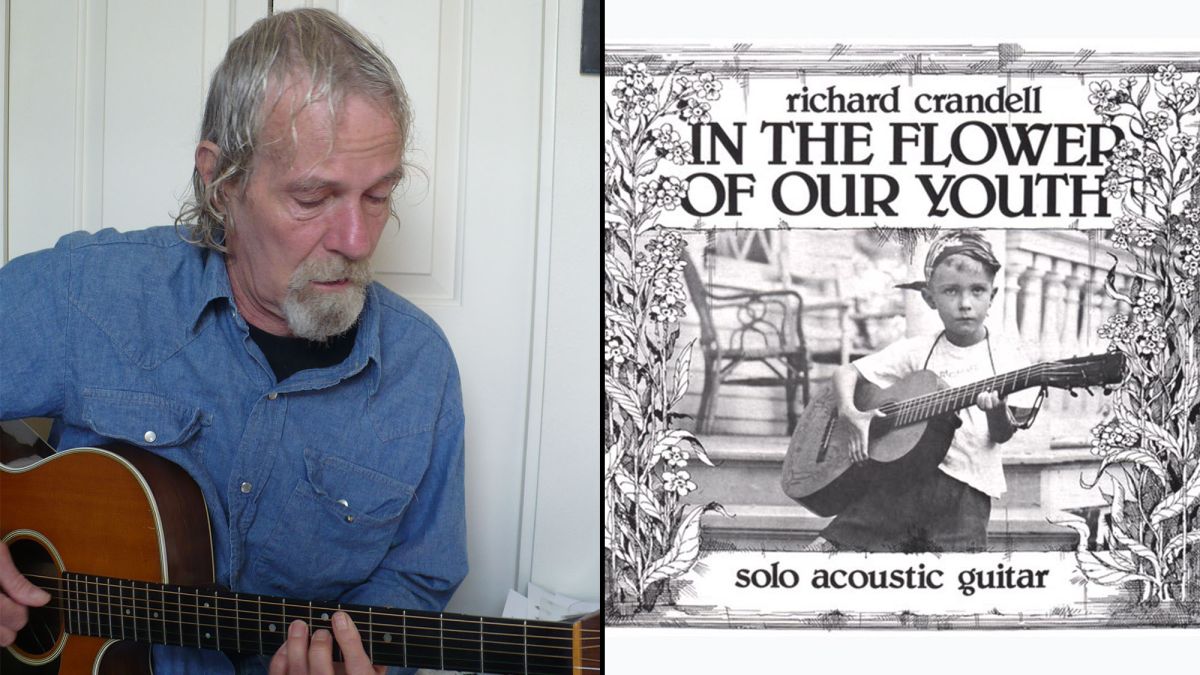 Richard Crandell was a uniquely talented acoustic guitarist who passed largely under the radar, but rose to some prominence when his song Rebecca was covered by the great Leo Kottke. Sadly, Crandell passed away in October 2022, a fact that went largely unreported at the time. 
It will come as little surprise to most of our readers to hear that the music industry is not a meritocracy and that fame is rarely directly proportional to talent. As such, Guitar World would like to take a moment to remember a player who deserved more spotlight than he received in his lifetime.
Crandell was born in 1943 and picked up the guitar in his childhood. Like many acoustic guitar players of the era, he had something of a musical revelation when he discovered the music of American primitive icon John Fahey, a player he would later support.
The guitarist spent the first decades of his life on the East Coast, initially settling down into a job and a marriage in Buffalo, New York. However, it proved unsustainable and Crandell decided to devote himself more fully to his music – a period of change that led to a move to the West Coast and the dissolution of his marriage. 
Crandell's travels led to him finding a home – and space to play – in Eugene, Oregon and eventually, to a gig with folk songwriter and activist Mimi Farina. It was in this context that Leo Kottke first encountered Crandell. The latter performed his composition, Rebecca, for Kottke, who was impressed enough that he covered the song on his 1975 album, Chewing Pine. 
In 1980, Crandell was given the chance to commit his own version of Rebecca to tape on his first album, In The Flower Of Our Youth. The album was released as a limited run via Cutthroat Records and failed to make much of a commercial impact, but has since become considered one of the American primitive movement's great acoustic records. 
It is a rich, complex and perfectly-paced showcase: confident and un-showy in its raw execution, yet deeply melodic and never prone to the listless meanderings that are sometimes (unfortunately) associated with the movement. 
Despite the lukewarm commercial reception, the guitarist was unabashed in his commitment to music making and recorded Oregon Hill – a duet with friend and fellow guitarist Bill Bartels – in 1983, and a handful of further albums across his career. 
In The Flower Of Our Youth was reissued on CD (via Sound Advice) and vinyl (via Tompkins Square) in 2007 and 2008, respectively – proving that appreciation of Crandell's talent had never faded. He followed it in 2016 with Then And Now – a collection of scattered but nonetheless magical compositions gathered from a 25 year period. 
He also featured several times on Tompkins Square's influential Imaginational Anthems (opens in new tab) compilations – a series that has included work from Michael Chapman, Ryley Walker, John Fahey and Steve Gunn. 
In a cruel twist of fate, Crandell was diagnosed in his later years with Essential tremor, a chronic condition that caused him to suffer involuntary movements in his hands and arms, and made playing the guitar very challenging. 
Remarkably, a chance discovery of the mbira – AKA the thumb piano – following a tour bus clean-out (Crandell had been driving the vehicle) saw the guitarist find a new lease of life, musically. 
Two albums of mbira compositions followed in the late 00s – Mbira Magic and Spring Steel – both of which were recorded in collaboration with Brazilian-born percussionist Cyro Baptista and, by his own admission, brought him more recognition than he had ever received as a guitar player.
"I used to not think I was quite good enough, or I didn't realize how special what I was doing was," Crandell told NPR (opens in new tab) in 2009. 
"I just kind of took it for granted. So now I've got this other gift of the mbira, and being able to do something with that… My mission is to calm the world with this music."
It is a sentiment with which it is hard to find argument. RIP Richard Crandell.