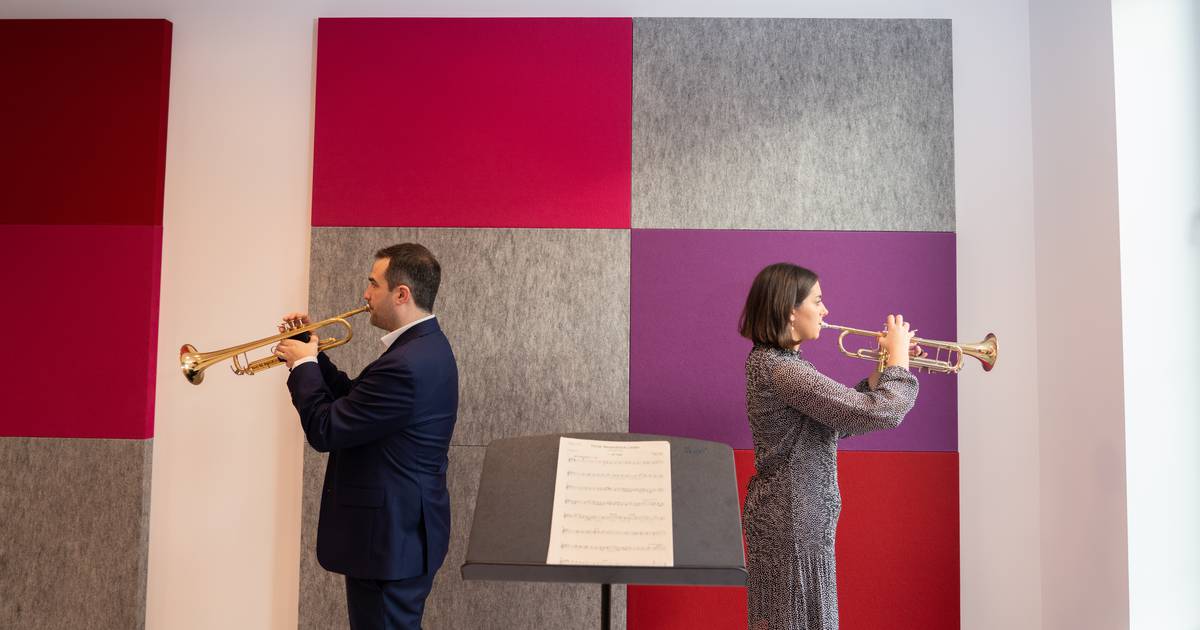 Passing the Royal Irish Academy of Music, on Westland Row in Dublin, nothing much seems to have changed apart from the freshly painted front door and potted bamboos. One would never guess the fine Georgian building, the academy's home since 1848, has been reimagined over the past seven years at a cost of €25 million, transforming the facilities and nearly doubling the number of music rooms available for students.
For weeks, students and teachers at the national conservatoire have been moving into the enlarged, 6,500sq m campus, designed by Todd Architects, which will officially open on Thursday morning. Minister for Higher Education Simon Harris and Minister for Culture Catherine Martin will join the academy's director, Deborah Kelleher, at the launch.
Kelleher says she is delighted with how the new build "packs a lot into a city-centre site and gears us up for the future".
A new six-storey facility and recital hall are positioned behind the original Georgian building, an impressive expansion invisible from the street. It is home to a flexible opera and orchestra rehearsal space; 75 teaching rooms with adjustable acoustics; a state-of-the-art library; a sonic-arts hub for electronic-music composition; a 60-seat lecture hall and a music therapy space.
Riam, a familiar name all over Ireland for its music exams, has 2,000 school-age students and 200 undergraduates and postgraduates. Generations will recall the Georgian building, which now houses the keyboard faculty and administration, and connects to the new build via a glazed bridge.
Also connecting them, in the old "red carpet" area where students waited before lessons in the warren of music rooms, is a fresh, open concourse. There's artwork on the walls and deep steps that are perfect for pop-up fanfares or hanging out.
The sound of a piano leaks out of somewhere. Through an internal upstairs window, the rising arms of a singer working through scales can be seen.
"We wanted it to be, and feel like, a performing-arts school," says Kelleher.
In the lesson and practice rooms, the walls are adorned with acoustic panels, colour-coded by floor.
While planning permission was only granted for a building the same height as the street's four storeys, the site is lower at the back, allowing for the neat accommodation of six floors in a smart design that is contemporary and sympathetic to its Georgian surrounds.
Connected to the new block, the 300-seat concert hall is almost finished. Entering via the stage/service door from Cumberland Street, its soaring ceiling and wooden acoustic boards are visible behind the scaffolding.
A "proto-professional" hall for solo and chamber performance, and for small orchestras, will open in May. Kelleher is charmed by the architect's "cute optical tricks" connecting it with music rooms via glass panels. She says "it will be used a lot", including for more than 100 public performances a year.
Planning for the redevelopment began in 2016. Builders moved onto the site in May 2020, at which point lessons scattered around the building and or moved off site. Covid shutdowns and building inflation have affected the timescale and cost but not severely. Funding is a mix of public and private, made up of €10 million from the Department of Higher Education and Department of Culture and €11 million from donors. The remainder came from a loan.
The private donations amount to the largest philanthropic support for an Irish arts capital project to date. Kelleher says the support for an institution without a project track record shows "incredible belief and courage" by the donors. "I pay tribute to the Irish Government and the transformational people and institutions who came on board early on when we had nothing more than a dream – albeit a compelling one."