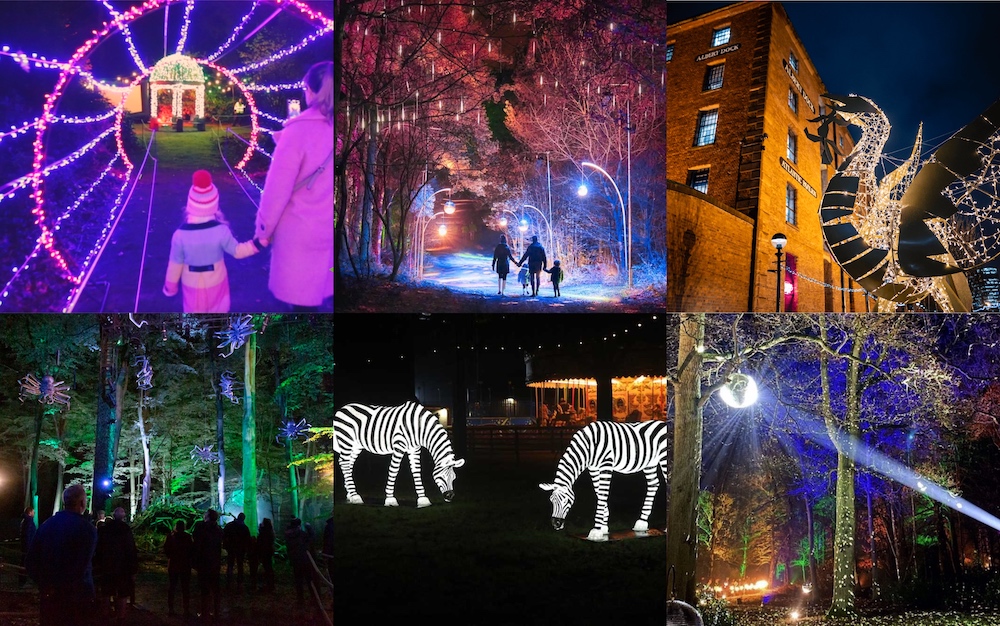 Christmas light trails have become a festive must over the past few years with more and more displays shining bright across Liverpool City Region
Wrapping up with a load of layers, a large hot chocolate, and a wander through a grotto of spectacular festive lights… it's beginning to look a lot like Christmas! The Liverpool City Region has got some fantastic light trails on offer for you and your family & friends this year, so we have put a list together to help you out when picking. 
Enchanted at Knowsley Safari
Enchanted has become a Christmas tradition for many, with last year's event a sell-out. This year's experience is set to be just as popular, with over 30 light-up animals throughout the Foot Safari, ready to immerse guests in the festive spirit. 
Families and friends alike will be swept away by the magical atmosphere created by illuminated deer, giraffes, zebra, penguins, flamingos and many more, as seasonal music plays. There'll also be the chance to meet up with the Big Man himself, with Knowsley Safari's Santa Experience.
For more info click here. 
Light Trail at Royal Albert Dock
Evening strolls just got a whole lot brighter with The Albert Dock's easy to follow Christmas Light Trail map. Download the map on their website and listen along to their specially curated Christmas playlist to be guided around the most magical parts of the dock, and see if you can spot Neptune, Triton, Bella and Bertie.
Also at the Dock – the Grand Hall will transform into a hub of festive fun, with a series of free festive workshops taking place for both adults and children. Kids can also write their own letter to Santa by posting them in a giant post box made of ice on December 17.
For more info click here. 
Winter Wonderlight at Thornton Manor
As night falls on the historic gardens of Thornton Manor this winter, the grounds will come alive with a glittering sprinkle of Christmas magic in a visually stunning, multi-sensory walk-through wonderland spectacular. 
Stroll under the stars beneath magically illuminated tree canopies transformed by moving light as you wind your way along a shimmering path through spectacles of sight and sound to thrill the senses.
To book click here. 
Harry Potter: A Forbidden Forest Experience
A nighttime woodland trail experience filled with magical creatures and wizarding wonders from the Harry Potter and Fantastic Beasts films. Explore sounds, lights, and special effects that bring the magic of the Wizarding World to life. Guests will also be able to enjoy a wide range of delicious food and drinks at the village. 
Set in a beautiful woodland, this nighttime trail experience has been created by award-winning theatrical designers and experiential creators. So grab your wand and head on over for a magical spectacular that you will never forget. Watch out for Dementors! 
For more info click here. 
The Lanterns – Chester Zoo
Set off from the zoo and travel to distant lands, each one different to the last. Discover the tales from around the world that await you! 
Delve into a Norwegian fairy-tale land, wander through giant lotus flowers, and flying dragonflies in a Japanese inspired garden, then earn your own stripes with the zebras in an African zone. Come face-to-face with life-size orangutang puppets along your trail, as you immerse yourself in a spectacular UV Bornean jungle. This has to be one of the best Christmas Light Trails in the UK so get booking when you can.
Father Christmas will be there with his reindeer – spreading some festive cheer. Then you can take yourself around the Christmas markets with lots of food to feast on. 
For more info click here. 
Walton Gardens Winter Light Trail
A spectacular, illuminated trail, full of wonder and delight to enthral your senses has come to Walton Hall Gardens, Warrington. As darkness descends, join Luminate Cheshire on their enchanting journey, as they display a captivating light trail through the stunning grounds of Walton Gardens. 
Immerse yourself in a mesmerising trail, with stunning lighting elements and fabulous light play, all set to ambient music.
A Timeless experience to be enjoyed by all. Luminate Cheshire at Walton Gardens will run nightly from Thursday 24th November 2022 until Friday 24th December 2022. Tickets must be pre-booked online in advance.
For more info click here. 
Christmas at Delamere Forest
An enchanting after-dark illuminated trail through a festive forest– with new installations for 2022
Christmas at Delamere Forest is bringing you loads of festive cheer as their spectacular installations and seasonal sounds sparkle through the forest. 
For more info click here. 
For more Christmas Light Trails and festive news follow us on Twitter, Facebook and Insta – @TheGuideLpool