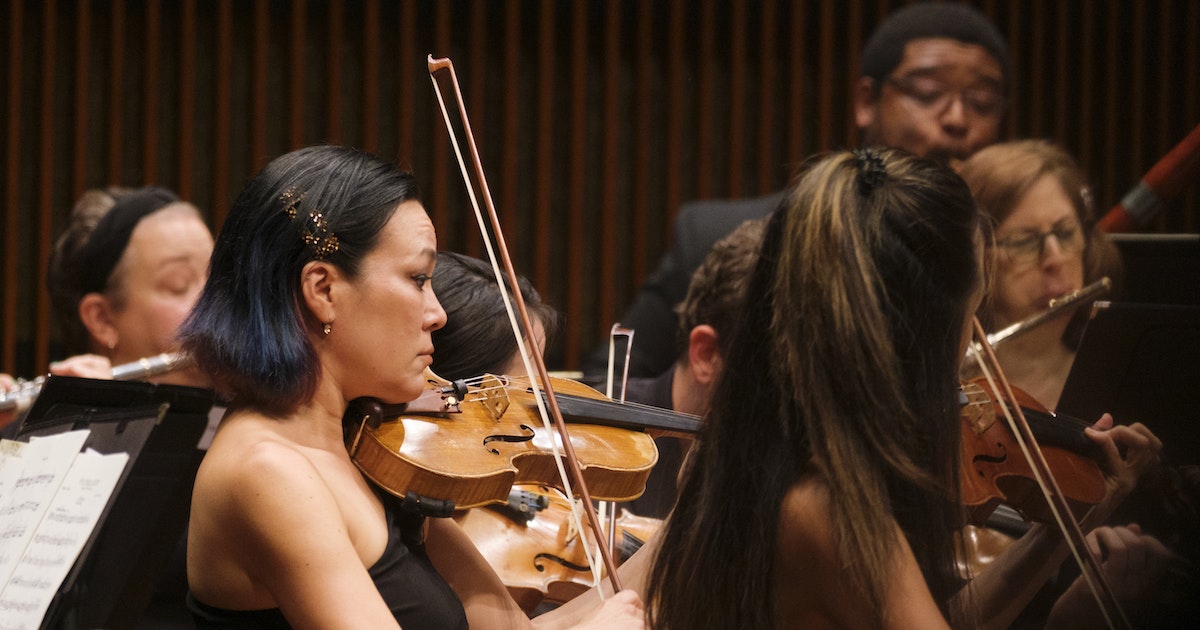 It's taken Americans a long time to get there, but many now seem more willing to entertain a historical narrative that doesn't fit into the Eurocentric old world/new world framework. Today, few American history books start with Columbus sailing the ocean blue in 1492.
Likewise, classical concerts are getting less tied down to the usual Western European suspects. Twin Cities audiences have a great opportunity to enjoy a program born of cultural cross-pollination this week. The St. Paul Chamber Orchestra is barnstorming multiple metro-area venues with more than half a millennium full of music that eloquently explores the intersection of Spain and Latin America.
Curated by SPCO violinist Maureen Nelson, the concert proved a fascinating fast-paced transatlantic flight at St. Paul's Ordway Concert Hall Friday night. Hopscotching across eras from the Renaissance to the classical to either end of the modern era, it proved a ceaselessly invigorating 80-minute, intermission-less offering.
While its centerpiece — and the evening's high point — was an arrangement for string orchestra of contemporary American composer Gabriela Lena Frank's "Leyendas: An Andean Walkabout," the concert was a rewarding musical walkabout, as well, starting with a symphony by a lesser-known composer.
That would be Juan Crisóstomo de Arriaga, who probably earned his nickname, "The Spanish Mozart," as much for his precociousness as his style. Alas, the Iberian wunderkind died at age 20. So, if the SPCO's spirited interpretation of his lone symphony makes you hungry for more of his music, you won't find that much of it, sad to say. But his symphony was quite a satisfying glimpse into his gifts, buoyed by some lovely woodwind work from flutist Julia Bogorad-Kogan and clarinetist Sang Yoon Kim.
A taste of Latin American flavors finding their way into European music came courtesy of a woodwind quintet version of Maurice Ravel's "Piece en Forme de Habanera." But far more involving was Frank's piece, each of its six movements inspired by a different Andean instrument or ensemble. I've heard the original string quartet version before, but this arrangement was more richly textured, both sonically and emotionally, especially during Nelson's fiery solos on the "Tarqueada" movement and the sorrowful "Chasqui."
Nelson was both composer and concertmaster for her concert-closing "Renaissance Suite," which adapted three songs from the late 15th and early 16th centuries from the pens of Pedro Guerrero, Josquin des Prez and Nelson's own take on a Peruvian dance.
And it served a welcome reminder that other interesting things were happening in 1492, such as des Prez writing some moving heartbroken laments and laying a foundation for the next century of European music.
Rob Hubbard is a Twin Cities classical music writer. Reach him at wordhub@yahoo.com.
The St. Paul Chamber Orchestra
What: Works by Juan Crisóstomo de Arriaga, Maurice Ravel, Gabriela Lena Frank and Maureen Nelson
When and where: 8 p.m. Sat., Ordway Concert Hall, 345 Washington St., St. Paul; 7:30 p.m. Tues., Shepherd of the Valley Lutheran Church, 12650 Johnny Cake Ridge Road, Apple Valley; 7:30 p.m. Thurs., Temple Israel, 2323 Fremont Av. S., Mpls.; 8 p.m. Fri., Wayzata Community Church, 125 Wayzata Blvd. E., Wayzata; 8 p.m. Feb. 4, St. Paul's United Church of Christ, 900 Summit Av., St. Paul
Tickets: Free-$50, available at 651-291-1144 or thespco.org