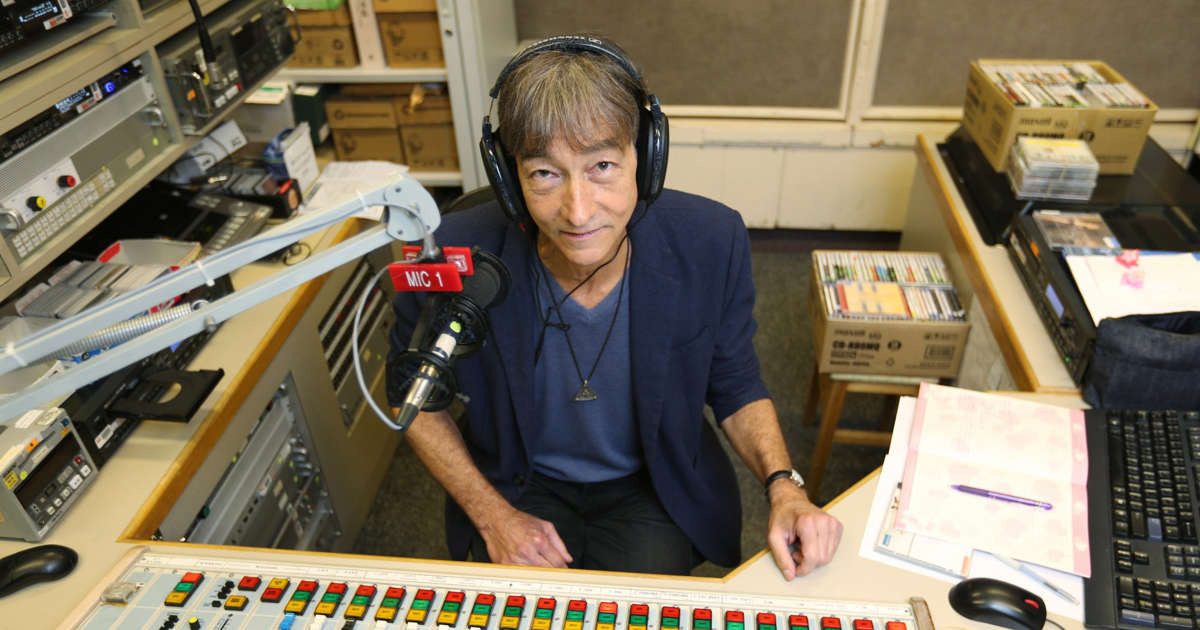 Jonathan Douglas presented classical music programmes for Hong Kong public broadcaster RTHK for decades, but he was also a composer and pianist
Months before his death from cancer, he recorded 13 of his piano compositions, which his family have now released on Spotify as an album, Time and Again
Jonathan Douglas was a man of many talents. Best-known as the voice behind RTHK's classical music programmes for 30 years, Douglas was also a theatre director and accomplished actor. But his first love was music.
In early 2022, months before he died at the age of 65 after a long battle with cancer, Douglas recorded 13 of his favourite piano pieces among those he composed over the years, with some dating from his twenties and thirties.
Now these have been released on Spotify by his family as an album, titled Time and Again.
Do you have questions about the biggest topics and trends from around the world? Get the answers with SCMP Knowledge, our new platform of curated content with explainers, FAQs, analyses and infographics brought to you by our award-winning team.
There is a theory that each musical key provokes different emotions. Out of the 13 pieces, nine were written in the keys of D major and E major.





© Provided by South China Morning Post
Jonathan Douglas at RTHK Broadcast House in Kowloon Tong, Hong Kong, in 2017. Photo: Xiaomei Chen


The former is the key of triumph, and often used to symbolise the overcoming of hardship – think of Beethoven's Ode to Joy – while E major is a joyful, boisterous key (Rossini's William Tell Overture). The result is that Time and Again is a portrait of a man who loved life and who stood defiantly in the face of death.
The album starts with "E Major Echo". The opening section is played at a walking pace. It expresses a sense of hesitancy, as if someone were wandering around, not quite sure which way to go. It is the start of a journey, an apt beginning to the album to pull you in.
Time to stop the taming of Hong Kong public art
The following three pieces are jazzy and free-spirited. Yet the manner of his playing is contained and avoids the build-up of tension and climax, creating a sense of gentlemanly elegance and calm.
"Bitter Counterpoint" is in classic ABA form, but variations in tempo and the deliberately abrupt phrasing of the independent melodic lines gives it an interesting character. I didn't sense any bitterness. Instead, the rewinds and repeats reminded me of piano practice and the learning of a new piece of music.
The seventh track on the album, called "Untitled", is the longest at nearly seven minutes. It echoes the first track in its wandering nature, but stands out by venturing into a minor key in its middle section that darkens the mood and creates an ominous feeling.
Yet it ends with a peaceful ascending passage that suggests an ethereal eternity.





© Provided by South China Morning Post
Time and Again by Jonathan Douglas has been released on Spotify.


The title of "Sad Waltz in E" is a little bit misleading. It's not a waltz, except for the beginning and the ending. And the mood overall is not as poignant as the title suggests. Conversely, the simple melody is reminiscent of the childlike innocence of the music of Joe Hisaishi.
The album closes, touchingly, with "Rebirth". It is a tranquil piece, full of hope. The change in key (not surprisingly, from D to E) towards the end enhances the joyous mood and leaves the listener feeling positive.
Douglas can be heard speaking in two of the pieces, a nostalgic touch for those who recall his soothing radio voice.





© Provided by South China Morning Post
Douglas was a long-time host of classical music programmes on RTHK Radio 4. Photo: Xiaomei Chen


It is worth noting, too, that throughout the album, you can hear the distinct clicking sound of the piano hammers, which suggests that he recorded the music (in a London studio) with the piano cover removed and the microphones placed close to the action.
It is a popular way of creating an ambience of intimacy, used by pianists such as Olafur Arnalds (in "We Contain Multitudes"), VIkingur Olafsson ("Ave Maria") and Joep Beving ("Last Dance").
Time and Again is not about groundbreaking compositions or ambitious piano techniques. It is a perfect gift left to us by a man who deeply loved music.
Time and Again by Jonathan Douglas was released in January 2023. It can be listened to, free of charge, on Spotify.
More Articles from SCMP
'Terminal cancer patient in Poland' dupes Hong Kong woman, 51, out of more than HK$9.6 million in online love scam
Man's best friend in China: boy gives pet dog his Lunar New Year 'lucky money', pooch chases owner's car to say goodbye and missing pet knocks on front door
How to attract the new wave of Chinese tourists: big-city thrills, nighttime activities, adventure tourism – or go with ChatGPT's humorous advice?
Hong Kong smoking survey sparks controversy over whether higher tax discourages cigarette use
This article originally appeared on the South China Morning Post (www.scmp.com), the leading news media reporting on China and Asia.
Copyright (c) 2023. South China Morning Post Publishers Ltd. All rights reserved.