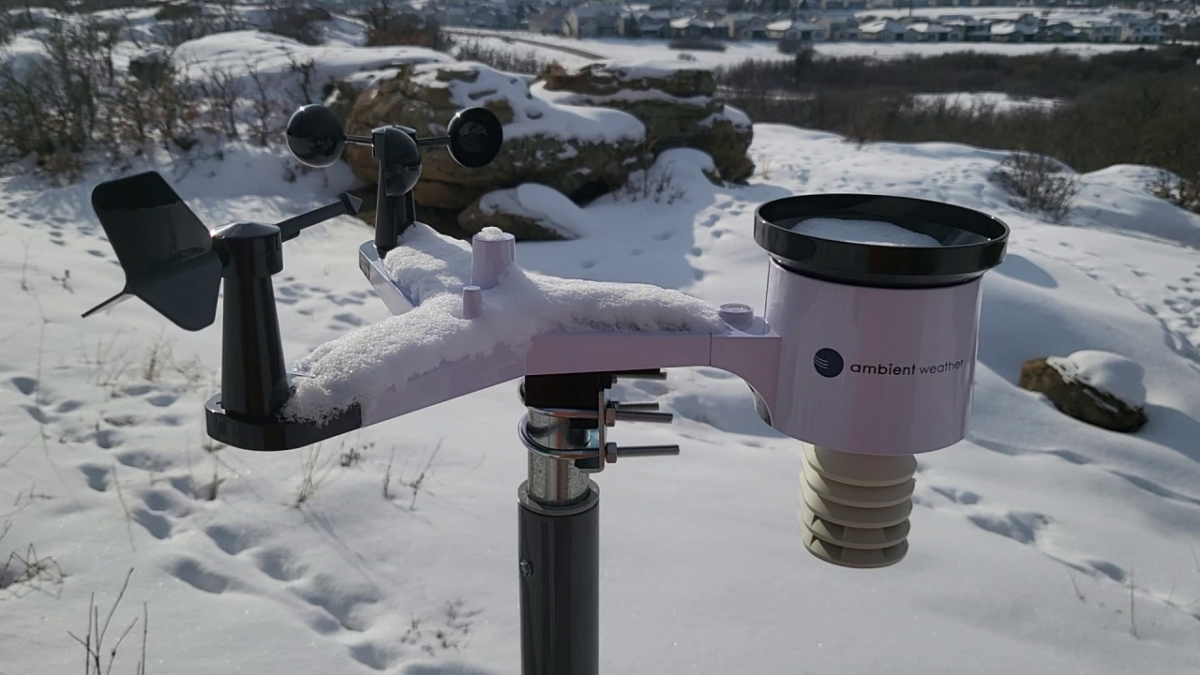 Tracking the weather seems to be a hobby for so many of us. I don't know why but I love knowing what the weather is at MY home. I'm a bit of a weather geek. So many of us are. If you're a fellow weather nerd then the Ambient Weather WS-2902 Home Weather Station is designed for you! I took it for a test at home.
There are two main pieces to the home weather station, the outside weather station and the inside wireless screen that shows you the stats from the weather station. We'll start outside. The unit itself is pretty easy to put together after pulling it out of the box. The complication will be deciding on a good spot to mount it and pulling out the drill and screws. I picked a spot on my back fence although it may eventually make its way up to my roof. The company has guidelines for best placement to get the most accurate readings. You have sensors galore in the weather station including temperature, wind speed, humidity, wind direction, rainfall, UV levels, solar radiation, barometric pressure, dew point, heat index, wind chill and others.
The unit itself is a pretty decent size but I wouldn't say it's huge. You might want to check with your neighbors before you mount it on a fence.
Inside your home you'll connect the wireless screen. This communicates wirelessly with the weather station outside so you can quickly see all of the info about the weather. It's pretty self explanatory and an easy way to check on the current conditions quickly.
The techie fun comes when you connect this screen to your WIFI network and the Ambient Weather online service. You can check out the current stats and history from your weather station in the mobile app. You can also look at other weather stations anywhere in the country on their website ambientweather.net
The app is great! It gives you a quick simple look at the current states but also lets you dive deeper into your stats if you prefer. I really like how Ambient Weather does a good job of making this approachable for those of us "non-meteorologists" but also nerdy enough for people who want more.
Overall
This is a great way for many of us weather nerds to track the weather in our own backyard. While the WIFI setup could be a little easier, setting up the weather center itself was very easy. The screen inside your home gives you a great quick glance at the conditions while the Ambient Weather app and website lets you dive deeper into your weather stats.
I'm giving the WS-2902 Home Weather Station a 4 out of 5 geek rating!
The Ambient Weather WS-2902 Home Weather station is available directly from the AmbientWeather.com site for $190.