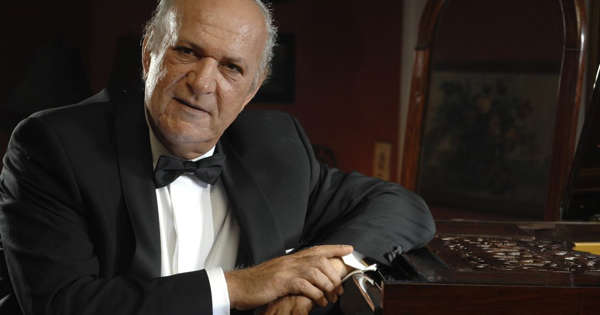 Omar Khairat's compositions are more a timeframe than timeless.
The pianist, 74, is synonymous with some of the greatest Egyptian films, including Lailat al-Qabd Ala Fatima (The night they arrested Fatima) in 1984 and 1994's The Terrorist, which were pan-Arab hits. His latest pair of concerts at Dubai Opera on Friday and Saturday are therefore likely to be a nostalgic affair, with fans often humming along to the wistful melodies.
Khairat, who performed as part of Louvre Abu Dhabi's fifth-anniversary celebrations last year, says he doesn't mind sticking to his vintage material.
In 2019, he released the album Music of Egypt, Vol 2 and composed the soundtrack for the action film El-Mamarr.
"I could have done more recordings but I am happy dedicating this phase of my career to concerts," he tells The National. "The music really speaks to people and it reminds them of certain periods of their lives which are often simpler and full of happiness."
To describe Khairat concerts as a mere retread would be unfair, however.
Through his work in television and film, Khairat helped usher in classical music into Egyptian popular culture with sophisticated works rooted in the region.
"I never wanted to lose the Arabic identity in my music," he says. "It's not only important to me personally but the music from our part of the world is rich and diverse enough that it can easily mix with other western forms."
It is a skill he honed at the Cairo Conservatoire, established in 1959 by his uncle and revered composer Abu Bakr Khairat.
That classical education was matched by Khairat's evening gigs as drummer for the influential Egyptian rock band Les Petits Chats.
Formed in 1967, the group amassed a cult following in Egypt and the Levant and were the subject of a self-titled documentary in 2015.
Khairat perks up at the mention of Les Petits Chats and recalls the experience as important to his development as the rarefied surroundings of the conservatoire.
"I was studying the piano and playing drums with the band," he says.
"As a composer, because it showed me how to link different genres together, it made me understand even more the structure of compositions and the importance of melodies."
That knowledge is prevalent in Khairat's work, characterised by the controlled and measured expressions of western classical music, with the free-flowing musical style found in the East.
In his 1984 song Fatma, classical piano is juxtaposed with heavy Arab percussion and the folk sounds of the oud, while in 100 Years of Cinema (1986) he puts everything in the mixer, adding some funk and Latin grooves on top of Levant rhythms.
With his formal training setting up his quest to forge "a global sound that is also distinctly Arab," Khairat worries such rigorous training will become a thing of the past.
He says artists today are mostly relying on mere talent alone.
"Don't get me wrong, that is very important but it's ultimately not enough," he says.
"Having that backed by a deep and rich knowledge of music will also give you the tools to develop it. Without that understanding, I fear the music that will be released will be ultimately stagnant.
While his concern for the future is well-intentioned, Khairat is satisfied he did his bit to point the way forward.
It is for this reason, the composer says he is having the time of his life right now on stage, playing the classics.
"To see people's faces each night, face to face on stage, is something that inspires me," he says. "That joy is shared and I look forward to playing for more time to come."
Omar Khairat performs at Dubai Opera on Friday and Saturday, at 9pm. Tickets, starting at Dh295, are available at www.dubaiopera.com
Egypt's Asil Ensemble play first show on home soil since forming in 2003 – in pictures
The Asil Ensemble, led by Mustafa Said. All photos: The Arabic Language Centre
© Provided by The National