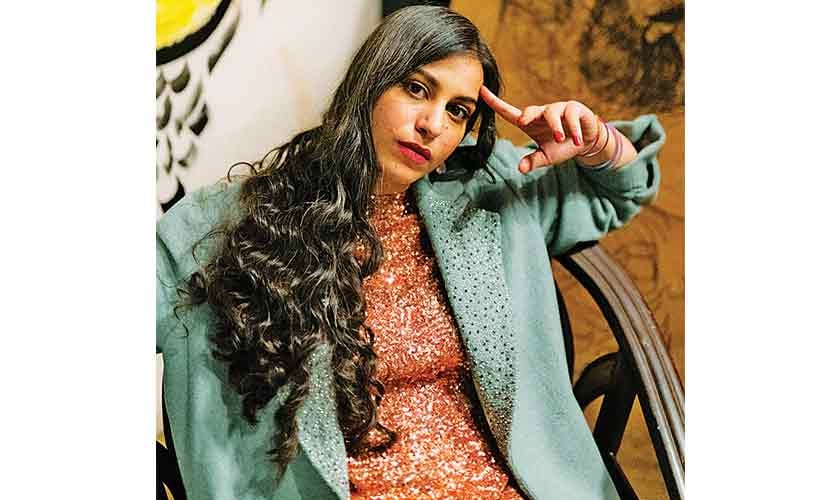 Sweet dreams are made of this/Who am I to disagree." – 'Sweet Dreams' by Eurythmics
Where do we begin? The answer has been eluding me since listening back to not just our interview, but her music.
Paying close attention to Natasha Noorani's wide-ranging discography is truly awe-inspiring. The versatility with which she delivers each song – across the spectrum of independent and commercial work – is unmissable.
In doing so, I am struck with the thought that Natasha's career is so much more than co-founding a terrific music festival (Lahore Music Meet) that put her on my radar at first. Upon reflection, it is obvious that her collective work is a reflection of Natasha's profound contribution to the music and cultural ecosystem. She has also managed to reconnect listeners with shared cultural heritage that can become lost due to our exposure to oversaturated content.
Natasha Noorani is anything but saturating. She has incorporated cultural heritage with experimental ideas without going wrong. Ergo, we have before us not another EP or single but a collective artform.
Has she played many roles in the larger musical realm? Yes. But it feels like that this is where the conversation must begin: her solo music.
When you search Natasha Noorani on the world wide web, it will give you several choices that differ from her solo music, and include an abundant number of collaborations, film songs and a song with a pioneering pop group. You might even find it intimidating. Or, you might reach out for that favourite quote from one of your favourite bands (Bono from U2): "Music can change the world because it can change people."
More than intimidation, this is a quote that defines Natasha's aesthetic and artistic growth and how she is pushing the envelope. It feels like this is where we should begin.
The timing also feels right. The voyage between her debut EP Munaasib (2018) and her upcoming, second EP Ronaq (2023) does reflect a sign of experimentation as well as musicality that is hers and hers alone and above all, personal expression.
"One life but we're not the same/We get to carry each other, carry each other." – 'One' by U2
To Natasha, her first EP, Munaasib was an expression of the musicality that she wanted to showcase, self-belief and getting over the fear that she wasn't good enough which resulted in "keeping demos in my phone for a million years and not releasing them."
From Munaasib, Natasha has moved on to her second EP, the upcoming Ronaq (2023). From Ronaq, Natasha has released two songs: 'Choro' in 2021, followed by 'Laiyan' in 2022. Both songs are refreshing and retain a Natasha Noorani signature but they're also a step ahead and offer a duality when compared to Munaasib.
As Natasha notes, "It seems like a huge transition, and in a way, it really is, but, the musicality of Ronaq and the conceptualism is very much about who I am and have always been. Munaasib (2018) and Ronaq (2023) are different sides of the same person."
Both songs from the EP have different producers. If Munaasib was about giving the musician inside Natasha some space, Ronaq is about stretching her wings. But Natasha doesn't take credit away from others involved in the two songs.
The first song from the EP is called 'Choro' with Abdullah Siddiqui as co-producer. Working with producers like Abdullah Siddiqui and Talal Qureshi, says Natasha, is a blessing and it allows her to not be stifled in the studio. The room to experiment is what allowed her to co-produce.
"The first song, 'Choro' was also about me coming with my own production sound and collaborating with Abdullah on that, hence, it says co-produced. It really gave me that ability to just create the music that I want to create."
Don't be fooled by the eye-popping colours you see in the music video of her second song, 'Laiyan'. There is a profound thought that you might've missed because of its playful character.
Here, we need to first decipher Peshkash Music. Natasha Noorani is the force behind it and described how it has been in her life for the last five or six years but was formalized in recent years. It gave her a chance to listen to artists as diverse as Naheed Akhtar, Runa Laila, Salma Agha and many others that Natasha didn't grow up listening to due to lack of access.
"The music was not readily available. Through buying records, dedicated research and digitization on Spotify, the access has been found.
"The reason I'm drawn to this research is because I feel it can help me contextualize the music industry and ecosystem today.
"On a personal level, I saw examples of voices that really spoke to me. I love the fact that Runa Laila sang a Mili Naghma but also sang 'Jab Se Gaya Hai Mera Bachpan'.
The versatility of a female artist is no longer as welcome in today's industry. For me, it was like 'hey, there's context, there is precedence'. I kind of really explored that core, which you can hear in 'Faltu Pyar' (with Hasan Raheem but not on the EP) and a bit in 'Laiyan' as well. It is not nostalgia but at the core, it is representation, the source and music that is inspiring."
Like a foundation to build upon, I interpolate.
"Exactly. The fem voices spoke to me. It is not exactly the same thing because then it becomes a cover album. What I thought about is how – in the studio – I come up with melodies and what if my voice is the sample?"
What if, as Natasha says, she considers the melodies she makes where she'd sample from an older record.
Think 'Laiyan', a desi-Lollywood-inspired pop song that has a sense of modern interpretation of longing for someone but also takes on all the tropes possible. And it is the most out-there song in Natasha's repertoire.
"If you notice the lyrics, I'm taking biggest tropes that would make poets skip a heartbeat and that's okay with me," she says. "I really do like pushing that boundary in terms of how I'm exploring R'n'B and pop as a genre."
With 'Laiyan', Natasha certainly did prove her mettle as an R'n'B-meets-pop artist. She agrees that it was an effort to modernize older songs, not because they need modernization.
"It is about placing them in a way that it feels completely new. But if you're really listening to it, you can hear all the references you possibly can. The music video also reflects that. In Sitara Aur Mehrunnisa, there is a scene where Atiqa Odho is calling her lover or someone and she's on a green phone, something as simple as that like a prop shot and I made sure that the same green phone is in 'Laiyan'. The song is an amalgamation of these small little references within our culture."
The rest of the songs, promises Natasha, on Ronaq are not as pop-y but the voice is different.
"You may say I'm a dreamer. But I'm not the only one." – 'Imagine' by John Lennon
What Natasha does take pride in is the versatility that's palpable to her but not all of us. "It's very hard for me to be out loud because of self-doubts but I do stand by the fact that I have a versatile talent of both listening and songwriting. And hence, I work with different producers and come up with different sounds and try things that may or may not work on a commercial level but they add and facilitate so much to my musical education and trajectory that no song I do is a bummer for me that way. No song has no value to me. Yes, it may not have commercial value. But it does have value."
"Music is the shorthand of emotion." – Leo Tolstoy
Natasha Noorani has played several roles within the music ecosystem but as an artist one of her career high points has to be performing on Boiler Room during its first Pakistan edition. Watching the performance, at one point, Natasha says she is Ronaq. Is the album, therefore, an identity, a new one at that?
"I don't think Ronaq is a personification of something outside of me. It is not necessarily a persona because that means it is something from outside of me that I'm trying to put within. Ronaq is parts of myself that allows me to be myself to its fullest without getting caught up in other things. It's a mindset in a way. Ronaq, not in the literal sense of the word, but is parts of my personality that's able to make these risky moves in terms of musical experimentation and representation of me visually in so many different ways that I haven't done before but all of this is coming from within me."
Between making segues to her commercial work, we continue to land on her music. The Boiler Room performance, remembers Natasha, is entrenched in another festival called Sine Valley, held in Nepal in 2017.
"The seeds for this were planted about 5-6 years ago when I attended my first Sine Valley (in Nepal). It was organized by Daniel Arthur Panjwaneey and that's where I began a solo, electronic artist. It was the beginning of my musical career in a larger sense and the trajectory that I'm on and the culmination of many years of hard work began,"
Crediting Daniel Arthur Panjwaneey who saw a spark in her to include her in the festival, it was the first time Natasha had stepped into the electronic music scene. "It was still pretty much the same as the Boiler Room setup. I played at Sine Valley and the songs I wrote for Sine Valley ended up on Munaasib."
Beyond her solo music, to learn more about the versatile Natasha Noorani, take a look at the centerspread inside. You won't be disappointed.