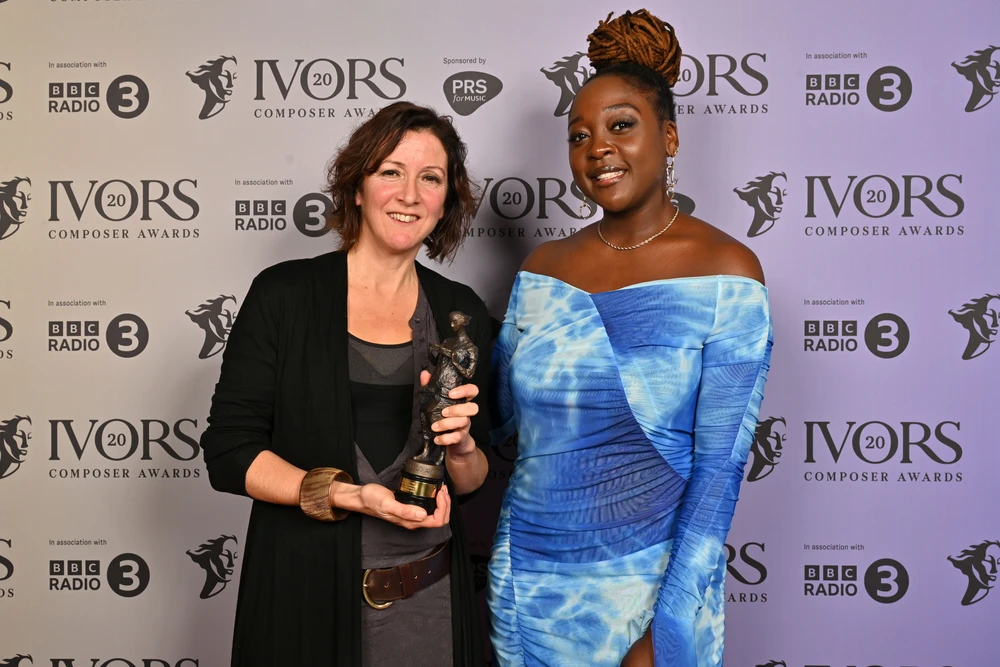 The 20th edition of the event revealed the 12 winners honored for outstanding new works in classical music, jazz, and sound art
Based in the UK, the Academy's annual Ivors Composer Awards presents its winners with the Ivor Novello Award, which was first launched in 1956 in recognition of creative excellence in composing and songwriting.
Across the nine categories and three special prize sections, 12 winners were selected from 45 nominees. The live award ceremony was recently hosted by BBC Radio 3 at the British Museum and was broadcast on BBC Radio 3's New Music Show.
The jury for the nine nominated categories involved 48 composers and creators, while the three special awards were decided by The Ivors Academy Awards Committee.
First-time Ivors Academy winners included Brett Dean, Joanna Marsh, Liz Dilnot Johnson, Tori Freestone, Laurence Crane, Hannah Conway, and Talvin Singh. 
For the special prizes, the Ivor Novello Award for Outstanding Works Collection was presented to English contemporary classical composer Sir George Benjamin, the Ivor Novello Award for Innovation went to tabla player and percussionist Talvin Singh, and the Academy Fellowship was awarded to Judith Weir.
"A hearty congratulations to all our winners, who have been recognised for their incredible achievements in composition," said Ivors Academy Chair, Tom Gray. "The range of innovation and level of accomplishments make this an outstanding year. We have proudly celebrated creative excellence in composing for the past twenty years and thank PRS for Music and BBC Radio 3 for supporting us since the start."
The 2022 winners of the Ivors Composer Awards are:
Chamber Ensemble – Brett Dean for Madame ma bonne sœur
Written for mezzo-soprano and string quartet, the song cycle is based on the letters of Marie Stuart – Mary, Queen of Scots – dating back to the 1560s. The work was commissioned by Germany's Festspiele Mecklenburg-Vorpommern and Oxford's Lieder Festival, where it received its UK premiere in 2021 performed by Lotte Betts-Dean and the Armida Quartet.
Choral – Joanna Marsh for All Shall Be Well
All Shall Be Well is a setting of quotations from 'Revelations of Divine Love,' a book of devotions written by Julian of Norwich (1342-1416). The piece was commissioned by RT Hon Patricia Hewitt for ORA Singers and premiered at voces8 foundation's Live from London Summer Festival by ORA Singers directed by Suzi Digby OBE.
Community and Participation –

 

Liz Dilnot Johnson for When A Child Is A Witness – Requiem For Refugees
Written for choir, children's choir, mezzo-soprano soloist, organ, piano, violin/Hardanger fiddle and refugee groups, the 100-minute requiem mass was commissioned by Ex Cathedra for Coventry's City of Culture. The piece uses themes of war, displacement, sanctuary, and hope, to create space within the work for refugee groups to perform their own contributions of poetry, music and songs.
Jazz Ensemble – Tori Freestone for Birds Of Paradise
The composer and jazz pianist Alcyona Mick premiered the piece as part of the London Jazz Festival in 2021. Inspired by birdsong during the pandemic, when composing the work, Freestone explained that "having the melodies and rhythms combined with the play and interaction the birds created whilst our own forms of musical interaction were being restricted was uplifting."
Large Ensemble – Cheryl Frances-Hoad for Scenes From The Wild
Frances-Hoad has won her third award at The Ivors Academy for Scenes From The Wild, a song cycle for tenor and chamber orchestra based on a book by Dara McAnulty, titled Diary of a Young Naturalist. The work was commissioned and performed by the City of London Sinfonia at Southwark Cathedral to mark their 50th anniversary year.
Orchestral – Rebecca Saunders for to an utterance
Saunders has now won her fifth Ivors Academy award with her work, to an utterance, written for piano and orchestra. The piece was premiered by the London Philharmonic Orchestra and Nicholas Hodges as part of the Southbank Centre's new music festival SoundState.
Small Chamber – Laurence Crane for Natural World
Crane has won with his Natural World, a 45-minute piece for soprano and piano/sampler keyboard with three distinct movements. Commissioned by Juliet Fraser with Oxford Lieder Festival and Musica Sacra Maastricht, Crane explained that this piece aimed to "explore the poetic nature of factual or list-based texts," from which he compiled and wrote words drawn from catalogs of birds and marine life.
Sound Art – Hannah Conway for The Sound Voice Project: Paul, I Left My Voice Behind and Tanja
Conway's installation was created to explore the stories of people who have experienced significant voice change or loss. This project premiered at the 2021 Festival of New. Conway explained that her "installation invites audiences to consider wider issues of voice and identity, asking 'what is a voice' and 'what happens when it is gone?'"
Stage Works – Thomas Adès for Dante


Adès has now won his fourth Ivors Academy award for the score to the ballet

Dante

. With choreography by Wayne McGregor and set by Tacita Dean, the UK premiere was at the Royal Opera House, performed by the Royal Ballet, conducted by the composer.

The jury stated that the work "demonstrates an ambition in the dramatic investigation of the original text and its transposition into dance that creates wonderful synergy between the music and choreography." 
For more about each of the winners and their works, click here.