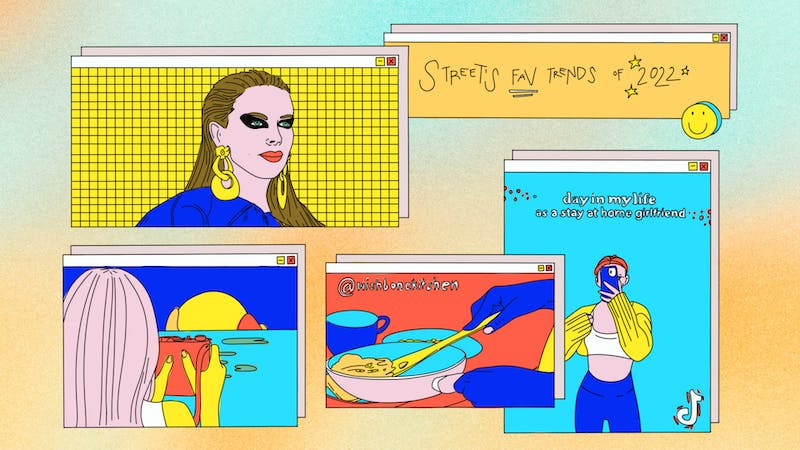 This year, it feels like the revolving door of internet trends has been coming and going faster than Julia Fox could say "Uncuht Jamz"—each with a lifespan shorter than the Miu Miu mini–skirt that took over our feeds and convinced us all that this scrap of low–waisted khaki was enough to cover up the shame of reverting to Y2K trends. 2022 online trends had us acting like Patrick Bateman taking ourselves on solo–dates in the name of self–care as if we aren't just antisocial, lonely suckers too lazy to make a Hinge profile. Anyways, YOU GET THE POINT! These internet moments come and go and we can't help but buy into them—because what else is going to fill the endless void in our minds reminding us that we're like Chicken Little screaming that the world is ending and climate change is imminent? Without further ado, here are Street's favorite internet trends of 2022. 
–Natalia Castillo, Style editor
Julia Fox
Can a person be a trend? If that person is Julia Fox, it turns out the answer is yes. She proclaimed herself "Josh Safdie's muse when he wrote ''Uncuht Jamz,'" described her upcoming book as "so far a masterpiece" (she didn't want to give too much away), and pioneered the iconic eye makeup look that launched a thousand twink Halloween costumes. Fox is a self–aware second coming of the celebrities of old, but instead of rocking "Stop Being Poor" t–shirts (yes, I know the original was "Stop Being Desperate"), she's managed to stay remarkably unproblematic, from her ethical TikTok discourse to coordinating photoshoots with the paparazzi. In an interview with Highsnobiety, she says "I can get a photo taken that'll get reblogged a bunch of times, and this designer's going to get their first write–up in Vogue. Stuff like that gives me fuel because it's like, 'I can do good with this.'" A true queen of the people, methinks.
–Walden Green, Print editor
Ditching Fast Fashion Trends
Remember the swirly dress from House of Sunny? Or the Prada re–edition bag? Yeah, so do we… unfortunately. Along with so many other micro trends, these items were seared into the mind of anyone who consumed TikTok content in the past year. It often feels like the platform has accelerated trends to the point where they no longer exist, supplanting the traditional seasons of fashion houses and runway shows with short bursts of influencer promotion followed by near–immediate obsolescence. In a way, that's a good thing—it means personal style has begun to reign supreme over following a preset list of what to wear to be 'cool.' Somehow nearly every decade is in style at the same time—from '90s punk to '70s disco to glittery Y2K—and as long as you like what you wear, others will come around too.
–Emily White, Editor–in–Chief
Stay-at-home Girlfriends
I used to feel guilty on days where I didn't leave my house. I saw myself as lazy, antisocial even. But not anymore—now, I'm a glamorous stay–at–home girlfriend. Whose girlfriend? Unclear, but that's not the point. This new TikTok trend spurred from "Day in the Life" videos of childless women who live with and are financially supported by their partners, spending their time engaging in elaborate self–care and housekeeping. Overall, it's a pretty unrealistic lifestyle, and might send an anti–independence message to an impressionable audience. However, it's taught me a thing or two about how to incorporate alone time into my routine. Instead of seeing it as an act of avoidance, I view it as an act of self–care and a necessary break from reality. The stay–at–home girlfriend aesthetic is lovely—just practice it in small doses, please.
–Arielle Stanger, Assignments editor
Celebrity Private Chefs
This year, there's more to your average TikTok cooking video. Step aside, Buzzfeed Kitchen; private chefs serving the most luxurious Hamptons elite are taking over the Internet. Meredith (aka Wishbone Kitchen) and Kara Fauerbach are two New York City–based chefs who document their experiences cooking for themselves and clients. These two food geniuses, plus other members of the TikTok private chef community, post food hauls, recipe videos, and a personal favorite, "A Day in My Life as a Private Chef" vlogs. This new group of content creators blurs the lines between work and play, expressing themselves through farm fresh produce and the occasional "eyeballing" of seasonings. 
— Kate Ratner, Music editor
"Quiet" Videos
In this short–form genre on TikTok and Instagram, we have begun to see the moving textures of life's most ethereal and eerie moments in a sea of "quiet" videos. From glimpses into the rushing calm of waves upon a moonlit beach, to low–light renderings of rain–drenched city streets, these videos' depictions of everyday life moments—cast in darkness—communicate quieted feelings of longing, and yet respite. Richly paired with ambient, atmospheric, or emotive music, they ask the viewer to beg for liminality, to search for nothing. This genre has become all the more meaningful as Gen Z's desire to wayfind and "get away" has increased with each passing day, made restless by the onslaught of technology and social media. These videos are devoid of the noise from pop culture, and over the course of the year, they've accomplished what an influencer can't: compel viewers to become more in tune with themselves and their worlds. When Øneheart and reidenshi's "snowfall" or Patrick Watson's "Je te laisserai des mots" engulf the viewer in the nooks and crannies of our enchanting world moments, we begin to love and see the unusual artistry of the living images before us.
— Tyler Kliem, Design editor
Gentle-minions
There are many events that require a suit, collared shirt, or dress shoes. Weddings, graduations, fancy dinners, or fifteenth–round Wharton club interviews are prime examples. But movie theaters? Not so much, that is, at least until this year. 
If anyone watched Minions: The Rise of Gru this summer, chances are they were surrounded by teenagers dressed in formal attire (or perhaps were themselves dressed up). For any Gen Z Minions fans, the summer trend of #GentleMinions was as integral to the film's experience as the film itself. Although the trend's beginning has no precise origin, we can trace the TikTok users who began dressing up in dapper attire back to Minions' main character and top villain: Gru. 
Minions: The Rise of Gru—a film comprised mainly of bathroom and fart jokes—is not exactly a cinematic masterpiece. However, the original film in the franchise, Despicable Me, is a hallmark for Gen Z, making this new addition to the franchise an "event movie" worthy of a lighthearted trend that's silly and fun.
— Jacob Pollack, Film & TV editor
The Existential Foodie
Scrolling through instagram I come across a masterful pizza—never have I witnessed such a beauty. Red sauce crafted from fresh San Marzano tomatoes coats a fresh, pillowy white canvas, and clouds of mozzarella grace the bed of red. An immaculate crust is crisped to perfection—wait…what does the caption say? "Will this make me happy? No." The stunning food photo paired with highly existential captions has become my new religion and I've been showing my commitment to the faith by solely curating my Instagram feed to show me these ridiculously perfect posts. Food does in fact make me think about how, say, if I have no idea what I want to eat for dinner then I'll never be able to satiate my ever–increasing appetite for love and I will never settle down and be a lonely spinstress with 17 cats and exceptional knack for crocheting matching kitten hats. Alas, until I find a new therapist I will continue to self–medicate with my daily dose of foodie Instagram posts plated up with a healthy serving of existential dread. 
— Natalia Castillo, Style editor
Solo Dates
In the hustle and bustle of everyday life, we tend to lose track of the simple pleasures: delving into a book on a park bench, sipping coffee and watching strangers, scowling like a tortured genius as you stare at a painting. This weekend, try taking yourself out to the museum, the bookstore, or the corner coffee shop. Everything is easier once you slow down and learn to enjoy your own company. I'm an expert: Before I leave the house, I like to sit in front of the mirror and gaze lovingly at my reflection. I have all the characteristics of a human being.
— Irma Kiss Barath, Arts editor
The "It's Corn!" Kid
With two words, seven–year–old Tariq won the hearts of millions of online fans: "It's corn!"
In a now viral YouTube video featured on Julian Shapiro–Barnum's internet show Recess Therapy this August, Tariq professed his love for the "big lump with knobs"—which he emphasizes does, in fact, have "the juice."
The clip of the so–called "CEO of Corn" quickly caught fire. #CornKid has garnered over 475 million views on Tik Tok, while Tariq's musings were even transformed into a remix that was stuck in the head of every teen and twenty–something on the app for months to follow. Mid-interview, Tariq asks Shapiro–Barnum to take a look at the cob that he's currently munching on, saying "I can't imagine a more beautiful thing." And, you know what, neither can I.
— Hannah Lonser, Features editor
Celebrity Podcasts
Like every other human being with a TikTok account, we are tired of seeing a middle–aged man, who reviews pizza and probably still lives with his mom, hang out on a weekly podcast with an underdeveloped Justin Bieber (baby era) and a TikTok influencer who parties at colleges on the weekends (I'm looking at you BFFs podcast hosts David Portnoy & CO). However, we cannot tell a lie—who doesn't love to pipe some celebrity hot–goss into the eardrums in between classes. Just like our Monday morning runs to Pret, we love to complain and drag 'em through the mud but we wouldn't know what to do without out our daily dose of celebrity podcasts.
— Natalia Castillo, Style editor