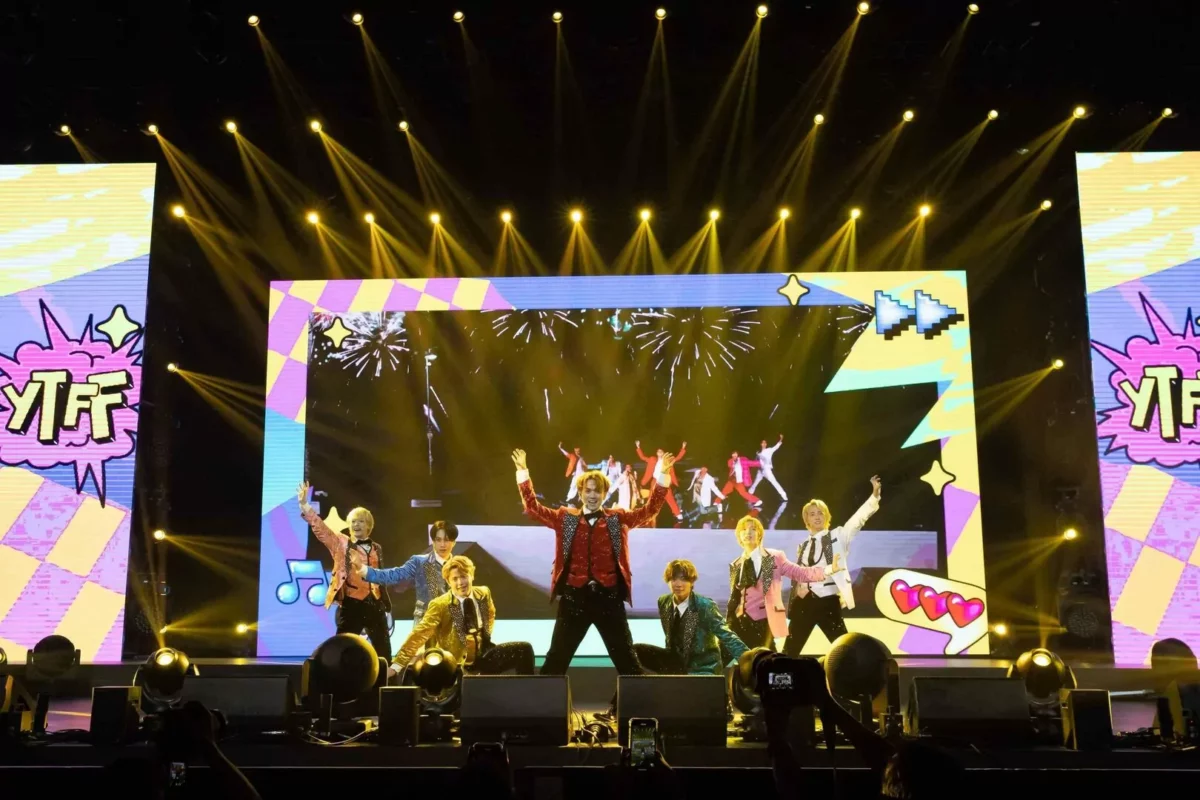 Working hard and having fun are sometimes thought of as things that must come one after another, but as Travis Japan have demonstrated, it is very much possible to do both at the same time. 
Whenever they are on stage, the Japanese boy band executes their choreographies with so much sharpness and focus that it is difficult to resist viewing their performances repeatedly. But even though the seven-piece outfit is always fully committed to giving their best, they will never be spotted without expressions of sheer joy on their faces. 
"Having fun is the best way to keep our audience engaged. That's our motto — having fun when we are on stage," shared Noel.
Formed by and named after renowned American choreographer Travis Payne, who has collaborated with music icons such as Michael Jackson and Lady Gaga, the Johnny & Associates act has been — and will continue to be — held to high standards. But this year, an unfazed Travis Japan proved that they are destined for stardom as contestants on America's Got Talent and as one of Japan's representatives at YouTube Fanfest 10, where they performed their infectious debut single 'JUST DANCE!'.
Ahead of their set YouTube Fanfest 10 in Singapore, Travis Japan — made up of Kaito "Chaka" Miyachika, Kaito "Umi" Nakamura, Ryuya "Shime" Shimekake, Noeru "Noel" Kawashima, Shizuya "Shizu" Yoshizawa, "Genta" Matsuda, and Kaito "Machu" Matsukura — spoke to Bandwagon about being ambassadors of J-pop, shared how they keep their audiences engaged, and demonstrated their go-to warm-up routines. 
---
Hi, Travis Japan! What have been the biggest highlights of 2022 for you so far? 
UMI: We released our new debut single 'JUST DANCE!' and then performed at AGT (America's Got Talent) — [at the] competition [and] also the semi-finals. [Those were the] biggest highlights.
What inspired you to pursue a career in music?
CHAKA: We saw artists live in their concerts and shows [and] that was what inspired [our] work and dreams.
When you are on stage, how do you keep your audience engaged?
NOEL: That's a really simple question. It's just having fun. Having fun is the best way to keep our audience engaged. That's our motto — having fun when we are on stage.
Of all of your performances which one(s) would you say are the most memorable?
MACHU: The most memorable was America's Got Talent, the auditions. So that was a great opportunity and a great experience for us. And so we could realise our possibility and our "homework". We are so glad because we got 3000 yeses [from the audience] as a result.
In your opinion, what are three qualities that every aspiring performer should have?
CHAKA: Having the confidence to perform. [You] need to [have] good expressions to entertain, dance, or sing. The second thing is being with the audience.  The last thing is what Noel said — enjoying [yourself]. You need to. The entertainment, the expressions, plus a happy mind. 
J-pop is a genre that has been growing in popularity around the world. What do you think makes it unique? How does it feel to be one of its representatives?
NOEL: It's a really difficult question. First of all, we want you to know that we are not sure what the definition of J-pop is. We love music and we love to dance and perform in front of audiences, and music is one of the ways to enjoy the moment. That's why we perform and released our song. At the end of October, we released our new song, 'JUST DANCE!'. We are going to release new songs in the future and we need to have confidence and we [will] have the responsibility of [representing] the J-pop genre. We are really looking forward to having our new song as [a piece of] J-pop to the world.
You have amassed a huge following over the years. What makes your relationship with your fans so special?
SHIZU: Our fans are like family. They're very important to us. I think it's special that we and all our fans think [this way] of each other.
How does it feel to be one of the performers at YouTube Fanfest 10?
GENTA: We are really honoured to be here and we will do our best to continue performing.  
Lastly, what can we expect from Travis Japan in 2023 and beyond? 
MACHU: We're going to become bigger stars. And we hope to share a lot of our songs with everyone in the world. And also, we want to give everyone our performances, our wonderful music, and happiness. 
NOEL: We want to share happiness!
Like what you read? Show our writer some love!
---