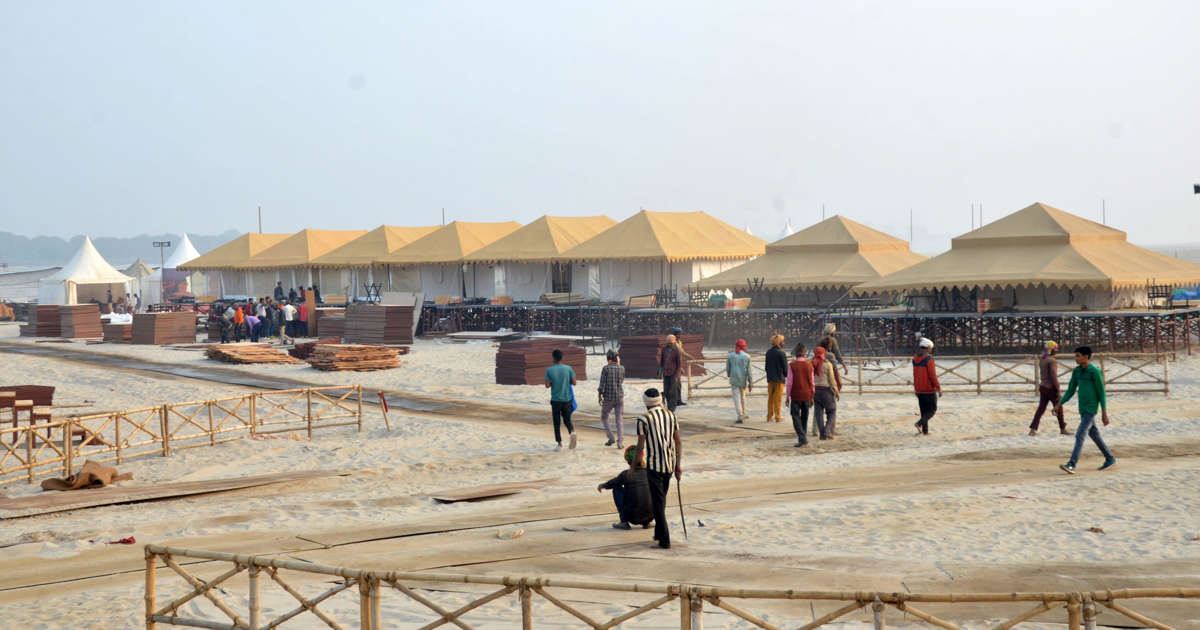 © PTI
Varanasi, Jan 12 (PTI) On the sandy banks of the Ganga in Varanasi, over 200 tents offer tourists a panoramic view of the famed ghats of the holy city on the other side of the river along with live classical music, 'aarti' in the evening and yoga sessions.
The 'Tent City', to be inaugurated virtually by Prime Minister Narendra Modi on Friday, has been developed on the lines of similar setups in Gujarat's Kutch and Rajasthan.
Three clusters of 10 hectares each comprise the Tent City and are expected to give a fillip to the city's tourism potential, said Kaushal Raj Sharma, the divisional commissioner of Varanasi.
Vice Chairman of Varanasi Development Authority (VDA) Abhishek Goyal said the Tent City will be a confluence of religion, spirituality and culture.
"Guests at the Tent City will experience the sunrise, live music events in the morning, yoga session by the river as well as boat tours. Special care has been taken for the comfort, convenience and safety of all tourists," he said.
Goyal said the three clusters of tents include villas of 900 sq ft each, super deluxe accommodation of 480 to 580 sq ft each and deluxe accommodation of 250 to 400 sq ft each.
The tent city is complete with Swiss Cottages, a reception area, a gaming zone, restaurants, dining areas, conference venues, spa and yoga centres, a library and an art gallery. It will also offer water sports, and camel and horse riding on the sandy banks of the Ganga, he said.
Neeraj Upadhyay, the designer of the Tent City, said it has been given the shape of temple spires. The tents will give the feel of luxury and offer the facilities of a hotel, he said.
"An attempt has been made to project the image of Kashi in it. The atmosphere of the Tent City is such that it will tickle all five senses. The fragrance of sandalwood, rose and lavender can be smelled across the tent city while the famous Banarasi thandai, chaat and Banarasi paan will a treat for the taste buds," he said.
City Police Commissioner Mutha Ashok Jain said adequate security arrangements have been made for the Tent City.
Two temporary police outposts have been set up there. Non-veg food items and liquor have been banned there, he added.