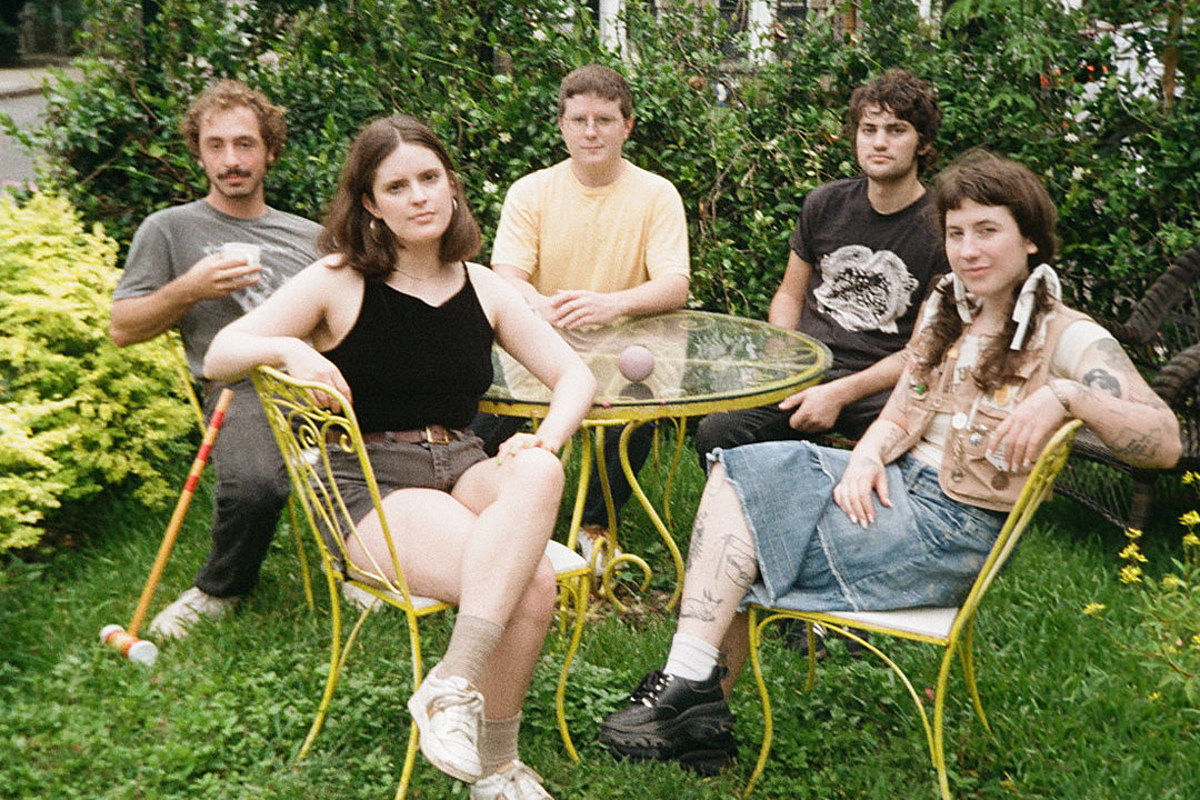 Asheville, NC, band Wednesday followed last year's fantastic Twin Plagues with a new cover album, Mowing the Leavings Instead of Piling 'em Up, in March, and they signed to Dead Oceans in September with an excellent new single, "Bull Believer." It's among their most unrelenting, intense, and chaotic, guided by the songwriting of guitarist/vocalist Karly Hartzman. Karly told us about some of her favorite releases of the year, including They Are Gutting A Body Of Water, SASAMI, Enumclaw, brittle brian, and more. Read her list, complete with commentary, below.
Wednesday have a few shows lined up for 2023, including Primavera Sound, Kilby Block Party, and a date opening for Drive-By Truckers at one of their "HeAthen's Homecoming" shows. See all dates below.
Karly Hartzman's Favorite Albums of 2022
Whats up bitches!!!!!
Here are my (Karly) fave albums of the year. No particular order cause I can't decide.
MJ Lenderman – Boat Songs
Listen, this guy is my boyfriend. Even if he wasn't though this would still be one of my top albums of all time. Jake's songwriting is just getting real honed in, and it's got that funny and sad shit happening simultaneously that I can never get enough of. I'll always appreciate when there's hyper specific details in songs that somehow can describe a universal feeling. "… Seed fell out of the feeder And the birds are eating on the ground, Jackass is funny Like the Earth is round. Rogan's home for the holidays The conversations are good and the dinners are great. If only for being homemade." I also love that I got to watch how all the music we were listening to around the time this was being written fed into it sounds. We wore out the Band and the Purple Mountains CDs in our minivan the year surrounding and I hear all that and more in here without it being a bastardized worship album.
Babehoven – Sunk
Babehoven also released a full length record this year, but I've just spent more time with the EP and saw a lot of the songs live so it's got a special place in my heart. I've said it once and I'll say it again, Maya Bon is the queen of vocal melody. Also honest to goodness she's just got one of my favorite voices to listen to. An iconic line: "There is something I said that I regret but he thought that he showed me Fugazi. I don't know how to explain how that feels it doesn't make sense why it hurt me." Also love 7 minute long "Twenty Dried Chilies". That song is sadness in such a big way I can appreciate.
Police and Pea – I Want an Authentic Tail
This release was recommended to me by my boyfriend and guitarist of Wednesday Jake "Music Jake" Lenderman. He said it would be right up my alley and was 2000% right. We were deep into a long tour and in the middle of some long drive and listening to this revived me. So many special sounds and so much joy. The freedom and fun these songs evoke can just really pull ya out of a deep deep hole of thinking everything is stupid and worthless. It is okay to have fun!!!!!!
Friendship – Love the Stranger
Hot dog, Friendship is just a consistently good ass band. I'm gonna let some lyrics speak for themselves cause as you may or may not know: songwriter Dan Wriggins is in that big boy Iowa writing program. "Everything you've got that isn't busted yet is wearing down every time you use it… Hammering down is how I've been getting through. Strong arming life is my bonehead tried and true… Both of us showing zero signs of relenting. I'm usually lost and I've got precious little finesse. But I'm still the boss, I'm still tougher than the rest." Like… kinda makes ya feel like everyone else could just shut the hell up, ya know?
Trhä – endlhëdëhaj qáshmëna ëlh vim innivte
This person is purposefully mysterious and difficult to find any information about but they are extremely prolific. They have had four releases this year and their most recent is my favorite. The music has been giving me something I desperately needed! Don't know how else to put it into words.
They Are Gutting a Body of Water – s
So I think this is only called "s" now cause streaming services made a mistake on their end… now I don't remember what the record was originally supposed to be called. It's reminiscent of the Berenstain Bears mandela effect thing. Amazing. The fact that TAGABOW just went ahead and changed all the names on other sites to match is iconic. Doug just always provides the chunky guitars and noises I need, without it being a regurgitated mess of rips from other shoegaze bands.
SASAMI – Squeeze
SASAMI was probably the best live show I saw this year. Direct and terrifying eye contact, 1000000% energy, insane guitar shit. These songs are so cool. I especially love the scarier songs. "Skin a Rat" was probably my most played song of the year.
Enumclaw – Save the Baby
These babies just do it right. The live performance of these songs is fucking exilerating, and I love remembering them jumping around on stage when I listen to these songs. This is a honed in record, riffs and vocal melodies that get that shit ACROSS with haste. Another record that make your life feel a little lighter when you're in the fucking dregs of life.
brittle brian – Biodiesel
I went on a walk around my neighborhood to listen to this one. I kept just having the resounding thought that this album is just special, special, special. I love all the little bits in this record, feels like a creaky old house! The vocal melodies are unpredictable in the most comforting way. Songs and sounds like this just keep me excited to make music.
Bitchin Bajas – Bajacillators
I'll always just have a deep love for everything this band does. We've been playing this record at the house a lot. I just love an ambient record that can provide a comforting soundtrack to your daily goings on.
—
WEDNESDAY: 2023 TOUR
Apr 1, 2023 40 Watt Club Athens, GA w/ Drive-by Truckers
May 12, 2023 – May 14, 2023 Kilby Block Party Salt Lake City, UT
Jun 3, 2023 Primavera Sound Barcelona, Spain
Jun 9, 2023 Primavera Sound Festival Porto, PT
Jun 10, 2023 Primavera Sound Madrid, Spain