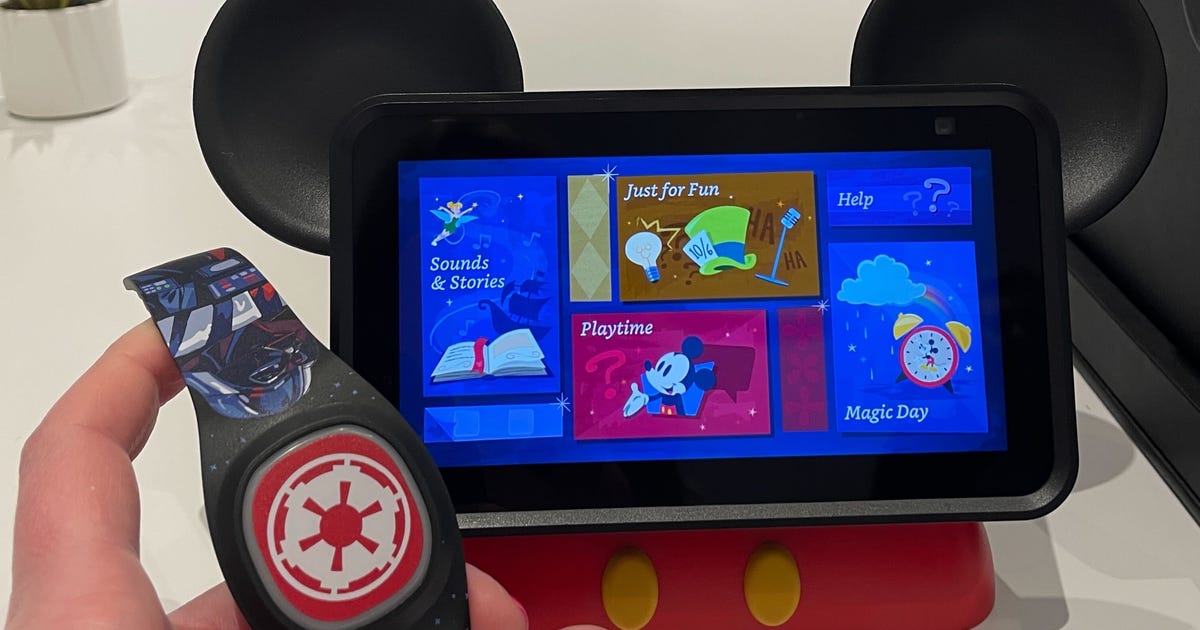 At CES 2023, Disney was inside the Amazon booth giving early demos of "Hey Disney" an upcoming Alexa Skill for Alexa-enabled devices like the Amazon Echo. It lets fans communicate with a Disney-themed voice assistant that works alongside Alexa.
Disney opted not to go with Mickey Mouse, or a number of other iconic mascots as its voice assistant, and instead went through round of auditions to find a voice actor who epitomized a certain Disney feel. 
The company landed on voice actor Nicolas Roye, known for his video game and anime work, who brings a jovial, if somewhat hammy, performance that should play well with kids. There will be plenty of cameos from Disney characters, however.
People who purchase the Hey Disney Alexa Skill, or who have a subscription to Amazon Kids+, the company's curation of books, movies and games starting at $5 a month, will get a voice assistant that turns the Disney dial to 101 Dalmatians. Here, people can ask basic questions like, "what's the weather like?" or set alarms, and will get a randomized response from one of 25 different Disney characters, like Donald Duck, C-3PO, and Fozzie the Bear — and the cast of featured characters is expected to grow.
Alongside games and bedtime stories, Hey Disney also comes with Soundscapes. It plays hours of ambient music and sound effects themed to a location from a movie — but this is not from any existing movie soundtrack. A soundscape from Star Wars sounds like you're sitting on the forest moon of Endor as Ewoks talk and run past you. There's also a soundscape to feel like you're walking in the Magic Kingdom, hearing other tourists as a trolley and steam train pass in the background.
When Hey Disney can't do a certain task, such as play music or answer questions, it'll pass off the job by saying "I'll ask Alexa for that," and the familiar Alexa voice begins to chime in.
Don't miss: Mind-blowing audio, TVs, more: The most exciting tech coming your way in 2023
"It's really important for us to continue to find ways for guests to engage with the brand, right? And we do so well with that in our parks," said Steve Flynn, director of digital experience at Disney. 
"Being able to have something like this, that extends into the home, so our brand can become part of the guests' daily life, that's always something that's really important to us, and I think that checks the strategic objective," Flynn said, adding that since many Disney customers also own Echo devices, the partnership between Amazon and Disney makes good sense. 
Disney continues to be a dominant force in entertainment, with an estimated value of over $50 billion. The conglomerate owns ABC, ESPN, 21st Century Fox, Marvel and Star Wars. It's wide repertoire of franchises and lovable kid-friendly movies creates a fandom that, for some, can last a lifetime. Disney funnels its loyal following into experiences at its theme parks and cruises around the world, giving families memorable, if expensive, vacation experiences. Bringing that experience home gives families and kids daily interactions with the Disney brand, which could lead to more loyal followings.
Disney is starting to roll out the assistant at Disney's Polynesian Village Resort in Florida by installing Echo Show 5 devices in rooms — which are programmed with privacy protections for guests. Disney is committed to putting the Echo Show 5 in all of its hotel rooms this year at the Disneyland Resort in California and Walt Disney World Resort in Florida. It's a substantial order — Disney has over 30,000 rooms in Florida alone. Largely, the experience that guests have at Disney hotels will be similar to when Hey Disney comes to people's homes later this year, minus the ability to request fresh towels.
Amazon has worked with hotels before to put Echo devices in rooms, but Disney has the first assistant to launch with Amazon's Alexa Custom Assistant program, letting companies make their own assistants tailored to a brand personality or special customer need. But behind the scenes, the tech is all from Amazon.
"The goal of the Alexa custom assistant technology is one, to support, again, customer choice and interoperability, but then two, to help brands to extend their brands into Ai and voice, to do it in a way that is simple and also cost effective," said Aaron Rubenson, vice president of Alexa.
Disney also showed off interactions with its MagicBand Plus, a light-up wearable used at Disney theme parks that can work as park tickets or to interact with certain attractions. The MagicBand Plus and Hey Disney can work together to play certain games, or start buzzing when timers go off.
Expanding Alexa to work alongside other branded assistants could be an important way to for Amazon to continue growing the brand. Late last year, Amazon laid of 10,000 workers, primarily from its Alexa division due to lower-than-expected earnings. Amazon CEO Andy Jassy said this week that the company would be laying off an additional 18,000 workers, hitting human resources and retail operations.