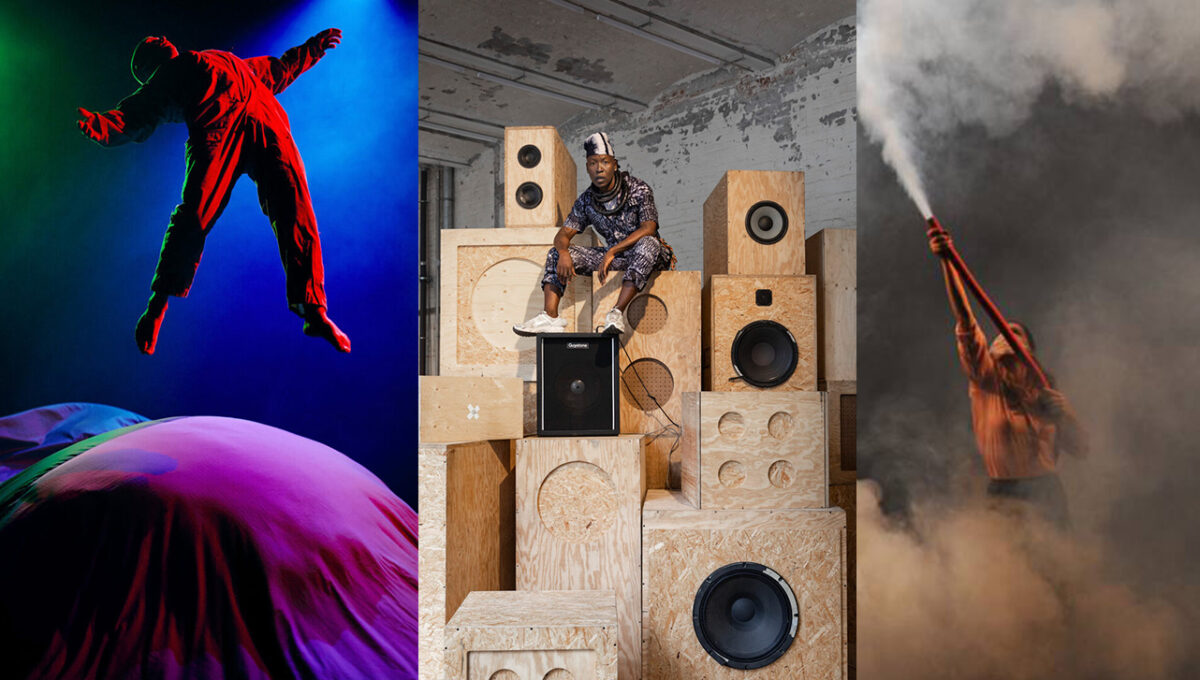 The 2023 PuSH Fest llineup has just been announced: here are the shows we're buzzing about.
The 19th annual PuSh Festival is almost upon us—that's January 19 to February 5, mark your calendars— and this year's experimental mid-winter cultural event is shaping up to be an artistic doozy. With 20 original works from 12 countries (including some local artists), this year's festival lineup has something for everyone. From contemporary theatre, dance, music, multimedia and circus, this year's artistic offering dials in on creative risk-taking and dynamic interdisciplinary collaboration. Tickets are officially on sale now and while there are tons of things to see and love, here's what's on our to-watch list this year.
Credit: Mirka Pflüger Afternow. Courtesy of PuSh Festival
afternow — Nora Chipaumire (Zimbabwe/USA)
Multimedia Installation / Music
Installation: Jan 28- 29 and Jan 31- Feb 5 (12 pm to 7:30 pm)
Dub Nights: Jan 28 and Feb 1 (9 pm to 11:30 pm)
Roundhouse Exhibition Hall
Making its Canadian premiere, this multimedia installation promises to be loud, proud and militant. Afternow is a model for resistance and reclamation, inspired by Nora Chipaumire's decades of experience as a choreographer, as well as her witnessing the independence of her homeland, Rhodesia (now Zimbabwe). Featuring three video portraits ton an ongoing loop, one contemporary opera (also on a loop) and one booming stereo system, it's a powerful contemporary reclaiming of the body as shaped by colonialism. From all these narrative pieces, Nora Chipaumire builds a bridge between African spirituality and contemporary art forms. Following two of the performances will be a dub night, featuring Chipaumire on the mic. Powerful, poignant and with an impressive sound system, this installation will no doubt create a dialogue that will reverberate long after it's over. Check out the trailer here.
Credit: Are we not drawn onward to a new erA Mirjam Devriendt. Courtesy of PuSh Festival
Are we not drawn to new erA – Ontroerend Goed (Belgium)
Theatre
Feb 1-4 at 7:30 pm
Frederick Wood Theatre
Another Canadian premiere, presented with the UBC Theatre and Film Department, Are we not drawn to new erA is, at first glance, an unusual title. After a moment, you may realize that it's a palindrome—able to be read forwards and backwards. And, like its title, the performance is also a palindrome: you'll be able to see it forwards and backwards. Not sure what that means? We aren't either—apparently, everything will be seen twice, with time inverted in each section, but if that doesn't clear things up, that's all the more reason to check this theatre piece out firsthand. Its ambitious manipulation of time is meant to incite an inner dialogue about our actions and whether or not they can hope to be reversed— a clear metaphor for the climate crisis. Is humanity actually moving forward or are we going backwards? Time will tell. And, just maybe, this theatre performance as well.
Les Cri des Méduses — Alan Lake Factorie (Canada)
Dance
Jan 27–28 at 7:30 pm and Jan 27-30 (online)
Post-show talkback: Jan 27
Vancouver Playhouse
Powerful, seductive and ultimately unclassifiable (but here we go trying to describe it), this performance is inspired by Géricault's famous painting The Raft of Medusa. Choreographer Alan Lake has taken that painting's beauty and pathos and transposed it to the stage, adding his own brilliance. Featuring ambient music, nine dancers and an ever-shifting scenography, this is a triumph of the imagination. Dancers are literally hanging from wooden structures,  sheets of translucent material cloak undressed bodies, lighting transformations and a musical score that heightens the experience with dark throbbing, ambient constancy and intermittent percussion and string notes. It promises to be a dance performance that defies description; the only way to know for sure what it's about, is to see it for yourself. 
O'DD — Race Horse Company (Finland)
Circus
Feb 4 (7:30 pm) and Feb 5 (2 pm) and Feb 2-5 (Online)
Post-show talkback: Feb 4
Vancouver Playhouse
If you like circus-style performances, this mesmerizing show is peak big-top energy: think Cirque de Soleil meets sci-fi. The theme for the performance is a universal one, beginning with an evocation of birth (the acrobat slowly rips his way through giant cellophane) and follows him through different phases of existence. There's a tinge of science fiction throughout the show, with both man and objects given symbolic weight. With breathtaking design, a beautiful score and superb acrobatics, O'DD is true poetry in motion and like nothing you've ever seen before.  
The Seventh Fire — Delinquent Theatre (Unceded Coast Salish Territory, MST)
Immersive Audio Performance Inspired by Ceremony
Jan 25–29 and Feb 1-5 (various times, see schedule for details)
Lobe Studio
Marking its world premiere, The Seventh Fire is an immersive audio performance inspired by ceremony and created by Lisa Cooke Ravensbergen. The performance sources traditional, oral Anishinaabe stories as a way to evoke ceremony in the everyday. Ravensbergen's creation blurs time and space, bringing emotional and ancestral connection into being through deep collaboration with sound designer Mishelle Cuttler and a matriarchal creative team. This piece is being specifically created for the Lobe Studio which is the first dedicated spatial sound studio in North America to work with a permanently integrated 4DSOUND system (we did not even know there was such a thing) All tickets are free for Indigenous people with the promo code PUSH7THFIRE. A celebration of tradition, ceremony and indigenous culture, this audio experience is one not to miss.