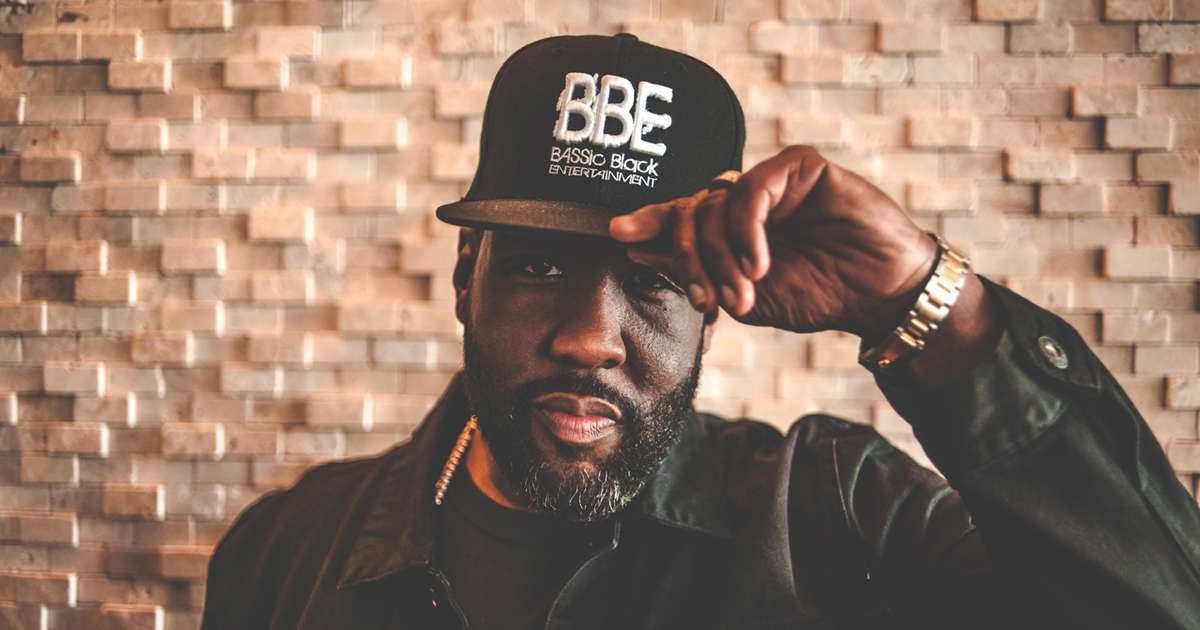 When I start my Zoom session with Adam Blackstone, he's in the studio. He had spent all day there the previous day, working on a new version of Legacy, his debut album from last year, re-interpolating melodies from singers like Kirk Franklin, Jill Scott, and Jazmine Sullivan.
The album has already been a big moment for Blackstone. The Sullivan-featured "Round Midnight" from Legacy is nominated for a Best Traditional R&B Performance Grammy and made President Obama's list of his top songs of 2022. Blackstone, a bassist from Willingboro, New Jersey, who made his bones in the Philly music scene, admits he didn't always receive such lofty individual recognition during his 20-plus years as a bandmate and musical director for legends like Janet Jackson, Jay-Z, Kanye West, Justin Timberlake, Nicki Minaj, and Rihanna, whose highly anticipated Super Bowl 57 halftime show he's co-MD'ing with Philly brethren Omar Edwards. 
The Feb. 12 spectacular will be Rihanna's first performance in five years, but she'll be in good hands. She and Blackstone have worked together for years, and he's also helped curate the past three Super Bowl halftime shows, including the Emmy-winning 2022 rendition featuring Dr. Dre, Snoop Dogg, and their high-powered friends. Blackstone promises an "envelope-pushing" set that celebrates the versatility of Rihanna's catalog. 
"Rihanna knows that her career has expanded different sonic palettes, from EDM to pop to hardcore hip-hop to ballads," Blackstone says. "We're coming up with the setlist together because everybody who is a Rihanna fan has their different moments of who Rihanna is to them, and what each song means to them as well. We want to try to give a little bit to everybody." 
Along with music-directing upcoming events like the Superbowl, Emmys, and NBA All-Star Game, Blackstone is excited about the Legacy Experience, a live show where he and a band perform songs from the album but also delve into jam sessions with stars like Dr. Dre, Justin Timberlake, and New Edition occasionally stopping in. He's done a Legacy Experience in just about every major American city, and says he's looking to take things "a little bit bigger" in 2023 and beyond. 
But before then, he's headed to Glendale, Arizona, to make sure Rihanna has the best comeback possible. We talked to Blackstone about the Super Bowl halftime show, his winding career path, and how one goes about turning Janet Jackson's 30-year catalog into a digestible set. 
You said you got a spark of inspiration for your Legacy album when you heard someone say, "I don't want to die with a laptop full of ideas." How cathartic did it feel to put your music out in the world under your name?I got to tell you, I see it today. I don't mind saying this, I just voted for myself on the Grammys. Even just seeing my name, man … being on Jimmy Fallon a couple weeks ago, and being on the Good Day morning show … I've done those shows for 15 years, but never as myself. It's a whole new area of life. When Erykah Badu said, "Keep in mind I'm an artist, and I'm sensitive about my s***," that rings so crazy true to me right now, because I always overcared, but I was caring for somebody else's baby.
Now that this album Legacy is my own child, it becomes a different type of watchful eye. It becomes a different type of execution to present it to the world. And I continue to be in awe of how much my music is touching people. I just made a couple of new playlists on Spotify. I was just looking at Best Vocal Jazz of 2022. You know what I'm saying? My music is on there. And Best Jazz Songs of 2022. I made Obama's top '22 songs list. That's crazy. My man, B.O. is rocking my joint at the crib right now! I'm just super thankful, man. 
What made you want to have Jazmine Sullivan cover "Round Midnight"?First of all, Jazmine Sullivan is arguably one of the greatest voices of our generation, period. And then let alone, that's my sister from Philadelphia. So the hometownness of it was always a vibe that I wanted to display. Everybody knows how much Philadelphia has helped nurture my gift, and I think me and her displaying that together along with James Poyser on the keys and Questlove on the drums on that record, we wanted to put a little Philly spin on that classic tune.
Secondly, I heard her do that at one of my first open mics, so it was a full-circle moment for me. And I heard her do that probably, man, she might have been 15 or 16 years old. So the MySpace days, when she was singing live at the open mics in Philly where her mom and dad had to escort her into the club. When I had the opportunity and the vision to do this jazz thing and make it be as progressive as possible, I said, "Jazmine, I would love for you to be on this. I think we have the power to impact the world." And the validation of the Grammy, the validation of being on Obama's playlist, it just feels real good, man. It really, really does.
How will you celebrate if "Round Midnight" wins the Grammy?I'm going to do a lot of crying, a lot of thanking God — I'm a cry baby. It's all good. When I won my Emmy, I was the first one up there like, "This is crazy." I never did music for the accolades. I never did it to be a job either. It was something that I was passionate about. And once I found out I had the ability to make other people passionate about it, listening to it, hearing it, seeing it, I always wanted to do my best.
Getting this Grammy nomination is a testament to hard work, dedication. It's a testament that people are touched by my music. And if I were to win, I've been dreaming about this trophy since I was seven, eight, nine years old, bro. And it would just be a lot of emotion and thankfulness and gratitude.
I told somebody the other day, it's different winning an Emmy. I won an Emmy for musical direction for Super Bowl 56, but that was always going to be great because I was going to do my best. The Emmy and the nomination for that just validated that other people thought it was great, too. But when you have something in your stomach and in your brain and in your heart about music that you're not hired to do, and then people and the Recording Academy nominates you, it feels validating — and not that the music would've been any worse or better without the nomination, but it feels good to get nominated and to know that your peers think that it was great as well.
You referenced the Super Bowl 56 halftime show that you MD'd. What do you think that moment and the Emmy win means for hip-hop and Black music?One of the greatest compliments that I got about that show was it was just a great music show. It wasn't a great Black show, wasn't a great hip-hop show, it was just a great music show. If we can be honest, 60-year-old Caucasian men drive the NFL demographic. And we had the number-one halftime so far. So it goes to show how hip-hop has permeated not just Black culture, but the American and world culture globally.
And I think that we have set our foot in the ground to show that culturally, Black music can carry a world stage, you know what I mean? We're at the forefront of it right now, and we're setting it up for future Dr. Dres and future Snoops and future Marys and future Kendricks. That generation after us now knows that they have something to aspire to do. And I don't think growing up that we even thought hip-hop would be at that level. So now that you've seen it, now that we've been awarded for it, we're inspiring generations, man, and I'm thankful for that over everything.
I saw both you and 50 Cent wanted to do a tour of the show. How realistic is that in the future?You never say never. Kendrick just came off tour — Big Steppers was amazing. Mary just came off tour, and now we got to get the other guys together, and see what happens. So hopefully them being all friends and respectful of one another [helps the chances]. I just did the VMAs with Eminem and Snoop Dogg. That was all spawned from being at the Super Bowl as well. God willing, we'll all be here to continue to let their music shine on, and hopefully we can all join together and do something again onstage.
You've done three Super Bowl halftime shows before this one. What do you feel like you've learned over the previous three that you're bringing into number four here with Rihanna?I've learned patience. I've learned that it's bigger sometimes than the music, the corporate of it all. Sometimes we have to alter things to make sure that people are respected, [when it comes to] language and stuff like that. So it is definitely us navigating through the music and through some other things. But I've also learned that music helps push culture forward, and we're literally fitting a concert into the biggest game of the year. Sometimes people end up tuning in just to see that concert, so I'm thankful to be a part of that.
What has the creative partnership been like with Rihanna so far?
It's been cool. We're spearheaded by the team at Roc Nation, Willow, incredible choreographer and creative director Parris Goebel, and my partner on this is Omar Edwards as the co-musical director. So it's been really cool, man. The thing about Rihanna is that she's so creative. She is boundary-pushing at all times, so it's going to be unlike anything you've ever seen before, and we always try to push the envelope with her.





© Provided by Rolling Stone
Adam Blackstone, Nas, and the band


From your vantage point, what's her preparation been like so far for the show, especially as a mother?[We're] all parents, so we all have dual priorities. I think family always comes first, but we're in every day leading up to that big day, man. It's going to be great. 
To borrow some football terminology, would you say the setlist is on the goal line, that you know what you're going to do and now it's just a matter of refining it?I would say this. When you get a gig like the Super Bowl, it's what we call a catalog show, right? The artists that they normally get have so many hits, that we know that teenagers all the way up to our grandparents hopefully have heard their songs before, or heard of them. So the good thing about what Rihanna can do is she can do no wrong with the setlist because she has massive, massive, massive hits. So I think it's safe to say that we are really close. It might be an order change here and there, but there are just some songs that are stable mates in our culture that we have to do, and it's just going to be [about] how we execute them.
Can you explain the basics of your job as a musical director?All things live-music-oriented is what my job entails. I have to make sure that what you see, you hear it well, too, that the mix is proper. I normally sit down with the artists and get great setlist ideas. Like I said, Rihanna has an incredible catalog. So what story do we want to tell during the show? How do we want to start? How do we want to end? Do we want to have peaks and valleys in the middle? All of that is what we come up with. And then it's my job to essentially score her thoughts and make it a live-music show.
Along with programming, hiring, making sure that the music goes with the lights, making sure the music goes with the dancers, making sure the music goes with wardrobe  — [I do] all of those things as a musical director. Getting vocal arrangements together, engineers, all of that. And I'm thankful to have that job, man. I'm highly involved because I still continue to love it. I've been in the game now for about 20 years, and I pray that God allows me another 20, and we're going to keep killing it and pushing the culture forward.
When you and Rihanna first met up to talk about the show, how adamant was she about the story that she wanted to tell sonically?I honestly think that she was open. This is her first time back. We've done Savage Fenty now for four years in a row, which is the highly, highly, highly accredited fashion show that she changed the game with on Amazon. So we've been able to push some sounds and some sonic palettes out there. 
But this is her first time coming back as Rihanna, the artist. And so she was really open. She knows that her career has expanded different sonic palletes, from EDM to pop to hardcore hip-hop to ballads. And so we're coming up with it together because everybody who is a Rihanna fan, they have their different moments of who Rihanna is to them, and what each song means to them as well. We want to try to give a little bit to everybody.
The NFL has been the subject of numerous race-related controversies in recent years. How do you feel like the league has fared in those regards since you've been working with them?Having Dr. Dre and Snoop Dogg represent the league at their biggest stage is clearly an evolution to show growth, to show inclusion. To hire Jay-Z and Roc Nation as their consultants for entertainment, that to me shows growth and inclusion as well. I've seen so many "Lift Every Voice and Sing" moments, and I'm not trying to just put timestamps on a couple things, but at the end of the day, this is a corporation that does not have to do these things. They do not have to give back to inner cities. They do not have to give back to Africa. They do not have to have hip-hop be at the halftime show. So for them to make that change, because it's a clear change, no matter what the catalyst is, it's a clear change. And I'm thankful to be a part of that. Commissioner Roger Goodell has been very adamant that he wants to grow personally and as a corporation. And so I think this is only the beginning. And music, I'm thankful for, has had a lot to do with that. I'm glad that they are seeing that our culture is an asset to them.
Tell me about the Legacy Experience.They're a live version of how we created the album, [they're] bringing even Philly vibes all over the world. [They're] very structured jam sessions, and everybody's having a good time and letting the music speak in the room. I plan on trying to capture one of those and put it on record.
I've done L.A., Atlanta, Philadelphia, Las Vegas, and New York so far. We're actually taking it a little bit bigger for 2023, so it's going to be all over. We got anybody in there from Dr. Dre to Justin Timberlake to New Edition to Estelle. I brought Eric Benét up, Joe Thomas. Chloe Bailey was on the last one. Mary Mary. It gets real crazy in there, bro. It's the place to be, for sure. So if you get an opportunity, everybody come out to the Legacy Experience in a city near you soon.
Let's go back a bit. What was it about the upright bass that enamored you?I switched over to electric bass about second or third grade. I was a drummer first, growing up with my family being very prominent in a Black church in New Jersey. When I switched to the bass, man, it was more about the rhythm, and how I felt like the root notes dictated what everybody was doing chordal-wise. Getting into high school, then getting into jazz and listening to Ron Carter, and Charles Mingus. And I was a huge Avishai Cohen fan. And watching my mentor Derrick Hodge just kind of evolve on upright bass. It was a challenge, and it continues to be. I ain't going to front, that's a whole different instrument.
But it also brings a level of class that I try to embody within my own self. It separates me [when it comes to] session work and some other areas of music that I'm able to dive into — whether that be classical jazz, chamber music — that if I just stuck to electric bass, I may not be able to do. So I've always been the guy to try to expand. Whether that's been movie scores, or getting the calls to do jazz sessions, or just a different texture on record. I think that's what drew me to upright. I knew I could still groove and control that low end, but it gave it a different vibe.
At one point you were working as a session musician, and then you were touring the world. How did that first tour came about?I moved to Philadelphia in 2000 and stumbled upon our open-mic scene at the Five Spot, which was run by the Roots crew: Ahmir "Questlove," and Shawn G, and Richard Nichols took me under their wing. We went on the Okayplayer Tour, which was basically showcasing new soul talent. And that was my first big run. At that time, Jay-Z was looking for a live band. He did [MTV] Unplugged and he called the Roots, who ended up doing his Unplugged show and tour. And so when they went on tour, Ahmir took me as the bass player for that. 
How did things evolve to you being a musical director? Is that something you envisioned doing when you were younger?No, I don't think I knew what that term encompassed. I always just cared a little more. I was more engulfed in what the music was. I wanted to rehearse extra. I liked hiring the people, or helping hire them. Always wanted us to look good, and be on time. 
A lot of my job is so non-musical, specifically on that stage. It's the preparation process that people and artists allow me to help them bring their visions to life. I've always been that creative guy to say, "Yo, I got this idea to try this." My first big MD position was Jill Scott, and I think she saw at that time in '04, '05, how in tune I was with her vision and what the music was. And she allowed me to execute her visions. 





© Provided by Rolling Stone
Blackstone and Stevie Wonder


I saw that you worked with Jay-Z on his run of eight shows at the Barclays Center in 2012. How did you go about making sure those concerts felt like a hometown show?Omar Edwards was highly instrumental as Jay's MD for that. He's been my partner throughout the years, and he's another Philly guy. But I think that what we tried to do for sure was hit them hometown Brooklyn joints. You know what I'm saying? Quick sidebar, that was the moment where Jay-Z took the subway to the gig. I think that it was nostalgic for him being a Brooklyn boy and all of that. And he told us, "Yo, we going to do the joints that the hometown love" — whether that's "PSA" or "U Don't Know." 
And we did. That was almost the start of doing the B sides and making it like a thing. I also remember we were highly ambitious because that setlist changed from night to night just so that we could give the crowd a different experience. I think one day we had Beyoncé come out, one day we had Mary come out. It was a real experience for that week. Doing eight shows in a row was just crazy. And then being at this brand new arena, which nothing had ever been done there … Jay talked to us about seeing the Marcy Projects off the top of the roof. It was surreal for him.
What we tried to do was make sure we hit not only the hits, but we hit a couple B sides, because that's what got him where he is within that structure of Brooklyn. Talking real, being from New York, and talking about what the city meant to him.
Janet Jackson's career spans decades. Can you take me into the challenges of making sure that every one of her eras is properly represented for the fans?Yeah, that was one of the hardest plannings for me in general because she has a 30-year career. I literally engulfed myself in Janet Jackson's music, man, for about 60 days straight. I didn't listen to anything else. I wanted to get how they made these sounds. I wanted to get why the sounds meant so much. I wanted to get why this baseline was what it was, why it moved like it was. 
And so one of the challenges is that when you have that much music, you can't do a whole song at a concert because it's taking up time and you want to hit everybody's favorite joint. And so one of the things that me and her did, and she taught me so well, is how to make a medley and get in and out of songs. Maybe do just the chorus of this song, have that lead into the same tempo as this other song, and maybe do just a verse and a bridge of this song. Probably one of the hardest setlist moments for me was saying, "Yeah, your typical concert may be 15 to 17 songs max." She's like, "That's one of my albums. I got 12 albums. How are we going to do 40 songs?" 
That process was intense. That woman knows her music so well. She knows the keys. She knows what the chord should sound like. She knows you're playing it wrong. She's essentially Michael in the female form, from what I hear. And so that is nerve-wracking, but also great experience for me because it lets you know that when she vibes with you on something, you're on the right track. And so I'm super excited for what she's even about to do for 2023. That's my family right there, that's my big sis. And she's been so instrumental as well in pushing me forward in this business. So I'm super thankful, and it might not be the last you see of us working together.
To what do you attribute your ability to curate for all kinds of artists?
My love for music, man. My love for pop music. And when I say pop, I mean popular. So whether that's jazz, whether that's Christian music, whether that's country, my love for music has no genre or boundaries. I love working with Justin Timberlake just as much as I love working with Jimmy Allen. I love working with Usher just as much as I love working with Tim McGraw and Chris Stapleton. It fulfills me very similarly to know that there is an audience out there that is affected and touched by the arrangements and how I present their favorite songs to them. 
So I attribute that to just the love of music and to me growing up in church and being able to be more of a spur-of-the moment music guy. In church, when the spirit hits, you might go to a different chord or something like that, but in art, onstage, what artists love that I'm able to do is adjust within the context of the concert. A lot of that has a lot to do with my upbringing and my mom and dad not putting me in a box as far as listening to certain types of music, and to how I've been able to just expand my ear palette.
How do you feel about the year that your music service company, BASSic Black Entertainment, had in 2022, and what does the future hold?
We killed them in 2022, man. I put up a small recap. My wife who was also co-creator and CFO of our company, she was like, "That's just your recap. That's not our company recap." And I was like, "What you saying?" And she was just saying, "While you were doing that, our company was also doing this, that." And of course I know that, but it's so humbling to hear and see while I was out doing the Super Bowl, we also had Charlie Puth out on the road, or we also had Giveon out on the road, or we also had SZA out on the road. 
So we had a great year, man. I'm so thankful for every musician, every programmer, every engineer, every staff member that BASSic Black has that continues to keep this s*** rolling. It's a testament to everybody's hard work, from Super Bowls to NBA All-Star Games, to Oscars, to Emmys, to VMAs, to BET Awards to everything, man, to Grammy nominations. We've only touched the surface, man. I really truly believe 2023 is going to be bigger and better.