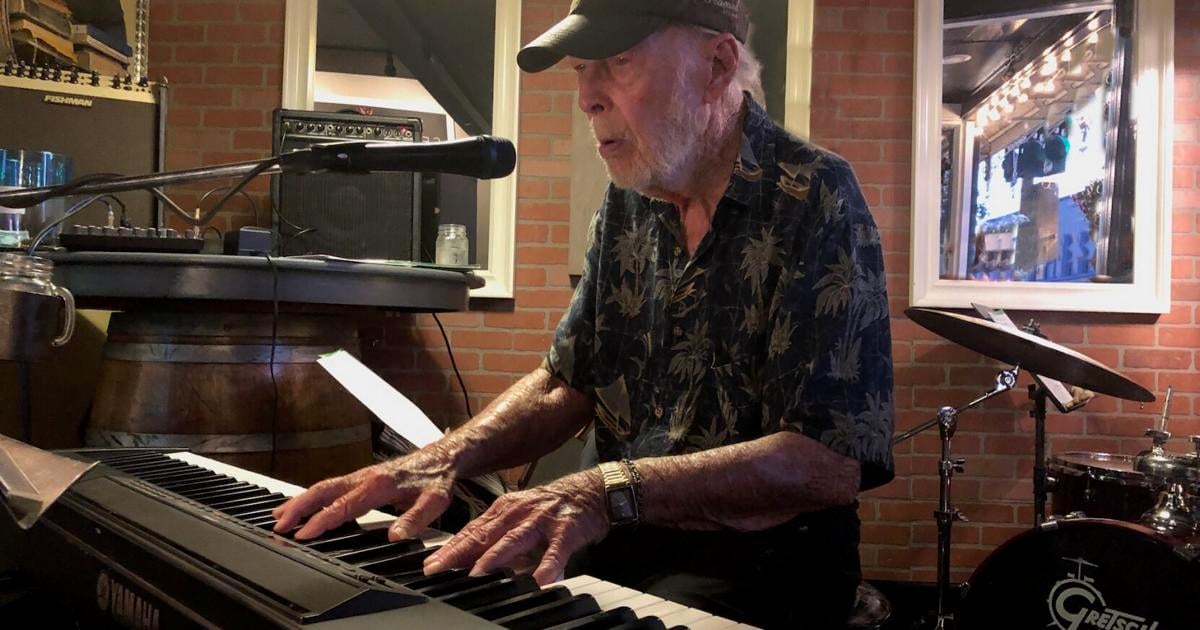 Alan "Weaver" Copeland, a longtime Cedar Ridge resident and a gifted vocalist, pianist, composer, and arranger for jazz giants like Count Basie, Ella Fitzgerald, Sarah Vaughn, Frank Sinatra and other stars, died Dec. 28 at Sonora Senior Living at age 96, friends and family said.
Copeland moved to Cedar Ridge in the 1980s, began mentoring new generations of musicians, and he and his Now You Hazz Jazz bandmates continued performing in recent years at Emberz in downtown Sonora. His Grammy-winning career spanned decades in Los Angeles, where he was born in October 1926. 
He was so respected in the jazz community, among other professional musicians, and in the entertainment industry, that his passing has been covered by The Hollywood Reporter and republished online by Billboard.
Friends and musicians who jammed with Copeland in Tuolumne County and his stepdaughter in Truckee described Copeland as a consummate musician-composer, a patient, generous, low-key teacher, and an upbeat personality who often said, "Hope for the best and forget the rest."
"I'm a musicholic and he's an arranger, and his music, I was like wow," Keith Evans, 58, a member of Now You Hazz Jazz who recorded a compact disc, "Tranquillo Trio," with Copeland, said Thursday in a phone interview. "I used to go to his house at Cedar Ridge and care for him. We'd play music several times a week. It was always about the music."
Evans, who teaches jazz at Columbia College, said Copeland was a friend, father, and mentor to him. Evans took his acoustic guitar along when he visited Copeland in recent weeks.
"I was with Weaver the moment he died at Sonora Senior Living off Highway 108," Evans said. "He'd been there I think for two months."
One week, they did Christmas carols and Copeland sang "Silver Bells." The next week, Evans went to Sonora Senior Living and a nurse told Evans that Copeland was not like he was the week before.
"She said he's fading, he's going, he was not necessarily coherent," Evans said. "His eye was barely open and he was watching me. I played the music, 'Tranquillo,' and then his mentor Henry Mancini's 'Dreamsville.' I said 'Weaver we're going to take 'em on like a storm.' He used to say that before we jammed. His eye didn't follow me. I went to his bedside. And then I played 'What a Wonderful World,' recorded by Louis Armstrong, then 'Blue and Green' by Bill Evans. It was such a beautiful, peaceful piece, and that's what sent him out. I'm sure he went down the hallway with me. That last gasp was his last. It was surreal."
Copeland left Los Angeles in the 1980s and he'd been in Cedar Ridge for 40 years. Copeland's late wife, Mahmu Pearl, died in 2009. Sheila Ross, Pearl's daughter and Copeland's stepdaughter, lives in Truckee. 
Ross used to perform with Now You Hazz Jazz at Emberz, and her father, Adam Ross, helped Copeland arrange and record the 1968 Grammy-winning mashup of the "Mission Impossible" theme with the Beatles' "Norwegian Wood," by The Alan Copeland Singers.
Copeland was also nominated for a Grammy in 1966 for "Basie Swingin', Voices Singin' " by The Alan Copeland Singers with Count Basie.
"He was born Oct. 6, 1926, in Los Angeles, born and raised in Hollywood," Sheila Ross said Thursday in a phone interview. 
Sheila Ross recalled spending time at Copeland's cabin above Sonora and the music.
"Listening to his beautiful chords, sitting at his piano next to him up in Cedar Ridge," she said. "He loved it there so much, the view was amazing, and the guys would come and set up in the living room and we would jam. We played a lot of jazz standards, mostly his own original music. He'd give us the sheet music and we learned to play it. We called him 'The Taskmaster.' "
Laurie and Bob Lehmann, former Sonora residents who now live in the Sacramento area, were close friends and music collaborators with Copeland for more than 10 years. They curate a website for Now You Hazz Jazz that features a bossa nova song Copeland wrote as tribute to his time in Baja California Sur, "Mulegé Day," about the tiny seaside town of Mulegé on the Gulf of California.
"The Havana Supper Club in Cabo, he used to play there," Ross said.
Bob Lehmann, 67, a career Cal Fire firefighter who put his love of jazz on hold for decades, lived in Sonora from 1973 until last summer. He learned drums when he was 6 years old and had a professional jazz saxophonist as his band teacher at San Rafael High in the late 1960s, but he couldn't pursue jazz once he completed a firefighting AA at Columbia College.
Once he retired from Cal Fire, after 32 years, as a battalion chief in Angels Camp, he was able to jam at length with local musicians. About 10 years ago, he was invited to Copeland's cabin in Cedar Ridge. It was an invitation to jam, so Bob Lehmann took a small drum kit with him.
"It's a little cabin on the furthest road on the very edge of Cedar Ridge, where the forest takes off," Bob Lehmann said. "It faced west over the canyon, and the back door faced east. He wrote a song about it, "The Sun at the End of the Road," from when he walked to his mailbox one late afternoon, probably five years ago."
Meeting Copeland and listening to him play, Bob Lehmann said, he knew he was with a great musician from the start.
"He was the real deal," Bob Lehmann said. "He could sing and play and write charts and score music. He would write stuff right on the spot while we jammed. He'd write the chords the way he wanted them."
Bob Lehmann had already been exposed to jazz and big band jazz ensemble as a freshman in high school and through his former teacher, Terry Summa, learned where to see live jazz bands in the Bay Area, including Count Basie and his Orchestra twice, Stan Kenton's Orchestra, drummer-led bands like the Buddy Rich Orchestra and Art Blakey and the Jazz Messengers, as well as the Dexter Gordon Quartet.
Before meeting Copeland, Bob Lehmann didn't really know his name or his reputation in jazz, but his music friends were telling him Copeland was awesome, and a really nice guy with a gentle personality who seldom got ruffled or sweated minor details.
Bob Lehmann said it was challenging to play with Copeland, who had charts written for the drums and other instruments, with chord changes and lyrics. Everyone would read the charts before they actually jammed, and each musician was expected to bring a music stand to read the charts while they were playing.
"He liked to call himself Weaver, a weaver of themes," Bob Lehmann said. "He was good friends with the composer Henry Mancini, called him Hank. Mancini wrote the song 'Mr. Lucky' and Weaver adopted that name too. They were good friends. Weaver felt that way. He felt like he had led a charmed life, like he really was Mr. Lucky."
According to The Hollywood Reporter, Copeland was known for decades as an ultra-smooth vocalist who performed with The Modernaires and on Your Hit Parade and The Red Skelton Hour in the 1950s and 1960s.
Copeland wrote or co-wrote hits including "Make Love to Me" — Jo Stafford's version made it to No. 1 on the Billboard chart in 1954 — "Too Young to Know," "High Society," "This Must Be the Place, "Darling, Darling, Darling" and "While the Vesper Bells Were Ringing."  
Copeland took arranging lessons from Mancini, then began arranging vocals for big bands and jazz leaders like Fitzgerald, Vaughan, Basie, and Sinatra, and other stars like Bing Crosby, Jim Nabors, Engelbert Humperdinck, Peter Marshall, Steve Lawrence and Eydie Gorme.
Jazz critic Stanley Dance once said Copeland was known for combining music and wit, and Copeland spent several years on Skelton's CBS variety show with The Modernaires, who would morph into The Skel-tones and The Alan Copeland Singers, according to The Hollywood Reporter.
In his early years, Copeland sang as a member of the Robert Mitchell Boy Choir, in such films such as Angels With Dirty Faces (1938), The Hunchback of Notre Dame (1939), Foreign Correspondent (1940), Meet John Doe (1941), Yankee Doodle Dandy (1942) and Going My Way (1944).
Copeland served in the U.S. Navy, then started his own vocal group, The Twin Tones, a featured attraction with Jan Garber's orchestra. He joined The Modernaires for the first time in 1948, and soon, the group was performing alongside The Andrews Sisters and Dick Haymes on a five-nights-a-week radio variety program hosted by singer/bandleader Bob Crosby, Bing's brother. The show then segued to television. Copeland appeared with the group in The Glenn Miller Story (1954), starring Jimmy Stewart, then left to perform solo on the popular NBC/CBS program Your Hit Parade from 1957 until it left the air in 1959.
Copeland rejoined The Modernaires and did arrangements and added lyrics to such classics as "In the Mood" and "Tuxedo Junction" for the 1960 album The Modernaires Sing the Great Glenn Miller Instrumentals. Copeland's memoir "Jukebox Saturday Nights" was published in 2007.
Sheila Ross said Thursday she is planning a celebration of life with live music for Copeland, perhaps in March, with a venue yet to be determined. It will likely be in Tuolumne County "because that's where all his musician friends are and they appreciate his music."
Copeland did his thing in music the way he wanted to do it until the end of his days, Bob Lehmann told The Hollywood Reporter.
"It was his dream to play in a small group until the last curtain," Bob Lehmann told the publication. "That's how he termed it."