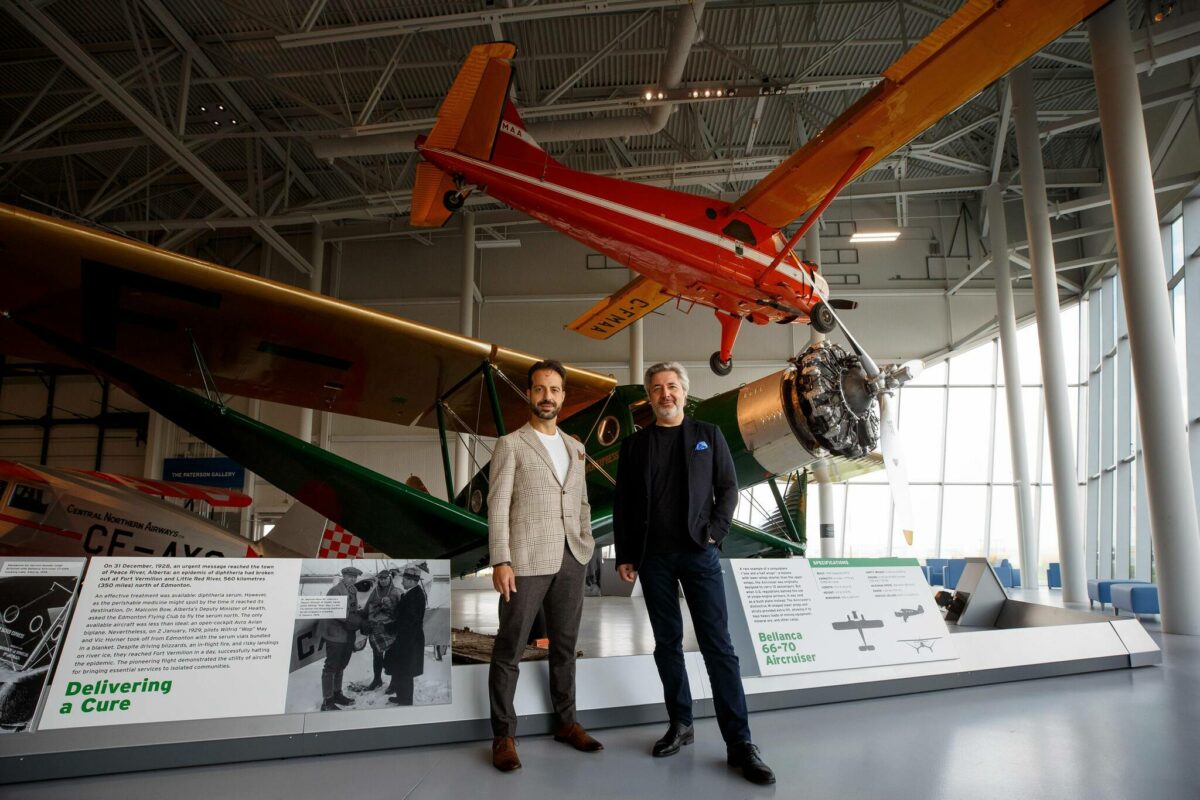 The Winnipeg New Music Festival is back with a bang this week as it offers its first full lineup of nightly concerts since January 2020.
The annual celebration of contemporary music and culture has been a shadow of its former self during the global pandemic; offered as a much shorter, all-digital event in 2022, and cancelled outright in 2021 as COVID-19 continued to pummel the world.
"I'm thrilled and relieved," Winnipeg Symphony Orchestra composer-in-residence Haralabos (Harry) Stafylakis shares over the phone from his New York City home. He co-curates the WNMF with WSO music director and WNMF artistic director Daniel Raiskin.
"I've been dreading the possibility that some new wave or variants (of COVID-19) would throw this all into disarray again, however with every day that passes, the relief grows. I've realized we're doing this. This is really happening."
New music buffs will be treated to six diverse concerts, each evening including a lively panel discussion, a post-show Q-and-A session and after-party, as well as additional satellite events peppered throughout the week.
Ancestral Tales (WNMF1 or the first concert) provides the first taste of this year's distinguished guest composer, with award-winning Finnish artist Kalevi Aho's Winnipeg Fanfare commissioned by Raiskin to trumpet the WSO's celebratory 75th anniversary season. The evening also poignantly pays tribute to the late Bramwell Tovey with his Sky Chase, with the former WSO music director who died last July, having co-founded the festival with composer Glenn Buhr in 1992.
It also notably includes the world premiere of Stafylakis's Piano Concerto No. 1: Mythos, a deeply personal, five-movement work rooted in his own cultural heritage being performed by American pianist Jenny Lin.
"As a Greek kid growing up in a Greek household and going to Greek school, all that mythology and storytelling so deeply embedded within our cultural history has been integral to both my intellectual and emotional life," the Montreal-born composer reveals of his sweeping, highly "cinematic" work originally slated for the ill-fated 2020 WNMF.
"I also come from a mixed musical background, studying classical piano in my early years before later becoming a metal musician and songwriter. When I was starting to imagine my life outside of the metal world… it was actually the piano that played a central role. This piece is about connecting to my past, both musically as well as through my exploration of my culture and my family," he explains.
The bill also features the local debut of Red Sky Performance, hailed for its contemporary Indigenous programming featuring dance, theatre, music and media, with founder/choreographer Sandra Laronde's Adizokan. The interdisciplinary work created in collaboration with Manitoba-born composer Elliot Britton will be performed by a quartet of dancers, the WSO, and Nunavut throat-boxer Nelson Tagoona, who merges traditional throat singing with funky, streetwise beat-boxing techniques.
More than 30 years old, the WNMF is known for taking the road less travelled by venturing into unique "off-site" locales, including the basement of the former downtown Bay department store, the Sport Manitoba athletic complex, and even once taking a dunk into the Pan-Am Pool in 2016. This year, it's taking the show on the road to the Royal Aviation Museum of Western Canada, with the first of two programs, Music for Airports, (WNMF2) held in the hangar replete with looming aircraft flanking the stage area.
"When I saw the place, I immediately saw this is where we need to do this. It has a lot of ambience, it's very meaningful and creates a lot of curiosity," the Amsterdam-based Raiskin, no stranger to airports and planes, told the Free Press last October. "Aviation on a physical level connects people and elevates them to the skies. Music connects people and lifts their spirits into the skies… in times when people are at their lowest."
Highlights abound, including Brian Eno's Music for Airports, as well as virtuoso Dutch bassoonist Bram van Sambeek in Anaesthesia: Pulling Teeth and excerpts from Michael Oesterle's Parlour Games, commissioned by WSO principal players, bassist Meredith Johnson and cellist Yuri Hooker.
"It's an ingenious collection of 12 short aural vignettes and puzzles, a jewel box of intriguing delights that he intends to be reshuffled and arranged anew at every performance," Hooker states in an email. "The musical material is not only accessible — it is filled with a longing and joy that is positively invigorating!"
Fan favourite Damascus-born composer/clarinettist Kinan Azmeh also hits the stage as part of WNMF2 before headlining two nights later at the same venue, Kinan Azmeh's CityBand (WNMF3), as a white-hot combustion of classical, jazz, and traditional Syrian musical influences.
Dialogues (WNMF 4) returns to the Centennial Concert Hall, exploring the synergistic relationship between soloist, conductor orchestra and composer, featuring an array of soloists as well as the local debut of SHHH!! Ensemble.
The festival wraps up with Symphonic Motion (WNMF5), with the Canadian premiere of Aho's Symphonic Dances, channeling the "primordial elements and primal dance across epic orchestral soundscapes." Other highlights include Giya Kancheli's contemplative Nu.Mu.Zu. (I don't know), as well as Victoria Poleva's Nova, an explosive fanfare penned in response to the war in Ukraine as a "full-throated cry of anguish and solidarity" with its people.
For those who can't wait until the official launch this weekend, a free concert Showcase: Launchpad blasts off Thursday night at 7:30 p.m. (tickets must be reserved in advance), featuring six emerging Canadian composers chosen to participate in in this year's annual WNMF Composers Institute currently in full swing, and the brainchild of Stafylakis in 2016. The program also includes the three top prizewinners for the Canadian Music Centre Prairie Region Emerging Composer Competition in 2021, 2022 and 2023, the former two finally given their turn to shine.
Needless to say, the composer is bursting with excitement as the festival prepares for lift-off, eager to welcome the throngs of fans expected to return to the hall after hunkering down in front of their home computer screens last year.
"I'm looking forward to reconnecting with everyone in person again, and couldn't be happier we're doing this," Stafylakis says. "The Winnipeg New Music Festival is back."
For more information on events and to purchase passes or tickets, visit: wnmf.ca.
Holly.harris@shaw.ca

If you value coverage of Manitoba's arts scene, help us do more.
Your contribution of $10, $25 or more will allow the Free Press to deepen our reporting on theatre, dance, music and galleries while also ensuring the broadest possible audience can access our arts journalism.

BECOME AN ARTS JOURNALISM SUPPORTER
Click here to learn more about the project.