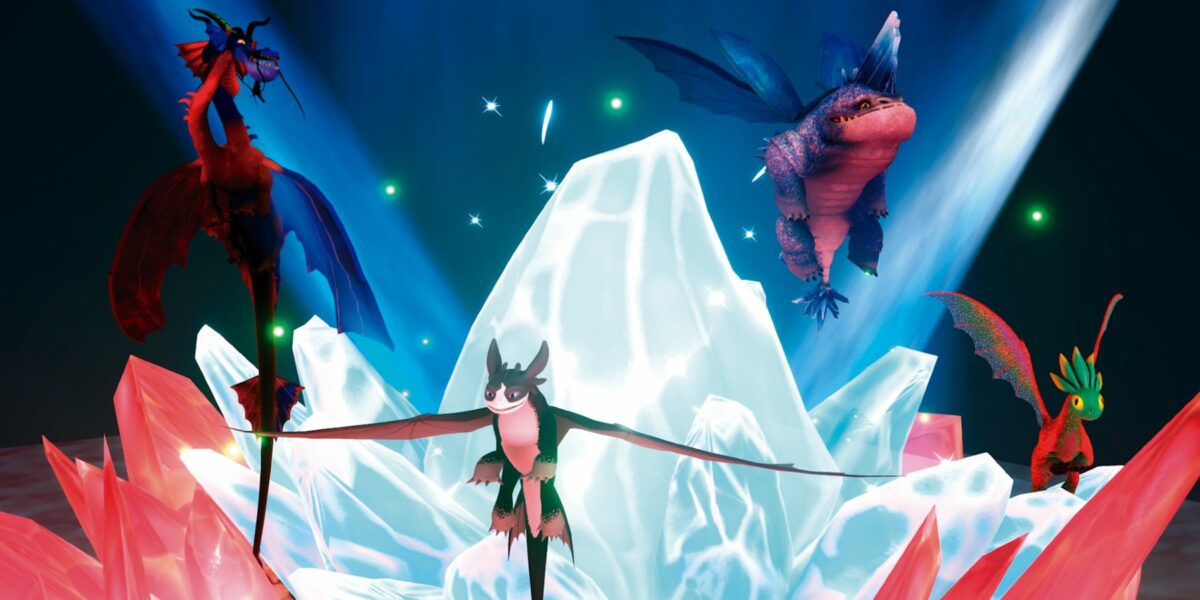 Licensed tie-in video games were once the norm. Just looking at the history of one multimedia franchise like SpongeBob SquarePants uncovers numerous games based on specials throughout the 2000s, from the official movie game to Atlantis SquarePantis and Truth or Square. A handful still appear on modern hardware, such as WayForward's The Mummy Demastered in 2017, but this and other brand-name titles like Marvel's Spider-Man tend to contribute their own canon to existing names. DreamWorks Dragons: Legends of the Nine Realms is in a similar boat.
Following the success of its How to Train Your Dragon film trilogy, loosely based on a series of children's books by Cressida Cowell, DreamWorks has upheld the brand through endeavors like the 2021 streaming series Dragons: The Nine Realms. While The Nine Realms takes place some 1,300 years after the main series, Legends is more of an "inspired" reimagining of its story that sees dragons Thunder, Plowhorn, Feathers, and Wu & Wei seeking Thunder's lost family – without human aid. Even so, composer Chris Whiter spoke to Game Rant about the importance of respecting and contributing to an existing musical canon.
RELATED: Former Nickelodeon, DreamWorks Animator Talks Cloudscape and Kickstarter
Whiter's Work with Licensed Games is Life Falling into Place
The British musician's career began playing flute and saxophone, but his University experience with the National Youth Jazz Orchestra cemented an interest in composing. He went on to work with live music, film, and developing sound libraries, and Whiter said "all of those individual facets led to where I am now on the game audio side." While one can make plans for their future, Whiter said life often falls into place in unexpected ways.
Whiter had smaller jobs doing session work for games, but his first culminating experience in the industry was being invited onto the audio team for Get Packed by friend and collaborator Vince Webb. That connection with publisher Coatsink opened a "right place, right time" opportunity to compose for Transformers: Battlegrounds, published by Outright Games. Through Outright, Whiter has touched other major children's brands like PAW Patrol and How to Train Your Dragon. "It's simultaneously lovely, because obviously they're names everyone knows really well, but it's also really daunting."
Tying Dragons: Legends of the Nine Realms into an Existing Sound World
A name that people are aware of is one they'll have a certain attachment to, according to Whiter. In the case of DreamWorks' popular film series, he said that's as much of an attachment to the "sound world" as it is the dragons themselves. Whiter said it's especially daunting to follow the work of How to Train Your Dragon's composer John Powell.
"Being part of any musical canon, you have to be aware of what has gone before and ensure you respect that and understand why that canon was appraised. Then make sure you're contributing to it."
It's "a real pleasure to be able to have that opportunity," Whiter said, especially when the source material offers so much to work with. Whiter tries tracing elements that people associate and love about the style of the original music so that he can "bring those nuances into this new sound world." That musical canon also includes Dragons: The Nine Realms, which builds upon Powell's work in its own unique way.
RELATED: DreamWorks Dragons: Legends of the Nine Realms Composer Feels Kids Games Don't Need 'Oversimplified' Music
AHEARTFUL OF GAMES' DreamWorks Dragons: Legends of the Nine Realms stands out in this regard, according to Whiter. It ties in with the ongoing streaming series, and Outright Games even released a recording of the game's main theme being performed by Whiter and the Fames Orchestra to celebrate the November 17 launch of The Nine Realms Season 4 on Peacock and Hulu. Yet Legends is "not set necessarily at the same time," meaning the composer had to be aware of how this project related to the series' world.
The 'Irreplaceability' of Live Musical Performances
One major aspect of Whiter's composition on Legends of the Nine Realms was bringing in a variety of woodwinds and Celtic flutes to capture the Viking-inspired world of How to Train Your Dragon. "I always had it in the back of my mind." His long-time experience as a flutist let him bring his understanding of that soundscape into the project – though Whiter doesn't necessarily write himself roles in a composition unless he feels it will fit into the work. Often this might be if it needs something he's handy with late into development, sometimes as a solo part to lay overtop.
"Especially composing these days, you tend to find sometimes you're multifaceted. You're not only the composer, there are often many roles you take on. If you have a certain skill set that suits certain projects, there's no reason not to utilize that."
Though not every project needs live music, and Whiter said assets like sound libraries can be "useful and powerful" tools, he feels the opportunity to work with musicians is "irreplaceable." He always aims to work with live musicians when he can, be it in orchestras or layering individual recordings to an existing sound. "It can make the difference between music sounding alive and feeling not quite as alive as it could be."
Working with an orchestra on Legends of the Nine Realms was one of the great pleasures of the project for Whiter. "Huge thanks go to Outright Games and AHEARTFUL OF GAMES. As a sound world, it's great to be involved in some way." While he can't speak much to the marketing side of the industry, he knows how much audio can bring to both gameplay and narrative immersion, and appreciates how "Universal and the other cogs involved with Dragons" were open to highlighting the hard work of talented musicians and audio teams.
DreamWorks Dragons: Legends of the Nine Realms is available now on PC, PS4, PS5, Switch, Xbox One, and Xbox Series X/S.
MORE: Tom Stalta, Composer on Deathloop, Discusses 'Tough' 60s/70s Music, Defining Your Sound