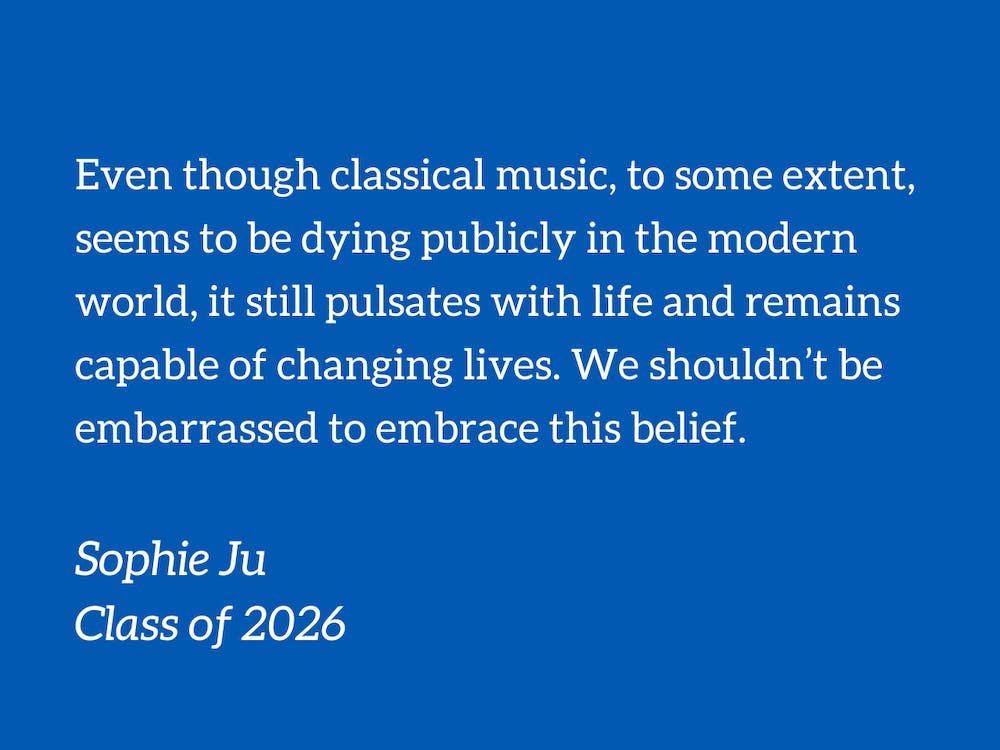 At some point in our life, many of us have been fascinated by the beautiful storytelling in Taylor Swift's new albums or felt connected to the flashy, upbeat music by BTS blasting from the radio. Today's singers and songwriters take advantage of modern music technology to capture and convey their sentiments. Every component—the lyrics, the beats, the dynamics and even the music videos—contributes to the essence of that song.
However, we might be unlikely to find a place for a piece like Brahms Symphony No.3 on Spotify's curated playlist of Today's Top Hits. 
I've tried to keep my ears open when listening to different genres of music for distinctive parameters and forms of musical expression. Just like we are concerned with the standard of living, we might also want to be concerned with the standard of listening. The public's appreciation for classical music should not be deteriorating. 
Admittedly, I know few who doubt the ability of art—and, in particular, classical music—to influence a moment or even an era. Even though classical music cannot typically be found in the Billboard Top 100, it introduces a unique discussion of historical contexts, proving how its independence from today's music technology does not detract from its worth. And there's so much more than that—it offers the emotional, harmonic and rhythmic range that no other music can match, from the sacredness of Bach to the sarcasm of Mahler. It is simply a treasure that deserves support.
Earlier last month, the North Carolina Symphony performed Beethoven's Eroica Symphony in multiple locations in Raleigh and Cary. This piece was the revolutionary capstone. The underlying melody upon which Beethoven wove his elaborate tapestry of ideas was always discernible underneath the surface. Just listen to it! You can really feel the composer's manifestation of the Enlightenment spirit, prizing free thought within rational limits. We see an artist's political pursuit of an ideal society and their assertion of freedom. 
Beethoven's symphonies are often associated with liberty. During the French Revolution, the third symphony was dedicated to a heroic leader. During the Second World War, the opening notes of the fifth were linked to the short-short-short-long morse code for "V" (as in victory). In 1989, Leonard Bernstein conducted the ninth near the fallen Berlin Wall. Listening to a great work like this allows us to understand the full picture of history instead of the one-dimensional view through historical texts. 
Next month, there is the Duke Symphony Orchestra performing Brahms Symphony No. 3. Being consistent with the satisfaction he finds in multiple pure Platonic pursuits in his life, Brahms has always pursued the essence of music from Beethoven's pure instrumentality. It's in stark contrast to his contemporary Wagner, whose music dramas are composed of elements in Shakespeare's plays, Schopenhauer's philosophy and Hitler's ideology.
There are also many opportunities to listen to organ pieces and chamber music at Duke. As a part of Professor Harry Davidson's music seminar class (Composers of Influence), we are lucky enough to hear the university organist, Dr. Robert Parkins, play a couple of pieces. Some people think the pipe organ is suitable only for playing hymns or "old" music, but in fact, the repertoire spans most music genres—from capricious Bach fugues to Max Reger's historicist modernism to jazz-inspired pieces. You will be surprised by the HUGE variety of sounds the pipe organ is able to produce! 
Danish String Quartet, which has been widely recognized as one of the world's greatest quartets, also came to town on the weekend of November 5. It was a full house in Baldwin Auditorium for this astonishing group—and certainly one of the most beautiful live performances of the Mozart quartet in E-flat Major I've ever heard! 
The only problem is that over eighty percent of the audience were older people instead of Duke students.
If we continue to receive stereotypical codes of music that are depleted of their richest treasures, we will lose out. I'm not saying everyone has to become a classical music enthusiast. But still, I encourage you to check out Duke Performances, come to Baldwin Auditorium and Duke Chapel and make good use of your student discount (only $10 to listen to guest performers). 
Even though classical music, to some extent, seems to be dying publicly in the modern world, it still pulsates with life and remains capable of changing lives. We shouldn't be embarrassed to embrace this belief. The way we listen is a reflection of the way we live, regardless of the size of its audience or whether it has a prime-time awards show. With our ears and imagination, classical music gives us the tremendous capacity to understand human conditions' strengths and limitations.
Sophie Ju is a Trinity first-year. Her column typically runs on alternating Mondays.
Get The Chronicle straight to your inbox
Signup for our weekly newsletter. Cancel at any time.