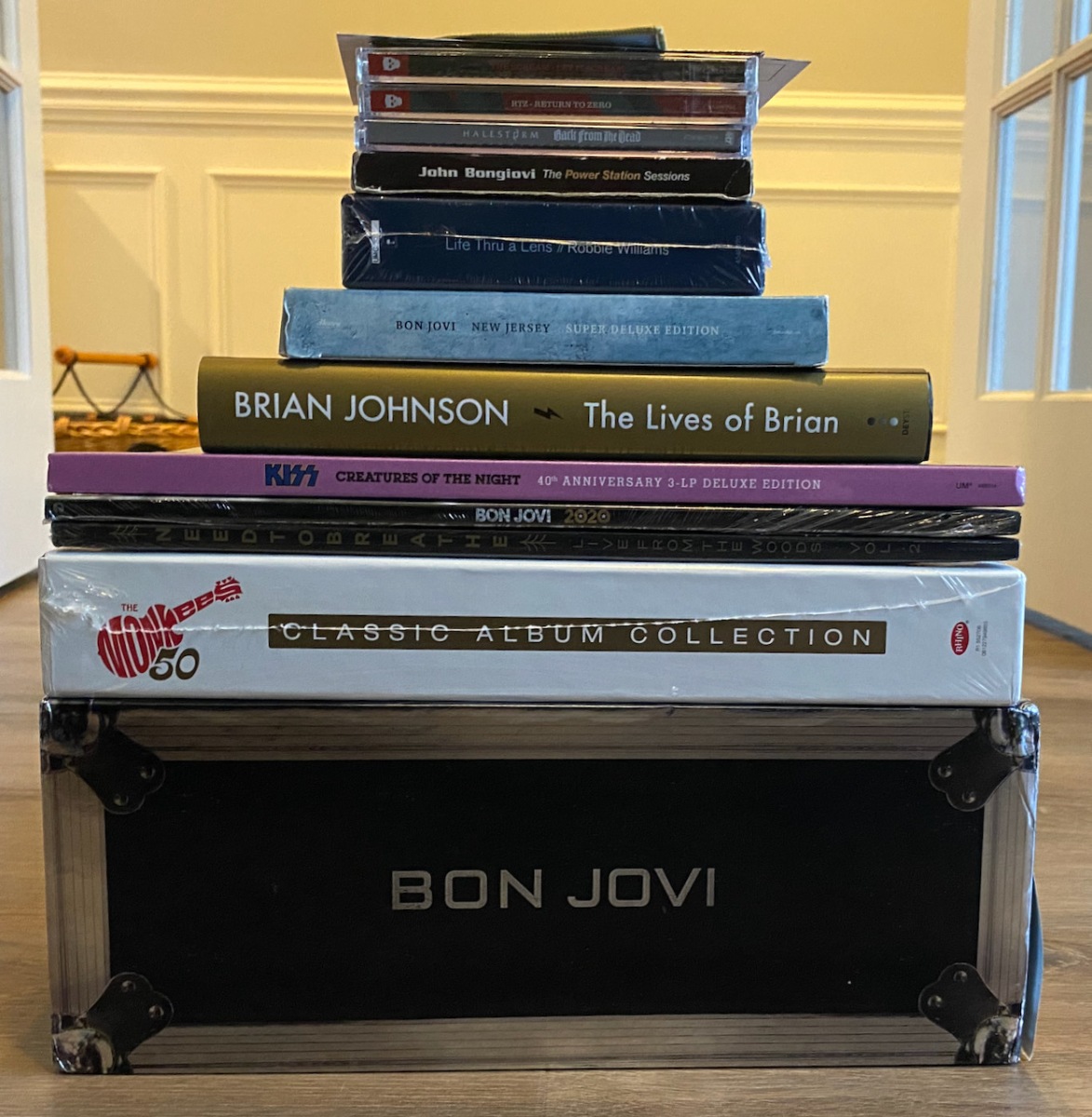 I can't believe 2022 is about to be behind us. Man, that year flew fast. Well, we ended with one of the biggest hauls we have ever had here at 2 Loud 2 Old Music. There are 38 albums purchased or gifted this month alone!! That is insane. Several of these purchases will be part of the new Review Series coming in 2023 after the Scorpions are done of course. Thanks for stopping by each and every day, week or month and I hope you all had a wonderful year. And I hope next year is even better for you. Let's get started on a review of the December 2022 Vinyl & Cds…
First up is another Kiss record. I bought the 40th Anniversary Super Deluxe Edition Box Set but that doesn't come with a vinyl. The 3-LP Deluxe Edition has such a pretty blue color vinyl, I had to have it as well. I didn't make it in time for last months post as it should have but at least I have it now…
Then I picked up the new 4 CD Deluxe Edition 20th Anniversary Box Set of Robbie William's debut solo album 'Life Thru A Lens'. It has a remastered album, 2 bonus discs of rarities and a live show…Just perfect!!
There was a deluxe edition released of Halestorm's latest album, 'Back from the Dead', which has 18 tracks…that is a lot!!
Then it is on to some Needtobreathe releases. First is the Insiders' Club Only release of the Best of The Insiders, Vol. 1. They first sent out the CD which is below. The album will come out in March and they will send me it at that time…I like rare, limited edition releases…
Then came a vinyl I have been waiting 22 months to get. I pre-ordered it in January 2021 and the show was going to be March 2021 with the vinyl to come out later for that show. With delay after delay after delay, the album arrived at the end of November 2022 (after I had completed the November Purchases post). Needtobreathe kept us informed the whole time and gave us a postcard and a patch as a gift for the long delay. The patch is cool, I'll give them that, but autographed copies would've been cool!!
Now it is on to a purchase that helped me decide my next series. I was still missing 6 vinyl albums from Bon Jovi and/or Jon Bon Jovi and to buy three of them individually it was almost the price of the box set, so I bought the box set. Some of my duplicates I'll trade in at my local store to pick up something nice. The set is 17 studio albums plus a bonus LP of B-Sides and other tracks. It is the Bon Jovi Albums Box Set…
And because this came out prior to the release of their album 2020, I went ahead and bought it too even though I'm not a massive fan of it, I need it to complete the set…
And then I got to thinking, I need to get the Jon Bongiovi Power Station songs as that would be perfect to kick it off. While looking for it, I found the Deluxe Edition to New Jersey with a demos disc and a DVD with a documentary and music videos…
And then for Christmas, I picked up a few things. First is the new book by AC/DC lead singer Brian Johnson…Can't wait to dive in to that one…
I really like those Rock Candy Re-Issues as I've picked up a few lately so I gave my daughter a selection of those as options for Christmas and she got me two great ones…
And lastly, the very first album on vinyl I ever bought was from a TV Commercial back years and years ago. It was the Greatest Hits for The Monkees. I found a box set online and told my wife that if she wanted, that would be a great gift as it is 9 studio albums plus a bonus LP of various single edits and stuff…
And that is all. Well, there are 5 purchases I have made from Europe and Canada that did not arrive in time for this post, so we know we have at least 5 items for January so far. Here is everything I got in December 2022! Thanks for stopping by and Happy New Year!!