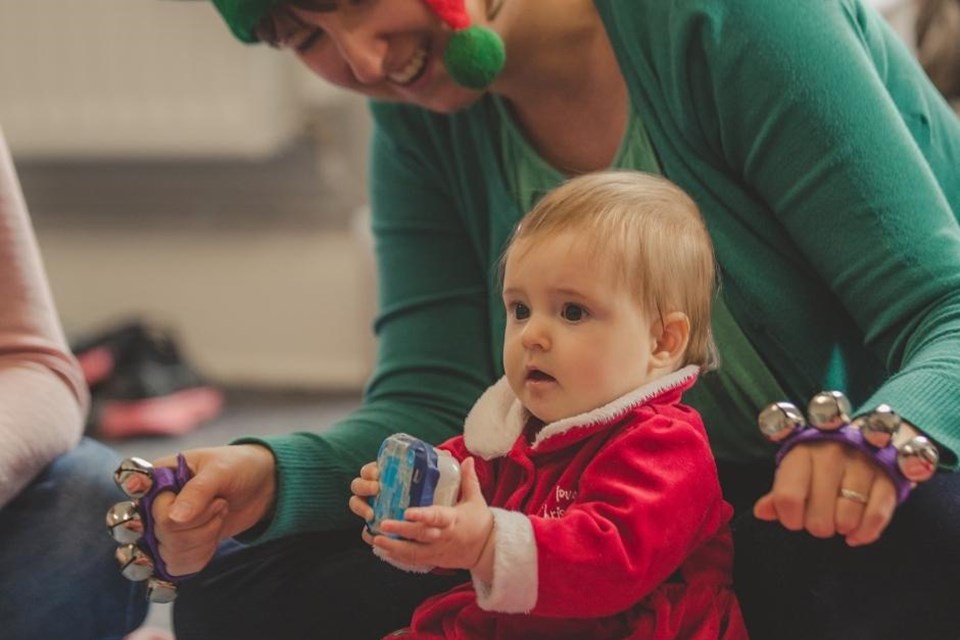 In the final article of this series, Boogie Mites' Sue Newman talks about how to bring communities together through music
Music is a wonderful way to help us celebrate Christmas together in our family, nursery and community groups. And as we know at Boogie Mites, when people get together, the joy is multiplied when we start singing and dancing. Smiles break out, people are more animated, and suddenly there is a lot more human connection.
We use music and dance at all sorts of social functions and celebrations including church, weddings, parties and football matches, and there is actually a very good reason for this. Music-making together has been proven to create important social bonds and encourages positive emotions in those who take part.
According to several studies (for example, Hove and Risen, 2009; Wiltermuth and Heath, 2009; Valdesolo and Desteno, 2011; Launay et al., 2013), when humans 'synchronise' with each other, social bonding can occur. 'Synchronising' is defined as performing movements simultaneously with someone else. This could include dancing, clapping, and tapping rhythm sticks in time with one another.
When people have rhythmically matched timing, social closeness is established, which in turn has a lasting impact on how close they feel to another person. So as well as improving your rhythmic skills, tapping your rhythm sticks along to Hickory Dickory Dock can help you to feel closer to everyone else. This is especially powerful for children with EAL or SEN who find it more difficult to integrate socially.
One study (Kirschner & Tomasello, 2010) points towards four-year-olds behaving more pro-socially (positive, helpful and promoting co-operation and friendship) after taking part in music activities together. They become more empathetic and helpful, which suggests group music is a way to help your children to play more co-operatively and inclusively together.
If you have ever sung in a choir, or at a sports match, you will recognise that feeling of bonding as a group. Children will have the same feeling from making music together at nursery, at home or in social groups. Not only do we create social bonds by synchronising rhythmically; there is also evidence to suggest that social-bonding activities, which include music and dance, trigger us to release endorphins, as well as other neurohormones and oxytocin. These make us simultaneously feel good (think of the high you feel after exercising) and socially connected to others. All the time you're shaking your shaker, you're producing endorphins to make you feel good – while supporting brain development and keeping fit.
Maybe those football fans have a point – sing when you're winning, or maybe it should be win when you're singing!
ACTIVITIES
What festive musical fun do you have planned this year? Here are some Boogie Mites festive music activity ideas:
Use a recording of jingle bells and act out galloping with the reindeer across the skies. You can use shakers to make a jingling sound or the sound of snow falling.
We Wish You a Merry Christmas is a great sing-a-long for parents to join in; you can change the words of the verses to fit the event, for example:
We all like to sing together,
we all like to sing together,
we all like to sing together,
so let's hear you cheer…
We all like to dance together,
we all like to dance together,
we all like to dance together,
so let's hear you cheer.
Sing Here We Go Round The Mulberry Bush, making a circle and changing the words to fit a Christmas theme:
This is the way we dress the tree,
dress the tree, dress the tree,
this is the way we dress the tree on a cold and frosty morning.
This is the way we wrap the presents…
This is the way we dance and sing!

Boogie Mites Core Music Programmes
Boogie Mites music programmes provide everything you need to boost your music provision in the setting and outside, for each age group, boosting movement, mood and cognitive development for all involved – staff and children.
School Ready Music Programme (3-5 years), https://bit.ly/3qqSO2G
Minis Music Programme (2-3 years), https://bit.ly/3RZePBr
Teenies Music Programme (crawlers to 2 years), https://bit.ly/3RtEZMJ

Download Now