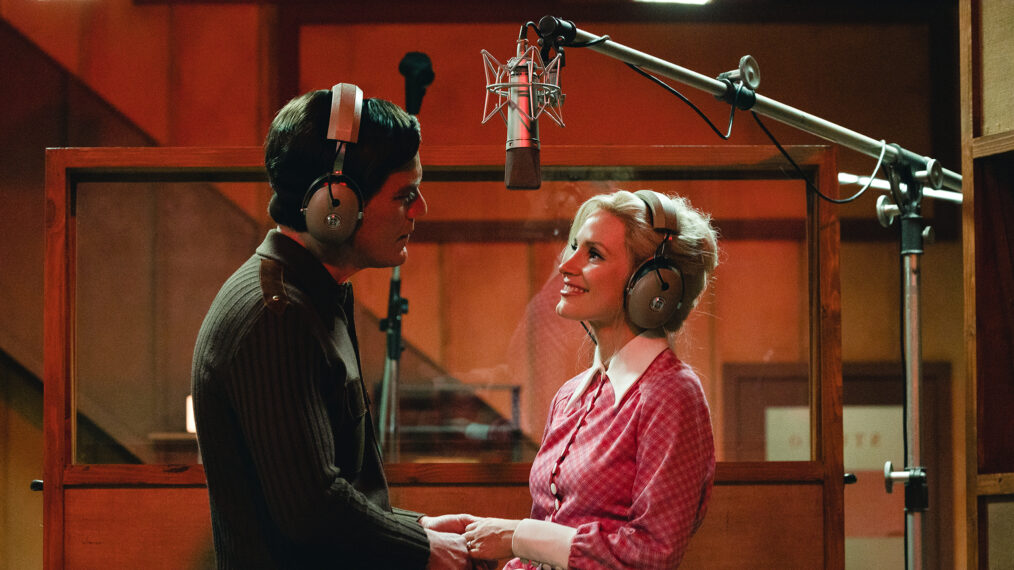 George & Tammy
SUNDAY: They lived their lives and conducted their torrid, tormented relationship as if reenacting the country-music lyrics that made them famous. Michael Shannon and Oscar winner Jessica Chastain star, and provide their own vocals, as country legends George Jones and Tammy Wynette in a six-part limited series that often plays like a real-life version of A Star Is Born. (See the full review.)
Fit for Christmas
SUNDAY: Network TV movies are almost as rare as a white Christmas in Miami, but CBS gets back in the game with a holiday film starring and executive produced by The Talk's Amanda Kloots, who also co-wrote the film's story. She plays Audrey, a Christmas-phile fitness instructor who gets cozy with a businessman (Paul Greene) who's planning to turn the community center where she works into a lucrative resort.
World Cup
SATURDAY & SUNDAY: It's make-or-break time for team USA as the knockout round of 16 begins with U.S. facing the Netherlands (Saturday, 10 am/ET, Fox), followed by the Argentina–Australia match (2 pm/ET, Fox). Sunday's matches pit France against Poland (10 am/ET, FS1) and Senegal against England (2 pm/ET, FS1).
Saturday Night Live
SATURDAY: The irrepressible Keke Palmer (Nope, Password) makes her debut as guest host in the first of three new episodes in December. (The Only Murders in the Building duo of Steve Martin and Martin Short, both with long SNL histories, are next week's hosts, and Elvis star Austin Butler is the first-time host Dec. 17.) SZA returns as musical guest for her second time.
College Football Conference Championships:
Marking the end of the college football season, teams battle it out for their conference titles through the day on Saturday. Undefeated TCU faces Kansas State in the Big 12 Championship (noon/ET, ABC), Toledo takes on Ohio in the MAC Championship (noon/ET, ESPN), Coastal Carolina goes to war with Troy in the Sun Belt Championship (3:30 pm/ET, ESPN), undefeated Georgia looks to whomp LSU in the SEC Championship (4 pm/ET, CBS), Fresno State faces Boise State in the Mountain West Championship (4 pm/ET, Fox), and in prime time, the Big Ten Championship (8 pm/ET, Fox) pits undefeated Michigan against Purdue, and Clemson takes on North Carolina in the ACC Championship (8 pm/ET, ABC).
TV Yule Log:
The Great Holiday Bake War (Saturday, 9/8c, OWN): A fictional baking competition is the background for a holiday romance involving pastry school rivals Julian (Finesse Mitchell) and Brianna (LeToya Luckett).
Homes for the Holidays (Saturday, 7/6c, AXS TV): Ashley McBryde hosts an event benefiting families of fallen first responders and Gold Star heroes. Making appearances and/or performances: Travis Tritt, Yellowstone's Cole Hauser, Robert Randolph & the Family Band and country trio Runaway June.
Reno 911! It's a Wonderful Heist (Saturday, 8/7c): The wacky Nevada cops are back with a twist on It's a Wonderful Life, as a dejected Lt. Dangle (Thomas Lennon) learns from a roller-skating angel how the other deputies would have fared—better, it turns out—if he'd never been born.
On UpTV: Christmas on the Slopes (Saturday, 7/6c) stars Soma Chayya as a down-on-her-luck celebrity chef posing as a sous chef in a luxury resort, where she falls for the curmudgeonly head chef (Oliver Renaud). Christmas on the Rocks (Sunday, 7/6c) takes place during a snowstorm that disrupts a corporate Christmas party at a ski resort where the manager (Lyla Porter-Follows) soon realizes the CEO (Jon McLaren) is an old beau.
On Lifetime: R&B legend Patti LaBelle appears in A New Orleans Noel (Saturday, 8/7c) as a New Orleans praline mogul who hires rival architects (Keshia Knight Pulliam and Brad James) to renovate her home. In Merry Textmas (Sunday, 8/7c), app developer Gaby (Ariana Ron Pedrique) heads home to Mexico, unaware her matchmaking family has also invited graphic designer Alex (Rodrigo Massa).
On Hallmark: A Fabled Holiday (Saturday, 8/7c) brings disillusioned childhood pals (Brooke D'Orsay and Ryan Paevey) back together in a magical town. In Undercover Holiday (Sunday, 8/7c), pop star Jaylen Rodriguez (Noemi Gonzalez) heads home, letting her family think her bodyguard (Stephen Huszar) is her boyfriend. On Hallmark Movies & Mysteries, the Mahogany presentation The Holiday Stocking (Saturday, 10/9c) is touched by an angel, when RJ (B.J. Britt) returns to earth to help his estranged sisters (Nadine Ellis and Tamala Jones) reconcile.
On Great American Family: Christmas on Candy Cane Lane (Saturday, 8/7c) stars Andrea Barber as Ivy, who hopes to live up to the legacy of her late mother, the "Christmas Maven" of Icicle Falls. B&B Merry (Sunday, 8/7c) is the story of a travel blogger (Jen Lilley) checking out a small town's B&B, whose owner's son (Jesse Hutch) is worth a rave review.
The Search for Secret Santa (Sunday, 8/7c, ION): Skye Coyne is a young reporter tracking down the Secret Santas connected to a gift that was never delivered—a priceless nutcracker that turns out to have been stolen.
HouseBroken (Sunday, 8:30/7:30c and 9/8c, Fox): The animated comedy teeming with anthropomorphic house pets returns with back-to-back holiday episodes. In the first, poodle Honey (Lisa Kudrow) gets sent to a dream home after a vet's mix-up. In the second, Honey and her dopey St. Bernard housemate Chief (Nat Faxon) are home alone when they protect the family home from an intruder.
America's Funniest Home Videos (Sunday, 7/6c, ABC): No holiday season is complete without a new compilation of Christmas-themed videos, including a runaway inflatable Santa and a mom who surprises her son by jumping out of a giant gift box
Inside Weekend TV:
2022 NASCAR Awards (Saturday, 8 pm/ET, streaming on Peacock): Country star Erin Kinsey sings her hit "Just Drive" at the Nashville ceremony honoring the 2022 Series champs Joey Logano (Cup Series), Ty Gibbs (Xfinity Series) and Zane Smith (Truck Series).
60 Minutes (Sunday, 7:30/6:30c, 7 pm/PT, CBS): Bill Whitaker interviews French President Emmanuel Macron in Paris, of the eve of his trip to Washington, D.C. for a state visit and White House dinner.
Yellowstone (Sunday, 8/7c, Paramount Network): John Dutton (Kevin Costner) would rather brand cattle on the ranch than attend to state business. He may need to wrangle daughter Beth (Kelly Reilly) as well, who's none too happy that her dad has brought environmentalist Summer (Piper Perabo) back home.
Let the Right One In (Sunday, 10/9c, Showtime): Things are dicey for Mark (Demián Bichir) in the supernatural drama's penultimate episode. He's now a prisoner after being caught snooping around the Logan estate and Claire's (Grace Gummer) experiments in finding a cure for vampirism. When his vampire daughter Eleanor (Madison Taylor Baez) learns her dad is in danger, watch out.