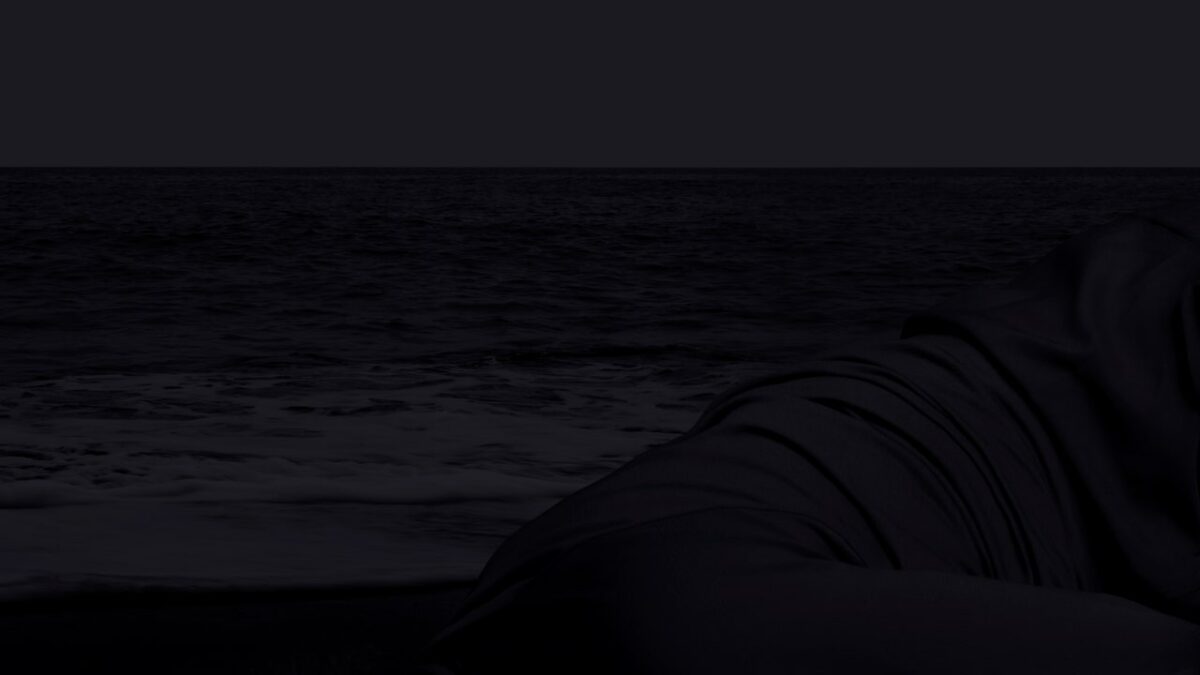 Music is a temporal art form, a medium bound to a linear experience. Russian composer Igor Stravinsky described music as a chrononomy: a measuring tool for time. Yet some musicians can achieve a sense of infinitude in their sound by mimicking nature's eternal characteristics. Laurie Spiegel's endless arpeggiated synths flow like rivers, Lubomyr Melnyk's cacophonous piano compositions blow like torrential winds, and Alice Coltrane's rolled harp chords expand endlessly like our universe. On Palaces of Pity, French producer Malibu suggests boundlessness by embodying the expansivity of the ocean. Submerged synths undulate like waves folding into themselves, producing a sense of agonizing solitude that feels like drifting in a lifeboat with no land in sight. The sound begs you to slow down and stare into the horizon, squinting to find out just how far you can see before the world goes blurry.
In the years since her 2019 debut One Life, Malibu, whose legal name is Barbara Braccini, has developed her oceanic sound. On her monthly NTS radio show, United in Flames, she treats songs by Madonna, Dean Blunt, or Enigma like water-soluble compounds, dousing them with reverb until they dissolve into a sea of sound. In 2021 she morphed Himera and Petal Supply's hyperpop banger "You Make It Look So Easy (S.M.I.L.E.Y)" into a heart-wrenching ballad, and earlier this year she released "Idle Citi," a seven-minute collaboration with Swedish instrumentalist and vocalist Merely featuring seagull calls and the sound of thunder. Braccini, whose father was an oceanographer, has made the ocean her muse, using its duality of stillness and turbulence as inspiration to produce music that ebbs and flows eternally.
Palaces of Pity harbors the emotions you hold onto, willingly or not. There are few intelligible lyrics, most notably the voice in "Cheirosa '94" that asks, "Can you feel it? When I look at you I feel it too." Most of the album is narrated by longing moans that beckon like sirens. Braccini expands on this isolated yearning by building depth with distance. Ominous bass stabs mimic a faraway thunderclap on "The Things That Fade" and gull-like synths chirp in the skies above "So Far Out of Love." Braccini has described the album as a sequel to One Life, which was inspired by the loss of a friendship. Palaces of Pity in turn represents the feeling of distant trauma, the way pain may fade from the surface while remaining within you.
Malibu's music is as formless as water. Sounds creep into the picture with long attacks, slowly building into a frothy crest before dissipating into a silent trough, only to reincarnate as a new wave. "The Things That Fade" begins with a windy synth that moves from ear to ear while Braccini coos in Auto-Tune. A bass synth momentarily submerges everything underwater before her moans break the surface and the synths begin building once more. Along the way various instruments—cellos, guitars, mallets—appear like seasick hallucinations. These oscillating dynamics can be disorienting because they suggest a non-linear experience, perhaps the gradual and irregular process of healing. 
By referencing the constant characteristics of the ocean, Braccini approaches a world where music can live outside of time. "Illiad," the final track, is a nine-minute soundscape that feels like falling forever. It begins with overlapping voices, one cooing, another crying. As the vocals vanish the music settles into a descending three-note melody, conjuring the feeling of sinking into water, and a whale-like call reminds you that you're not alone. Then a delayed synth begins to dance over the melody, like streaks of light piercing the surface. The song fades so slowly that it feels like you'll never reach the ocean floor. Perhaps, in the Earth's deepest waters, you can sink for eternity.