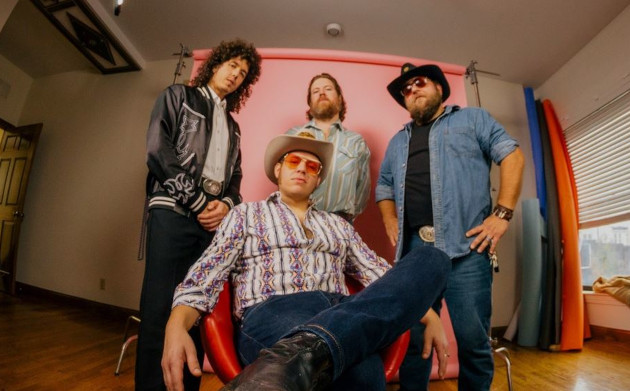 Well damn, who knew they had this up their sleeve?
With all that down time in recent years, the backing band of Tyler Childers wasn't just sitting there with their thumbs up their butts. Apparently they were busy writing and recording songs for their side project called "El Dorodo"—mind the 'o' instead of an 'a' for the traditional spelling of the term.
Just as yours truly was trying to get the full story behind a couple of singles released by El Dorodo recently, they hauled off and released an entire album on Friday, January 27th called Unincorporated.
Though you have to dig to find it, a Facebook page, Instagram page, and website confirm the identities of who is behind El Dorodo, and it is Foodstamps drummer Rod Elkins (shortened to "Rod"), bassist Craig "Hawk" Burletic (bob your head), and lead guitar/pedal steel guitarist James "Witchita" Barker. They're joined by "Dangerous" Doug Woodward, who shares frontman/singing duties with Rod Elkins.
El Dorodo is country, and traditional country at that. But there is also a bit of a tongue-in-cheek approach to this project as can be seen in the video below, so don't take them (or yourselves) too seriously. Yes, they have videos, and they even played a couple of shows on January 27th at The Basement in Nashville, and January 28th at The Burl in Lexington, Kentucky.
Up to this point, there has been absolutely no press or any other mention of this project aside from the band's social media pages. It's been 100% low-key, either on purpose, so that people stumble on it organically, or because like so many things these days, the press is just asleep at the wheel. Apparently they've been playing together for years, and have played multiple shows around Kentucky.
Running down the songwriters for the project, Rod Elkins and Doug Woodward handle the lion's share of the writing, but Craig Burletic also lends one song, and the manager for Tyler Childers, Ian Thornton, co-writes a song as well. The only person missing from the classic Foodstamps lineup is "The Professor" Jesse Wells, but he played with them at the show at The Burl in Kentucky.
The band's website says in part, "El Dorodo is all of these things and all of these things are Country music. El Dorodo appreciates, respects and loves all types of "good" music. You may hear aspects of these different genres represented in our music. We are fans first. Our hearts lie in Country/Western/Old Time music and culture. We represent true, honest Country music to be consumed by the masses and we do so with full hearts. Our aim is to get back to the basics of love…El Dorodo is country music."
A proper review for this project will be forthcoming. But since there was no info out there in the world about El Dorodo, it seemed like someone needed to address it sooner than later. So here you go ladies and gentlemen: El Dorodo.
TRACK LIST:
1. Tell Me Why (Doug Woodward)
2. The Rose of San Antone (J. Baisden, Rod Elkins)
3. Whiskey, Women, and Wine (Doug Woodward)
4. I Get Around (Doug Woodward, Rod Elkins)
5. Don't Break My Heart (Doug Woodward, Ian Thornton)
6. Bed of Roses (Craig Burletic)
7. Like The Others (Rod Elkins)
8. Dreamin' Man's Blues (Doug Woodward)
9. Life of Sin (Doug Woodward)
10. Cowboys/Cowgirls (Rod Elkins)
This story has been updated.