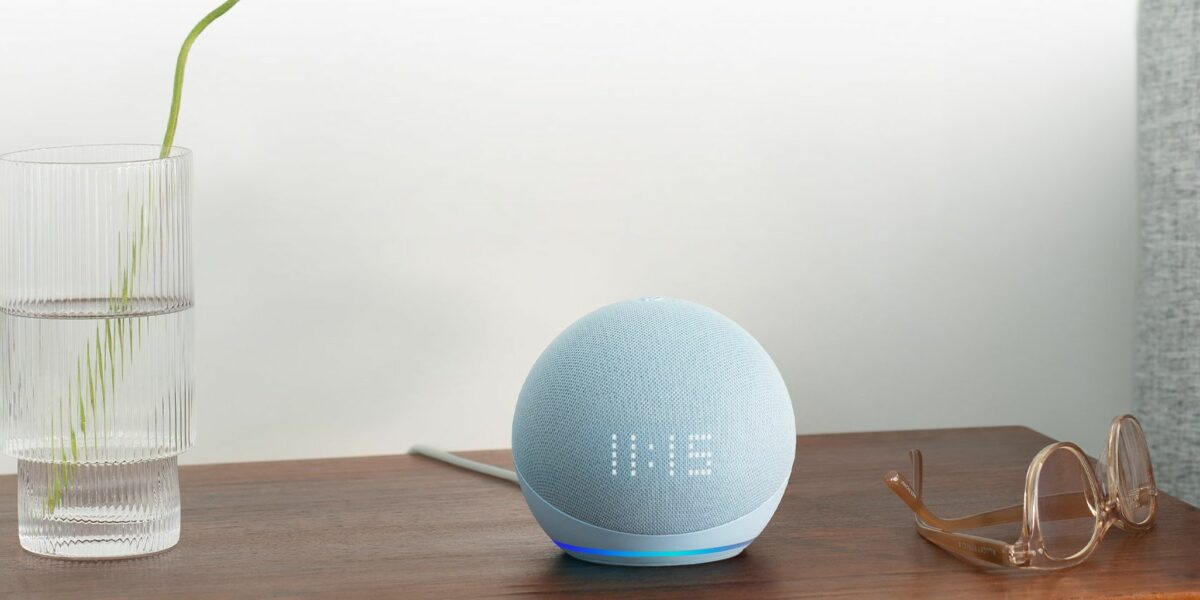 The fifth-generation Echo Dot with Clock is the best way for most people to enjoy Amazon's smart speaker lineup. While the sound quality isn't earth-shattering, the upgraded display is a great way to see the time, weather, song titles, and much more.
Key Features
LED display that can show the time, alarms, weather, and other information
Larger internal speaker and better sound quality than its predecessors
Ask Alexa to play music, answer questions, set timers, and more
Control smart home devices with your voice and routines
Quickly turn off the microphone with a single button
Specifications
Brand: Amazon
Display: LED
Dimensions: 3.9 x 3.9 x 3.5 inches
Weight: 10.7 ounces
Alarm Clock: Yes
Integrations: Alexa
Connectivity: Wi-Fi, Bluetooth
Colors: Glacier Blue, Cloud White
Buttons: Alexa, Volume, Mute Mic
Speakers: 1.73″ front-firing speaker
Pros
Display provides more than just the time
Can act as an extender for your eero Wi-Fi network
Temperature sensor can help create great smart home routines
Cons
Improved sound still pales in quality to the larger Echo or Apple HomePod mini
No 3.5mm jack
Buy This Product
Amazon Echo Dot with Clock (5th Gen)
The Amazon Echo Dot is easily the most popular and easiest way to enjoy the Alexa ecosystem.
Originally conceived as an alternative to the flagship Echo, the smaller version offers the same Alexa interaction, smart home control, and access to hundreds of thousands of Alexa skills. And thanks to its much lower price, it's possible to add the speaker to many rooms in your home without breaking the bank.
Starting with the third-generation Echo Dot, Amazon offered an upgraded version with an important advantage: a clock. That made it perfect to add to a nightstand or anywhere else you need to see the time.
The fifth-generation model features the same design but with a vastly improved clock display and other great new features. We'll take a closer look and see if the time is right for the Echo Dot with Clock.
A Clearer Display With More Information
A headline feature of the new model is an improved LED display. Instead of just being able to display the time like the previous two models, now you can see additional information like a song title, weather conditions, the number of Alexa notifications available, and more.
Compared to my fourth-generation Echo Dot with Clock, the display on the new model is brighter and easier to read, even from across the room. I was also able to view the time clearly in a bright room and from an angle.
You can easily change the brightness of the clock using the Alexa app, and there's an option for the display to automatically adjust its brightness depending on the ambient light. That's a great option if you're using the speaker as a bedside clock. If you desire, you can also completely turn off the display.
In the morning, a new accelerometer on the top of the speaker allows you to simply snooze the alarm with a tap. You can also pause a song, end a call, or stop a timer. It's another handy way for quick control without needing to call for Alexa.
Being able to see other data on the display is a nice touch, even though you can ask Alexa to hear the same information—but it adds even more ways to use the best feature of the upgraded model.
Somewhat Better Music Quality
Amazon promises better sound quality from the new Echo Dot with Clock thanks to its 1.73-inch front-firing speaker. That's an upgrade from the 1.6-inch speaker in the fourth-generation.
The sound quality is indeed improved, but not substantially. I played a wide variety of music and podcasts on both the fourth- and fifth-generation speakers. The better bass quality stood out in some songs, but I had a hard time discerning the improved vocals Amazon touted.
If sound quality for music playback is your top concern in a smart speaker, you'd likely be better off spending more to buy the larger Amazon Echo. Alternatively, if you're looking for vastly better sound in the same small size, Apple's HomePod mini still rules the roost, as long as you're an Apple user and don't mind switching smart home ecosystems.
One major downside to note with the new Echo Dot with Clock is that Amazon has removed the 3.5mm line out jack available in the previous version. With that, users were able to connect the small speaker to a larger option like a Sonos.
That's a disappointing change. But I suspect it won't bother most Echo Dot with Clock buyers, as the small smart speaker is more known for its all-around smart home prowess than music playback quality.
Making a Smart Home Even Better
On the smart home front, the new Echo Dot with Clock offers two handy new features. Combined with the motion sensor that arrived in the previous generation, the fifth-generation model is much more than a smart speaker and can be used as a larger part of an Alexa smart home.
First up, a built-in sensor can monitor the temperature inside your home. You can use that information as part of the handy Alexa Routines feature in the Alexa app for iOS or Android. For example, you can create a routine to automatically turn on a fan after a certain temperature is reached.
Another big plus is that the speaker now features eero Wi-Fi technology built-in. With that, you can use the Echo Dot with Clock as part of a larger eero network. As long as you have one eero router running in your home, you can use the Echo Dot as a Wi-Fi extender.
Amazon says the speaker will extend the Wi-Fi coverage in your home by up to 1,000 square feet, with supported speeds of up to 100 Mbps.
I'm running an eero network at my house, but already have two eero devices in my relatively small, one-story home with no dead spots or slow areas to speak of. It's important to note that using more routers or extenders than needed in a home can actually cause slower wireless network speeds.
Interestingly, when setting up the Echo Dot with Clock as an extender in the eero app, I received an error message. Because of strong Wi-Fi coverage where the speaker was located, the capability was automatically disabled. I tried placing the speaker at a few other spots at my home, but with no luck.
Nevertheless, if you're looking to save a bit of cash when creating a new network in a larger home, using one or two Echo Dot with Clocks around the home is much more cost-efficient than buying additional eero nodes. Plus, if you already have an eero network and are running into connectivity issues, like with cameras or other smart home equipment outside, using an Echo Dot with Clock could be the solution.
The fourth-generation Echo Dot and Echo Dot with Clock will receive the same eero functionality with an upcoming over-the-air update.
The Best Way to Enjoy Alexa
Amazon's Echo ecosystem continues to lead the way in the smart home market thanks to the power of Alexa, along with the low price and simplicity of the hardware.
The fifth-generation Echo Dot with Clock is the best way for most people to enjoy Amazon's smart speaker lineup. While the sound quality isn't earth-shattering, the upgraded display is a great way to see the time, weather, song titles, and much more.
The addition of the temperature sensor and eero functionality also help cement the speaker's cost-conscious but feature-rich approach to the smart home. Whether you're a smart home beginner or expert, this nifty device makes for a great purchase.