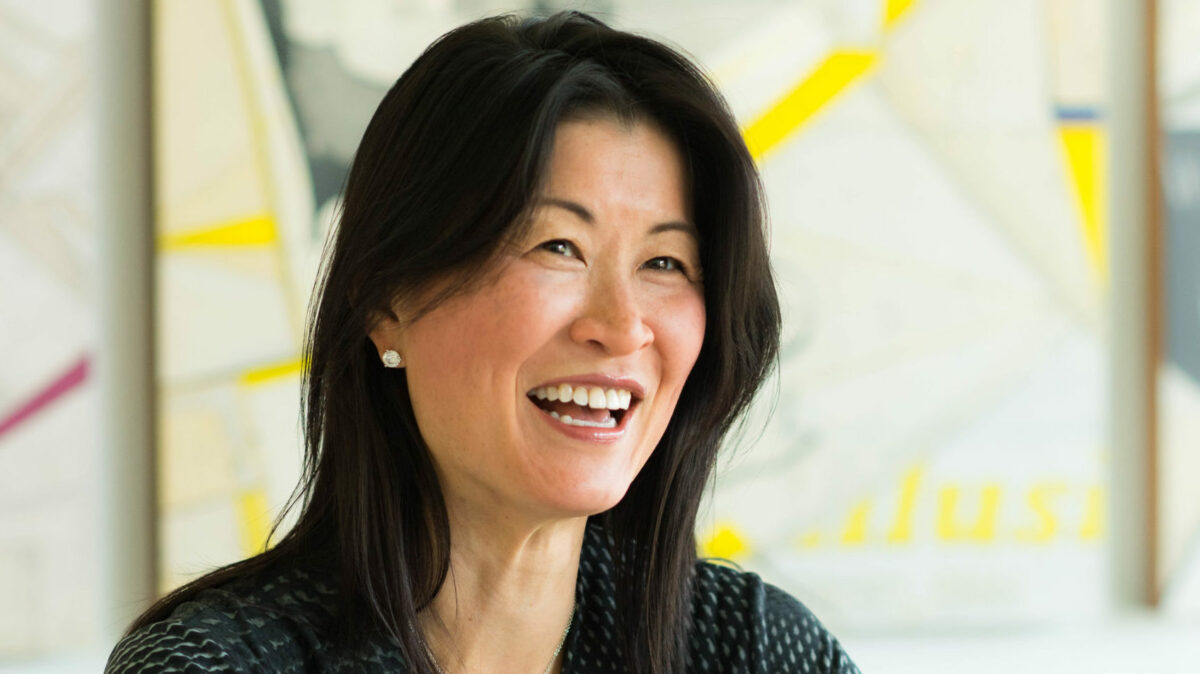 Editor's note: Thought leader Grace Ueng is CEO of Savvy Growth, a noted leadership coaching and management consultancy, like WRALTechwire, celebrating its 20th anniversary this year.  Grace writes a regular column on Happiness & Leadership for us.  Grace's core offerings are one-on-one coaching for CEOs and their leadership teams, and conducting strategic reviews for companies at a critical juncture.  A TED speaker, she is hired to facilitate team building retreats and lead HappinessWorks programs for companies and campuses.
+++
 RESEARCH TRIANGLE PARK – Many recognize Juilliard as the premiere performing arts educator, attracting students who are the world's most talented musical prodigies, future Oscar winners and prima ballerinas.
I grew up with an older sister, Vivian, who showed exceptional talent in piano for as long as I can remember. Every performance I attended, I was asked, "Do you play piano too?" I didn't think I was as naturally gifted, so quit after a few years and  started a little tutoring business and pursued school leadership roles instead. She, on the other hand, matriculated to Juilliard where she earned two musical arts degrees and served on the faculty of its highly selective pre-college program.
But did you realize Juilliard is also an emerging leader in business education?
In the last year, I've gone full circle and recently had an a-ha that business leaders could benefit from taking courses at Juilliard or at least from a Juillard trained musician.   As many of you know, last year, after emerging from my depressive episode with my launch column on Leadership & Happiness, I restarted my piano studies, after a four decade hiatus, to honor the memory of my mother, my first teacher.
My Juilliard trained teacher harnesses my intrinsic motivation
I selected Teddy Robie, who graduated with two degrees from Juilliard, as my teacher.  I have a new openness to learning that I didn't have as a girl, so I am progressing faster. Every lesson, I take away something new.  I am taking lessons because I want to, not because anyone is making me or society expects it. I've experienced the distinct difference in outcomes between being intrinsically versus extrinsically motivated.
In my last column, I reflected on how having your team set their own goals versus setting for them as critical to achieving difficult targets. How can you inspire them to set goals that feed into  meeting yours as well as the company's overall forecasts?
Take a lesson from my piano teacher.
Why are violists the brunt of so many jokes? 
A few months ago, Teddy suggested I read the book, Declassified,  his Juilliard classmate, Arianna Warsaw-Fan Rauch just had published.  One of my goals for 2023 is to read more books, so I ordered a copy and read it cover to cover in just a few sittings. Highly humorous and revealing, Arianna gives an insider view of Juilliard and the pressure cooker life of preparing for a career as a concertizing musician at the highest echelons.  She ends her memoir with a joke about violists and how "dumb" they are.  Since my niece, who is both smart and sweet, is a talented violist, I took offense and asked my sister just why there are so many violist jokes.
The Viola: the Inner Voice Tying the Music together
A few days later, I asked Teddy the same question.  He had already seen Arianna post that same violist joke on her Instagram feed.  He laughed and said that the violists he knows are actually the opposite, very smart.  And they take the jokes in stride, because they know the truth and that the ribbing is in jest.  He explained the importance of violists. Like my son who plays electric bass, while they aren't in the spotlight like the concertmaster or the lead guitarist, they both play important roles in creating a musical group's success. The violist is the inner voice that plays the critical role of tying all the musical voices together.
Like Middle Management!
I thought – Ah! This is akin to middle management in corporations.  While they don't get the spotlight like the executive team, they oversee the day to day and operationalize the CEO's strategy.  This reminded me of the learning and development workshops I've been asked to do for emerging leaders or middle management.  While most of my work over the last two decades (my firm is celebrating its 20th anniversary this year)  has been geared toward the C-level, I've been asked in recent years to modify that material to apply to the critical middle, since they often get forgotten, but are the core that holds a company together.  Just as the viola's role in a musical ensemble is to accentuate the melody and strengthen the overall beauty of the piece.
Bach's complex compositions: akin to today's organizations
I mentioned in How the art of listening can apply well beyond music, into our work culture,  that the concert pianist, Lang Lang, is the muse for my music. I am now studying Bach's Goldberg Variations, an album that Lang recently recorded.  On first listening, I thought the composition was a little boring, even shallow. How could these variations have been something that Lang Lang studied deeply for 15 years before recording?  My sister said that I likely hadn't listened far enough, as the music is very complex.  She was right, I was reacting to the opening, the Aria, followed by just the first few of the thirty variations.  I jumped to a conclusion too quickly, without listening to more of Bach's composition.  I stopped too soon.
Teddy then told me that in total, the Goldberg Variations are one of the most complicated pieces to learn. He explained that Bach composed contrapuntal music, often polyphonic with many voices, and encouraged me to listen to the variations performed by a trio of violin, viola, and cello versus by a solo pianist. So I put aside Lang Lang's album, and then experienced an a-ha in listening to the trio and hearing its three individual voices. Then and only then did I realize the richness and depth of the Aria and how important the viola is in holding the inner voice between the cello and violin.  I now have more respect and curiosity for Bach's masterpiece. I'm intrinsically motivated to study further.
Just as Bach's compositions offer complexity in their multiple voices, today's workforces are also. A leader who listens to just a few of their people, versus a statistically significant sampling representing the entire workforce, will miss important themes completely.
Listen to all Voices to Reach the Miracle Goal
This week, I am conducting a retreat for a leadership team and will be utilizing Appreciative Inquiry (AI).  Researched and developed by David Cooperrider, professor of social entrepreneurship at Case Western Reserve, AI has been used globally as a change management tool for over three decades.  It consists of a 4-D cycle:  discovery (what gives life & appreciating), dream (what might be & envisioning), design (how can it be & co-constructing), and destiny (what will be & sustaining).
I want to make sure that each of the team members is heard and that each recognizes the strengths that they bring to the team. Instead of focusing on all the challenges and problems that have shaken their morale, I want them to think back to work situations in which they performed their best and to visualize a future where they have achieved the very aggressive revenue goals that are now set before them.  How will each use their strengths to orchestrate this "miracle?" How can they move from being extrinsically to intrinsically motivated? How can their boss and investor's goals become their goals too?
Instead of focusing on problems and what is not working, I hope to get them to focus on experiences that have worked in the past, strengths of team members and what they can accomplish synergistically.
They can then design the envisioned future of success… together.
About Grace Ueng
Grace is CEO of Savvy Growth, a leadership coaching and management consultancy founded in 2003. Her great passion to help leaders and the companies they run achieve their fullest potential combined with her empathy and ability to help leaders figure out their "why" are what clients value most. 
Companies hire her firm for leadership coaching and strategy consulting as well as to  facilitate HappinessWorks programs, infusing the happiness advantage into corporate culture, leading to higher productivity and results.
A marketing strategist, Grace held leadership roles at five high growth technology ventures that successfully exited through acquisition or IPO. She started her career at Bain & Company and then worked in brand management at Clorox and General Mills. She earned her undergraduate degree from MIT and MBA from Harvard Business School.
Grace and her partner, Rich Chleboski, accomplished cleantech veteran, develop and implement strategies to support the growth of impact-focused companies and then coach their leaders in carrying out their strategic plans. Their expertise spans all phases of the business from evaluation through growth and liquidity.