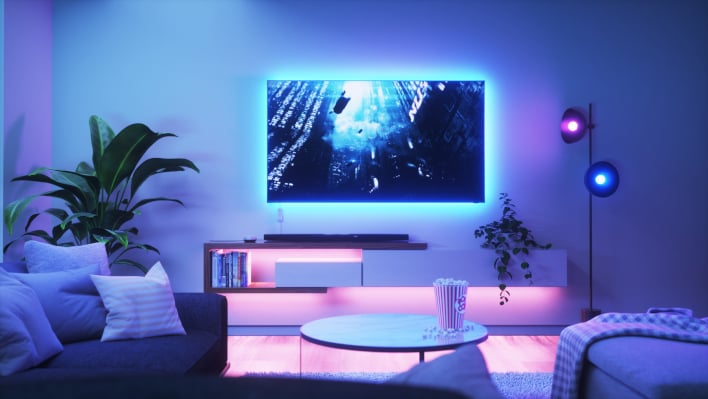 Nanoleaf is basking in the hue of new lights for CES 2023 with its Nanoleaf 4D, Sense+ Controls products, and other new technologies. The company known for illuminating the backgrounds of many streams is announcing several new product lines at the annual tech event in Las Vegas this week.
Enter Nanoleaf 4D
Nanoleaf 4D aims to up your entertainment game experience beyond just your display. The 4D TV Smarter Kit includes a Screen Mirror Camera and Matter-compatible Smart Addressable Lightstrip that utilizes the company's new Sync+ technology to transform your favorite games and movies into immersive journeys of the senses.
There are four Screen Mirror modes to choose from, and 50 addressable zones on the Lightstrip (5M length), so users will have a new world of freedom for customizing their entertainment area. The camera can be located on top or at the bottom of the TV or monitor for flexibility, while Lightstrip features an easy install with snap-on brackets and adhesive. Nanoleaf's new Sense+ technology will not only enable a Screen Mirror of colors with your TV, but can synchronize your entire suite of Nanoleaf light products altogether. Sync+ also enables dynamic lighting scenes to play across your Nanoleaf lighting setup.
Nanoleaf 4D TV Smarter Kit will be launching in Q2 2023, and will be available in two length options: 55″-65″ and 70″-80″.
Sense+ Controls
Speaking of Nanoleaf's new Sense+ technology, the company is launching new Sense+ products as well. The new lineup will offer the world's first-ever hands-free smart lighting experience within your home. Matter-enabled and running on Thread, the Sense+ Controls line will include the hardwired Smart Light Switch, Wireless Smartlight Switch, and Nala Learning Bridge. All three products have built-in motion and ambient lighting sensors that will provide personalization to your entire home's lighting.
Nanoleaf Smart Light Switch

These new products will work together with Nanoleaf's new intelligent Automations Learning Assistant, Nala, to "learn" your preferences from your everyday usage and routines. Nala is a first-of-its-kind learning assistant developed to create personalized automation that can deliver your perfect lighting exactly when, how, and where you want it. Nala will learn when you prefer your lights on or off, deliver seamless brightness and color adjustments, Scene selection based on your preferences, and more. Nala's automated learning technology is enabled via the Nala Learning Bridge.
Say Hello To My Little Friend, Nanoleaf Skylight
The company's CES 2023 announcement of the Nanoleaf Skylight will be the first of its kind modular ceiling fixture that works with Matter, giving users complete control over their ceiling light's design arrangement and area of coverage. In the same way the company's best-selling modular wall light panel products have redefined wall lighting, the Nanoleaf Skylight aims to redefine ceiling fixtures with its square modular RGBW LED panels that can be arranged in a variety of different designs.
The Skylight will operate via WiFi to provide crisp functional white light for everyday use and over 16 million dynamic colors for ambient lighting, with smart features to adjust brightness, colors, color temperatures, and set Schedules. Skylight comes with all the features that owners of Nanoleaf panels have come to love, such as Rhythm Music Visualizer, Screen Mirror, and dynamic lighting Scenes and Group Scenes.
The Nanoleaf Skylight is set to launch in Q3 of 2023.
Essentials Bulbs And Lightstrips
The Matter-certified Essentials Bulbs (A19, BR30, GU10 and a Recessed Downlight) and Lightstrip are made for everyday lighting while offering animations that will have you mesmerized. The Essentials products will illuminate your entire home with crisp functional white light and rich dynamic colors and Scenes, as well as set the ideal ambiance for different activities, moods, and special occasions.

Nanoleaf Bulbs and Lightstrip

Nanoleaf Essentials Bulbs and Lightstrip are scheduled to launch in Q1 of 2023.
The company's full line of modular light panels and light bars (Shapes, Elements, Canvas, and Lines) will also be Matter upgradeable later this year, offering an easy software update to provide the most seamless way to set up your most personalized, sweetly hued smarter home of the future.