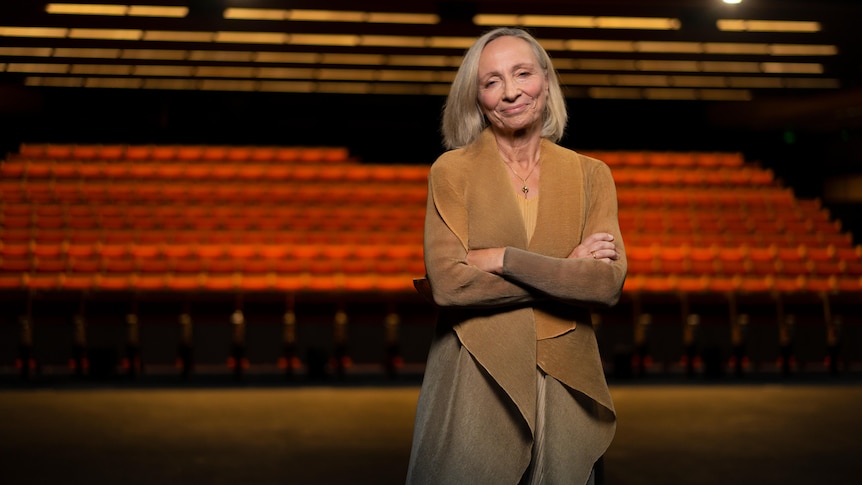 Australian conductor Nicolette Fraillon says sexism is still an issue within the classical music scene.
Fraillon was the first woman in the world to conduct a ballet orchestra, and until December was the Australian Ballet's chief conductor, a role she held for two decades.
Today, female conductors are still the exception.
"I think it's improving, but … whilst we're conscious of it and talking about it, we're not where we need to be," she told 7.30's Laura Tingle.
"Anything that you can think of that's been said about any woman in a leadership position, I have had said to me and said about me in the roles that I have played through my work.
"If you think of everything that any woman in a leadership position has said about the way you're treated — think of Julia Gillard — where your hair is commented on, what you wear, how you look, if you are emotional in a performance. 'See, it's a woman. She's emotional.' 
"And I hadn't thought about this when I wanted to be a conductor. I just wanted to be a conductor. I didn't realise that having breasts would mean that would make that much more difficult in some way. 
"I just thought that's what I wanted to be. I fell in love with conducting. It was one of those a-ha moments … I had that the first time I played in an orchestra, and the world came alive."
Fraillon's comments come amid controversy about the portrayal of a fictional female conductor in the new movie Tár, starring Cate Blanchett, who has already won plaudits — including an Oscar nomination — for her portrayal of a tyrannical, bullying conductor.
For many in the classical music sector, it has been troubling that the character is a woman, when there is a long history — almost a standard operating procedure in earlier decades — of such behaviour among the world's leading male conductors.
Fraillon has not seen Tár, so didn't want to comment on the film itself. But she said that she had "thought wistfully to myself why, for centuries, that was the case with very tyrannical male conductors who would exploit their power in terms of others", and that it was sad it was a woman who was depicted.
"It is sad if there's a movie finally about a female conductor, and we have had no recognition, and people haven't thought about all the issues that face us, that the female in that movie is depicted in that way," Fraillon said.
"I can understand, if that is the case, why there would be anger."
'It's much better, but that's not translating into more leadership positions'
Fraillon said she was initially told she was not allowed to study conducting "because I was a woman".
She persevered, but once she was a conductor she had trouble finding someone who would hire her.
"I had people say to me, 'I really like your work but I can't employ you because you're a woman.'
"That was confronting. Still is," she said.
"When I started out in Europe, I was the only one. I was the first in every single theatre that I went into with every single orchestra.
"The reasons when I say, 'Why can't I do it?' 'Oh physically, you're not up to it. Women can't lead. Women can't direct a large group of people.'"
These days, she says, female conductors are more accepted. 
"It is now more normal. Certainly in Australia, people are used to seeing female conductors," she said.
"Players in the orchestra who might have found it difficult, confronting, challenging, largely in Australia have come to accept it.
"It's much better, but that's not translating into more leadership positions as chief conductors, artistic directors in this country and not across the world."
Impact of COVID on the arts
Fraillon says she had been thinking for some time that 20 years was probably a good point at which to consider moving on from the Australian Ballet, but that COVID-19 had been particularly traumatic and exhausting.
"It was a very traumatic period for the world, but speaking on behalf of myself and my arts colleagues, I think there's quite a lot of trauma that we haven't actually yet had time to process because you've had to get on and do," she told 7.30.
"But works that were postponed, cancelled, projects that people have worked towards for years — the number of people who lost work, jobs, have left the sector, because it just ended their capacity. They couldn't pay bills, mortgages, support the family.
"I was in Melbourne at that time we were in all those endless lockdowns, concerned about dancers who, certainly in that first period of lockdown, physically were deteriorating, potentially to a point where they weren't actually going to be able to recover and dance again; musicians who couldn't practice because you're either locked in with all the family at home and kids and homeschooling and everything else, but more importantly in an apartment building where if you practice, neighbours were also all locked in. That was really problematic.
"People who have worked for years and years and years and need to train every day, like sports people do, not able to practice for months on end, could be career-ending and was for many. 
"And all the works of art that didn't happen, that the world didn't see, that have gotten lost."
Fraillon says COVID is still having an impact on the arts, with shows still having to be cancelled when too many people on stage or in the pit fell ill.
On the positive side, she says, COVID seems to have made many people appreciate the arts more.
"It did demonstrate, and particularly in places like Australia where politically perhaps, and even societally, we're not as cognisant of the importance of the arts … and the difference that they make and what part in a civilised humane society the arts play … Everyone turned to music, classical music, in ways that they hadn't; to music, to the arts, for solace, for emotional support," she said.
Watch 7.30, Mondays to Thursdays 7.30pm on ABC iview and ABC TV