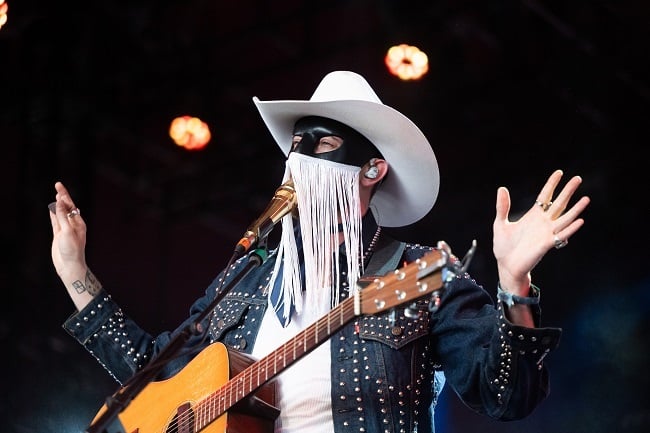 South African singer, Orville Peck.
Photo: Scott Dudelson/Getty Images
Country music star Orville Peck is celebrating his birthday in Limpopo.
The South African born singer calls it his "favourite place on Earth".
Peck previously told News24 he misses South Africa a lot.
---
One of the world's hottest country music superstars is celebrating his birthday back home.
Orville Peck is known for his fringed mask and whiskey smooth voice. Since the release of his debut album, Pony, in 2019 he's become a global sensation. He's worked with well-known stars like Beyoncé, Harry Styles, and Diplo.
Very few know that the tattooed mystery man is from South Africa and was born in Johannesburg.
"My family left South Africa in 2002 because my father got a job opportunity in Canada. We were really struggling financially. We are all very, very proudly South African, and it was really difficult for us to leave. I think my whole family sort of had it in the back of our heads that we would always go back someday because it's our home," Orville previously told News24's Bronwyn McKay in an exclusive interview.
He added, "It's still my favourite place I've ever lived. Maybe I'm biased. I miss the food. I miss game drives. I miss wildlife. I grew up loving animals so much and spent many, many memories as a child going to the Kruger and the Pilanesberg."
Diplo and Orville Peck.
Photo: Emma McIntyre/Getty Images via AFP)
ALSO READ | Orville Peck: Country music's hot new superstar is a cowboy from South Africa
That is exactly how the muso decided to start off the new year and celebrate his birthday. Posting a photo of himself in Mbabat, Limpopo, he wrote, "Hello, howdy and thank you for all the kind birthday wishes. I got to spend it in my favourite place on earth – out in the bushveld. Love y'all Xo OP [SIC]."
Peck told News24 that his favourite homemade treats include biltong, koeksisters, and milk tart. "I love biltong, and, actually, my brother makes his own biltong, which is really, really good. I love koeksisters, and my mother makes an amazing milk tart! I also have a potjie pot in my house. Everyone thinks it's like a witch's cauldron when they come over; they don't understand what it is."
How old is Peck? Well, that's a secret he'll never tell.
SEE THE POST HERE: