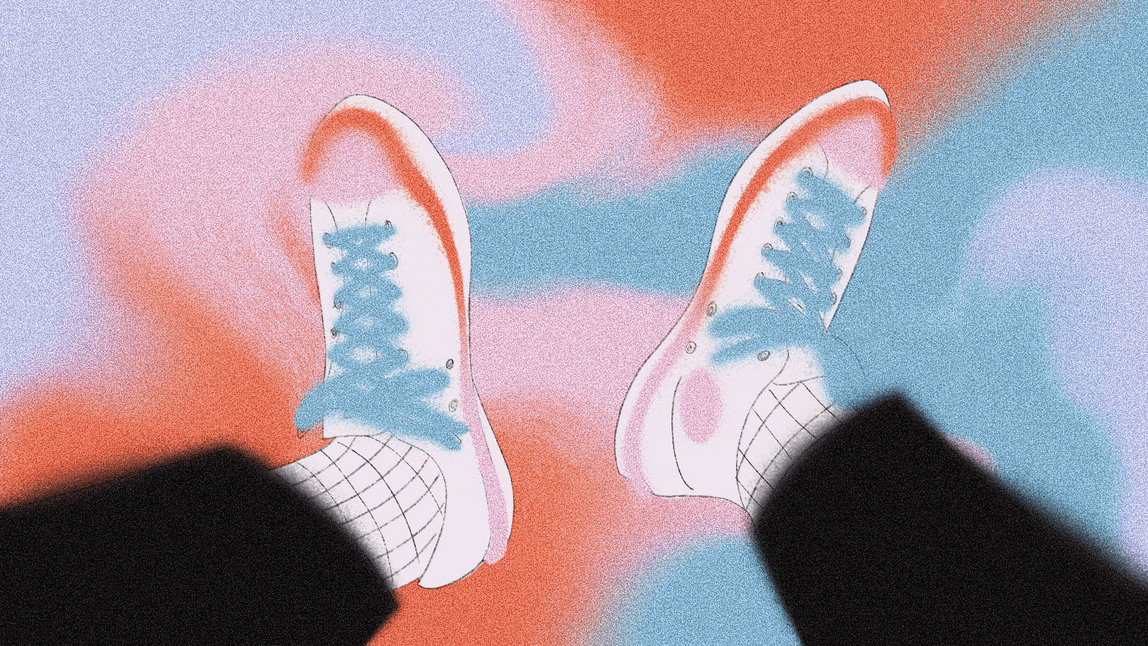 LISTS
Rare Shoegaze Gems From All Eras Unearthed
By
Joe Trainor
·
Illustration by
Marine Buffard
·
January 09, 2023

Shoegaze, one of the most misunderstood subgenres of rock music, currently tends to fall into two camps: brutish, somewhat metal-adjacent dirges or tuneless pedal washes that have no sense of dynamics or songwriting. Both fully miss the point of what made the classic shoegaze era so good: the mixture of sound design with strong tunes and much more inclusivity than it is often given credit for (many of the original shoegaze bands had female members).
As a gay man coming from the hardcore scene, I always struggled with the combination of masculine and feminine elements inside myself, and shoegaze was the perfect mix of both. Like hardcore, it possessed a physical wall of sound that you felt in your bones, but unlike hardcore, it wasn't overtly masculine. Bands like Lush, My Bloody Valentine, and Dinosaur Jr.—who, it could be argued, were proto-shoegaze in their use of pedals—started out as punks. For me, the euphoria of playing shoegaze shifted something fundamental in myself, changing how I thought about sound, dynamics, chords, and energy.
It's often said that shoegaze has been more or less stagnant in the decades since its emergence, but for all the talk of the genre's lack of experimentation, it should be noted that Slowdive's 1995 record Pygmalion was itself a mix of electronic, IDM, and ambient music, and showed the band drifting away from loud volumes, consistent rhythms, or even regular song structures. Hated at the time, Pygmalion can now be understood as the next logical step forward in the evolution of shoegaze.
Below is a list of new and old shoegaze bands who are taking the genre into more avant-garde or electronic directions, staying true to the inclusive spirit of its originators while pushing the boundaries of what the genre can be—and it doesn't have to just be in the context of a rock band.
---
Experimental Shoegaze
Guitar
Sunkissed

Guitar is one of the many projects of German artist Michael Lückner. Sunkissed, released in 2002, is much closer to dance and electronic music, taking what My Bloody Valentine started with "Soon" and making a full record out of it by melding rave music with guitars. The drums are looped to create a trance-like feel, the audio has sharp edits to bend what normal loud/soft dynamics can be, and the fuzz is overwhelming. This is music meant to move the body and create a sensory experience that takes you out of yourself for a time.
Jefre Cantu-Ledsema
Love Is A Stream

Released on Type Records (who originally released Grouper's Dragging A Dead Deer), Jefre Cantu-Ledsema's Love is a Stream strips away anything remotely accessible about shoegaze, leaving only the sheer noise. This pushes the genre into the avant-garde, with ghostly vocals bleeding in and out of the mix and overwhelming waves of distortion, in a similar fashion to MBV's "To Here Knows When." Dynamics are still at play; this isn't just pummeling sound. As Ledsema's waves ebb and flow, the tide drowns out everything else—a truly immersive experience.
Gilah
From Where I'm Standing

Brooklyn-based Gilah released the From Where I'm Standing EP during the pandemic, and it definitely feels like a product of forced isolation: insular, claustrophobic, and unburdened by the prospect of playing live. The band mixes field recordings, loops, collaged tape manipulations, lo-fi aesthetics, and noise into music that feels like it's moving in and out of lucidity, pushing shoegaze's sound design and manipulation to further extremes without losing sight of quality songwriting.
Kraus
Path

Kraus, which is more or less the solo project of musician Will Kraus, uses the euphoric walls of noise/feedback similar to Jefre Cantu Ledsema and Loveliescrushing but reins things in with pop song structures. The sound design is more reminiscent of electronic music, using loops and samples throughout, while dynamic drumming keeps it all moving forward and more approachable. There are even hints of hyperpop production in his records. This is rock music using modern tech to create exciting new sounds.
---
Recent Classics
No Joy
Wait To Pleasure

Although easily the best-known modern band on this list, No Joy is still deeply underrated. Solely based on 2013's Wait to Pleasure, Jasamine White-Gluz's project should by all rights be the most popular current shoegaze band in the world, even if 2020's Motherhood is maybe their more experimental and accomplished album. Wait to Pleasure is the modern shoegaze record to beat: a perfect blend of tunes, production, and sonic experimentation. White-Gluz understands that great songs and melodies come first, pedals second.
Blue Smiley
return

There's a distinct quality to Blue Smiley's guitar tone on return—sharp but watery—that most bands would kill for. The songs explode with perfect amounts of noise, melody, and, most importantly, brevity. This is like Loveless in miniature, full of fluid dynamic shifts and fantastic guitar work. Sadly, the tragic 2017 passing of Brian Nowell, the driving force behind Blue Smiley, left the band's potential unfulfilled and represents a real loss for music.
Big Hush
Who's Smoking Your Spirit

Washington, D.C.'s Big Hush (featuring Owen Wuerker and Emma Baker, now of Flasher) understands what made the classic shoegaze era great: killer tunes that use the guitar as a generator of sound, not as an extension of the ego. What further sets Big Hush apart is their use of vocal harmonies, which are closer to folk and sunshine pop, with all four members singing, weaving in and out of each other to create the swirling feeling that all the best shoegaze contains. This EP, along with 2014's Wholes EP, was collected into a single 12-inch released by Robotic Empire.
Technicolor Teeth
teenage pagans

Where did one of the best but most underheard shoegaze bands of the modern era come from? Appleton, Wisconsin. These are punks from the middle of nowhere absolutely blasting you with sound. Featuring Amos Pitsch from well-known punk band Tenement, who also runs the label/studio Crutch of Memory/JAC World, on drums, Teenage Pagans is fully home-recorded and full of the spark that comes from people just being excited to be making music, throwing ideas and sounds around with reckless abandon in the best possible way.
Blue Ocean
Blue Ocean

Much has been made of the current Bay Area fog pop scene due to the great music being made by bands like April Magazine and The Present Electric. But there is also a more shoegaze-influenced scene happening with groups like Welcome Strawberry, Blue Zero, and Blue Ocean. Blue Ocean, who have released two EPs so far, keep their songs catchy and uptempo, using soundplay as a tool to enhance their affection for pop. Hewing close to OG shoegaze underdogs Moose, Blue Ocean hits you with tape loops, feedback, and killer hooks.
Knifeplay
Animal Drowning

Hailing from Philadelphia, Knifeplay sit somewhere between shoegaze's modern downtempo sound and the aforementioned bands with more experimental production, utilizing blaring saxophone, feedback, and acoustic instrumentation. On Animal Drowning, the band draws influence from slowcore, the volume dynamics of classic shoegaze, and the hand-on-your-heart sway of Mazzy Star. This release is certainly on the more "rock" side, but there's no denying they are experimenting with the genre forward, with songs like "Ryan's Song" that forgoes all the tropes and is just a beautiful blissed-out ballad.
---
Classic Era
Should
A Folding Sieve

Originally released in 1994—basically at the very tail end of the classic shoegaze era—and reissued by Captured Tracks in 2011, Should come through with some serious bedroom pop gems on A Folding Sieve. Supposedly all the guitars are edited and looped due to Marc Ostermeier's poor guitar playing. "Own Two Feet" is a lost classic, a perfect pop tune with noisy guitar loops, a simple drum machine, and an infectious melody.
Secret Shine
Untouched

Sarah Records is most well-known for their jangle and twee bands, but Secret Shine holds the honor of being the only true shoegazers on the roster. Untouched shines as a great example of how to pair good energy and vocals with lots of atmosphere. The guitar line on "Underworld" serves as an immediate hook, but a highlight of this record throughout is the drumming. It keeps the momentum up in places where it could fall prey to the "all slow no go" approach common to shoegaze.
Astrobrite
pinkshinyultrablast

For real heads only, Astrobrite, the solo project of Scott Cortez from Lovesliescrushing, shines in the pantheon of lo-fi, self-recorded shoegaze. 2002's pinkshinyultrablast signaled a lot of things to come in DIY music, from early Atlas Sound to more recent projects like My Guitar Is Trying To Kill Me. It's all blown-out noise, with great pop songs buried beneath.
Bailter Space
Robot World

Flying Nun Records is mostly known for the Dunedin sound of The Clean, The Chills, and The Bats; Bailter Space are perhaps the sole shoegaze band on the seminal label. Armed with some of the best guitar tones of the '90s, Bailter Space offer blasts of semi-motorik noise, soft vocals, and subtle hooks. 1993's Robot World is their best record, featuring unrelenting walls of sound that the band had already mastered coming into hyper-focus with great tunes that match their equally masterful sound design.