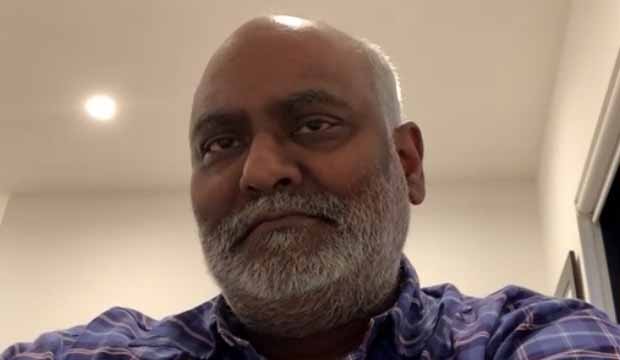 "It talks about ethnicity basically," explains composer M.M. Keeravani about the song "Naatu Naatu" from the blockbuster Indian film "RRR." The film and the song have been crossover international successes, and now "Naatu Naatu" is on the Oscars shortlist for Best Original Song. We talked with Keeravani as part of our "Meet the Experts" film songwriters panel (a day before he won the Golden Globe on Tuesday night). Watch our exclusive video interview above.
"RRR" is the story of two men who become friends (played by NTR and Ram Charan) as they both undertake secret missions to free their people from British colonial rule. "Naatu Naatu" is a number performed midway through the film when the protagonists need to challenge a racist British aristocrat who claims to have superior knowledge of art, culture, and dance.
"This is what we are, let us present ourselves with what we've learned, what we know, what we enjoyed in our childhood," says Keeravani about the cultural pride that drives the characters. It's "an earthly beat, a rustic percussion. So let us enjoy this beat, this 6/8 signature beat talking about all the things we enjoy, all the things we feel energetic and feel high about, all the things that belong to the motherland, and everything about us. So just look at us. It's kind of exhibiting and displaying and showcasing their inner energy, packed with lots of stamina."
The lyrics were written by Chandrabose, while Keeravani was responsible for "composing the music, writing the score … processing the song, and finally presenting the song." Now it's a contender at the Oscars. If it wins, it would be the first Telugu-language song ever to do so, giving "RRR" yet another chance to make history.
Make your predictions at Gold Derby now. Download our free and easy app for Apple/iPhone devices or Android (Google Play) to compete against legions of other fans plus our experts and editors for best prediction accuracy scores. See our latest prediction champs. Can you top our esteemed leaderboards next? Always remember to keep your predictions updated because they impact our latest racetrack odds, which terrify Hollywood chiefs and stars. Don't miss the fun. Speak up and share your huffy opinions in our famous forums where 5,000 showbiz leaders lurk every day to track latest awards buzz. Everybody wants to know: What do you think? Who do you predict and why?