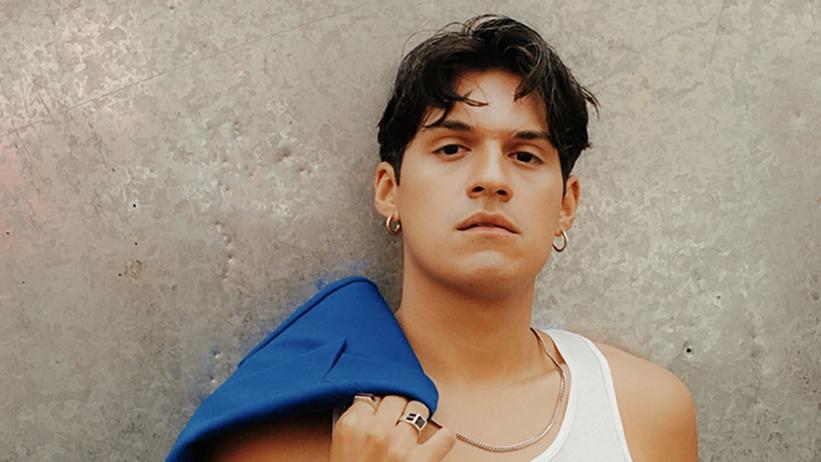 Hanging out with Jeff Coffin is a bit like listening to his music. Engulfed in a whirlwind of musical references, you're never lost. Music seems dizzyingly limitless when he describes it, like the fractals in the cartoon eye on his new album's self-drawn cover.
For a three-time GRAMMY winner with bona fides in two household-name bands, Dave Matthews Band and Béla Fleck and the Flecktones — Coffin has zero airs and a whole lot of music knowledge. 
Our conversation left me to check out Albert Ayler's rip-your-heart-out gospel album Goin' Home, Van Morrison's country-breezy Tupelo Honey and Charles Mingus' warped masterpiece Oh Yeah. 
Understanding Coffin's background enhances the listening experience of his inspired latest release, 2022's Between Dreaming and Joy, which is nominated for Best Contemporary Instrumental Album at the 2023 GRAMMYs.
Read More: 2023 GRAMMY Nominations: See The Complete Nominees List
Featuring "Middle Eastern frame drums, Brazilian percussion, Moroccan vocals, a turntable artist, multiple horns, an ice cream truck, a Hungarian tárogató and an African ngoni" — as well as modern greats like guitarist Robben Ford, bassist Vicente Archer and drummer Chester Thompson — the album feels jubilant and companionable.
It's surprising to learn the album was recorded completely remotely. 
"It was crafted in a way that I've really never crafted a record before," Coffin tells GRAMMY.com in its New York Chapter Office, ahead of DMB's sold-out Madison Square Garden gig. So, to him, this GRAMMY nomination is extra sweet: "it's a recognition of the process, but also a recognition of the work. Not just in this record, but the 19 others before it."
If you're familiar with Fleck and/or Matthews but not so much Coffin and his musical universe, let Between Dreaming and Joy act as a gateway to all 19 — with the Mu'tet, in co-billed LPs, all of it. And read on for an in-depth interview with the musician, clinician and searcher.
Jeff Coffin. Photo: Rodrigo Simas
This interview has been edited for clarity.
Congratulations on your nomination for Best Contemporary Instrumental Album at the 2023 GRAMMYs. What role has the Recording Academy played in your career over the decades?
You know, when I was in the Flecktones, we were nominated a number of times; I won three GRAMMYs with Béla. It's always kind of been interwoven with the things that I've done. 
The Flecktones were a hard band to pin down. We won for Best Pop Instrumental Album [for 2008's Jingle All the Way; we were nominated [that same year] for Best Country Instrumental Performance [for "Sleigh Ride"].
It's interesting; I remember the first time we were nominated was for Left of Cool [at the 1999 GRAMMYs]. I remember it being my first time there, and just being like, "Wow, this is unbelievable." We didn't win, and I remember thinking that I wasn't disappointed: Oh, it's OK, it's not a big deal that we didn't win. It reaffirmed that this is not why I do what I do.
You know, it's funny. [With Dave Matthews Band], it's a machine. We have like 90 people on the road with us, of course, and the band is really all about the music. We've talked about it a lot: how the music has got to come first.
Elaborate.
I think that music is a service industry. I think that first, we serve the music. Then, we serve the other musicians we're playing with, and then we serve the audience. So, we're at least fourth on the list. But by serving those others, we get served.
I talk to my students about this all the time: how important it is to recognize that circle. I think about management, and I'm thinking, Well, they're just thinking dollars and butts in seats. Which I understand: that's part of it. But I feel a disconnect sometimes in the way they approach things, as opposed to the way we approach things.
So, for me, with awards and accolades and things like that: I've had my fair share, and I'm very honored and grateful for that. But that's not why I do it. I'm not like, I'm going to do this record and submit it for a GRAMMY.
Read More: Béla Fleck Has Always Been Told He's The Best. But To Him, There Is No Best.
At this point, you've won three GRAMMYs. How does it feel to earn another nomination for Between Dreaming and Joy?
It's big for me. It really is. There was a ton of work put into it during the pandemic. Most of the record was remote, although you'd never know listening to it. It was crafted in a way that I've really never crafted a record before. So, it's a recognition of the process, but also a recognition of the work. Not just in this record, but the 19 others before it.
I've got six others in the can that I'm working on, that are basically ready to go. It was a very prolific time for me during the lockdown. So, this material on the record was culled from a lot of other stuff I had recorded also. 
I wrote about 30 or 34 new tunes, and they were all over the place from the standpoint of genre or style. So, when I put this together, I had to decide which tunes I was going to put into this pot. There are a couple that I was on the fence about initially, but I'm really glad they're on there because it kind of diverges, and then comes back into a particular space.
So, yeah, I'm just thrilled about it, and the GRAMMY Foundation <a href="https://grammymuseum.org/national-reach/grant-program/">now the [GRAMMY Museum Foundation] has been part of that. I love what they do educationally; I want to be more involved with that, because I do a lot of education work outside of touring. I've done 325-plus clinics over the years, and I've been teaching at Vanderbilt now for eight years.
Tell me more about your teaching style, and how it's in dialogue with the other parts of your career.
I've looked at people that have kind of been DIY, like Dave Liebman, Bob Mintzer, Bobby Shew, these kinds of people. I don't try to do exactly what they did, because that's how they see things. But I've been able to kind of muddle out a career [incorporating] certain aspects of what they do.
The books that I've written are all for my students; they have nothing to do with the things that I'm working on, because I've already done it. So, the method books, the etude books — I have something called The Road Book, which is all the things you do before you leave the driveway. These are for students that are just getting out there and doing this stuff, to help them along the way.
I really respect what [The Recording Academy] has done educationally around the country and the world. I think it's awesome, and really makes a big difference. You know, music is an essential part of education on every level — not just in higher education, but deep in the schools. A lot of those programs are being cut, and it's categorically unfair.
Let's talk a little more about Between Dreaming and Joy. You mentioned that you pulled these songs from disparate sources. So what was the throughline, or thesis? What made these songs swim together in the same tank?
When I was with Béla, one of the things I remember him talking about was the sequence of a record, and talking about how it really makes or breaks a record. It's really the flow, now that I think about it. 
I put a lot of effort into putting sequences together. The middle tune, "Spinning Plates," is just me — all me, all horns. I think there's percussion on there, and it's sort of the place where you would flip the record over. It's a breath between the first and second section of the record. I did it that way on purpose.
It's kind of the spirit of the tunes that [make them] work. "Vinnie the Crow" wouldn't have worked in any other place except for opening the record.
It's very strident. It has that swagger in it.
Yeah, and it has the only co-writer on the whole record: a drummer named Alex Clayton, who was living in Nashville and a Belmont student. He's turned me on to some really great s—. He was the first person who ever told me about Anderson .Paak and Donald Glover. He's really got his ear in these different places. 
He's a very, very dear friend. We were just hanging out and were like, "Let's write a tune." He had a groove, so I put some stuff down, and just kind of went from there.
But coming back to the sequence: I want it to be a journey. I don't want it to be the same tune written seven or eight different times. I wanted to touch on the different influences and interests I had musically, but not be so removed from the other tunes that it doesn't connect.
Because there's a bunch of stuff that I also wrote that's very global music-oriented. There's this one tune written off this traditional Peruvian folk melody that wouldn't have fit on this record. It's this really elaborate thing. I've got Brazilian percussion on it. There's some Afrobeat stuff that I did with Chester Thompson. 
There's a lot of pretty esoteric stuff, too. [Turns to publicist Lydia Liebman, Dave Liebman's daughter] Stuff your pops would be way more into than this kind of thing.
Jeff Coffin. Photo: Rodrigo Simas
I remember something Béla said to me years ago: "I'll never be an Indian musician. I'll never be an African musician. But I can bring those elements into what I do, and have them inspire the music that I make." 
And it's the same with Dave Matthews. He's from South Africa, and he went back in his early teens and grew up there for a number of years. His music is very influenced by that music — by those dances, by that structure of music, and there's a hybrid of things that are going on there. So, to me, using the term "jam band" for a group like that doesn't do it justice at all. I don't have any idea what you'd call it.
I love when they asked Miles about his music. They said it was jazz, but they said, "What should we call it?" He said, "Call it music." I'm totally down with that, and that's how I look at it. It's just music.
It's coming from different places I'm influenced by. Bob Dylan, Johnny Cash, Ornette Coleman, Miles Davis, et cetera, et cetera: they're all the same spirit. That's what I'm looking for in the music that I make, the players I play with, the way I'm putting something together. I like art that is mysterious — that I don't totally understand.
We first spoke for an article about Yusef Lateef. Given the sheer range of ethnic instruments you play on Between Dreaming and Joy, it seems like you're in his lineage. Can you talk about your ongoing process of learning new instruments and weaving them into your work — choosing what's appropriate and what isn't?
Here's the thing, too: I know a lot of people who play a lot of different instruments. Michael League was playing Moroccan frame drums, but everybody knows Michael from playing bass with Snarky Puppy. And the ngoni on "When Birds Sing" was played by a Moroccan woman named Sarah Ariche, who also sang. The title is kind about her, also: what she's doing is this angelic vocal stuff.
I'm really interested in a lot of different sounds. Some of this is also coming from people like Roland Kirk. This gets into a whole other tangent, but the idea of string theory is that everything is a vibration; therefore, everything is sound.
I have the tárogató I bought from Charles Lloyd; my bass flute is Yusef Lateef's. I feel like I'm just the curator of these instruments, because I'm always like, "This is Yusef Lateef's bass flute." I don't ever say, "This is my bass flute." [Same with] the tárogató. There's kind of a spirit imbued in the instruments.
You're calling out a spirit, even when the musician is alive and well — in Lloyd's case.
Right, yeah. I bought Yusef's main tenor and bass flute after he passed. The first time I played the tenor, I recorded it; I was like, I want to hear what happens the first time. And this tune came out. I called it "Yusef." And as I tell people, he left the tune in the horn. It's a very powerful tune. My hands were off of it.
For those who might know Dave or Béla but not be familiar with your solo work, with the Mutet or otherwise: how do you conceptualize it in relation to these household names? What's the nature of that isthmus between these two massive entities?
Let me take a step back. 
So, people ask about my influences. My main influences are people like Coltrane, Sonny Rollins and Ornette. Then there are the people I played with all these years, having spent 14 years with Béla, Victor Wooten and Roy Wooten — Future Man. And now, 14 years with Dave, [bassist] Stefan [Lessard], [trumpeter] Rashawn [Ross], [violinist] Boyd [Tinsley] when he was in the band, [drummer] Carter Beauford, [guitarist] Tim Reynolds, and now [keyboardist] Buddy Strong. 
I mean, we are creating every single night for three hours a night — playing some of the same music, but recreating it nightly also. So, there are no more profound influences on me than those players: the people that I play with at home, that I've had in my bands, where we're digging deep in a way that is proactive.
So, when I'm listening, I'm active in that process, but I'm not participatory in that process — in the sense that I'm not making music when I'm listening to a Coltrane record or whatever. But when I'm making music, I'm participatory; even if I'm being silent, I'm still part of what's going on. To me, that changes everything.
Jeff Coffin. Photo: Rodrigo Simas
Can you connect this to your experiences with Matthews and the Flecktones?
I remember that when I first started playing with Béla, I was like, "I don't know any of your music; your audience knows the music better than I do." Which was the same thing when I joined Matthews: "The audience" — they still do, actually — "knows all the words."
With the Flecktones, one of things that was an epiphany for me was that I would look out and see people dancing. We'd be playing in 13 or 17 or some crazy s—, or moving time signatures throughout the piece.
But what it made me realize is that it's all on up or down. It doesn't even matter. Like, even on the Matthews stuff, there's a tune called "Rapunzel." I remember the first time we heard it, when I was with Béla because we were doing the opening dates. 
We couldn't figure out the time signature. You have four great musicians who are listening to this and just going, "What is going on?" It's in five, but if you listen to it, you would not know that it's in five, unless you're really tuning in and going, "OK, I've got to figure this out," or watching somebody's foot, given the way Carter's playing polyrhythmically over it.
But, again, we joke about this: everything's in one. Just one-one-one-one-one-one. If the pulse is there, than it's going to feel good. It's going to make a mixed meter not feel like a mixed meter, because it's going to be all pulse. 
That's why I love African music so much; it's all pulse. You can feel it in six; you can feel it in two; you can feel it in three. You can also put different groupings; you can do sevens over the top. It all works, as long as the pulse is there.
It seems that you've conceptualized your solo work as an ongoing investigation of your influences.
I think that's a great way to put it: an ongoing investigation of my influences. Not only my immediate musical influences, but my historic musical influences also, and trying to see it from above. Not just the immediacy of it, but the things that are in the periphery also.
I'm kind of going, I wonder what would happen if I did this, and drop this in there. I wonder what the sound of bass flute and bass trumpet is. The tárogató was on the new Dave record also, and it's a Hungarian instrument, It's a wooden soprano, basically. It's like an English horn.
Sometimes, I'll also give myself parameters to work within. I was doing a livestream every Friday all the way through the pandemic. There were nights when I would be like, I'm going to start writing a song at six o'clock because my livestream is at seven. I'm going to get it done within an hour, play it for them on the livestream, and maybe play along.
I tried to bring them into my process of doing what I was doing. It was really fun. It was really, really challenging. And I didn't have any idea what the f— I was doing. 
So, it's really just about exploring and trying things. There's an element of randomness to it, but also an element of focus and "Let's try this and see what happens." I've always been really into pedals, envelope filters and harmonizers. Doing double-horn stuff. I've got this triplicate flute with one mouthpiece. I've got singing bowls and bells and gongs. I'm a total bell freak. Anything I can get my hands on that I can make music from, I'm going to try it.
Jeff Coffin. Photo: Rodrigo Simas
You've mentioned, like, 15 musical traditions and 150 instruments in this interview. Do you ever feel like you're still getting started in learning about all the music the world has to offer?
I do, actually, yeah. I feel more creative than I've ever felt in my life. 
But here's the thing, too: I play for a different reason now than I used to. I think that's partially because I'm able to articulate my own feelings better — not only verbally, but musically. When I was younger, I was playing from a different emotional place. Today, some of the reasons for playing are the same; some are very different. But I feel like I can make decisions based on experience.
I'm still wrong a lot, by the way, which is really interesting to me. I'll listen to a couple of tracks with some people, and I'll think: OK, I know the one that I like. I'll say, "What do you guys think?" and they'll both pick the other one. I'll be like, Oh, OK, great. Let's use that one. Good thing that wasn't up to me.
A year and a half ago, I went down to New Orleans and did a record with [drummer] Johnny Vidacovich, [saxophonist] Tony Dagradi and [drummer] James Singleton [of jazz quartet Astral Project]; Helen Gillet was on the cello on one tune. It's very, very different than this record. It's open and free.
I'm trying to mix it myself, and I've been working on it for a while. I think it sounds pretty good. But I'm not a mixing engineer, and those guys are wizards. So, I'm sitting around with some people, and I'm like, "Look, man, I want your brutally honest feedback. If it doesn't sound good, I want to know, because I'm trying to mix it."
I still second-guess myself on certain things, which I think is great, because I think that's how we learn also. You've got to keep making mistakes, because after a while, you find those successes in there. I think it's Vic Wooten who says something along these lines: "The only reason you don't succeed is because you eventually stop trying."
The History Of Yellowjackets In 10 Songs: A Gateway To The Jazz Fusion Greats