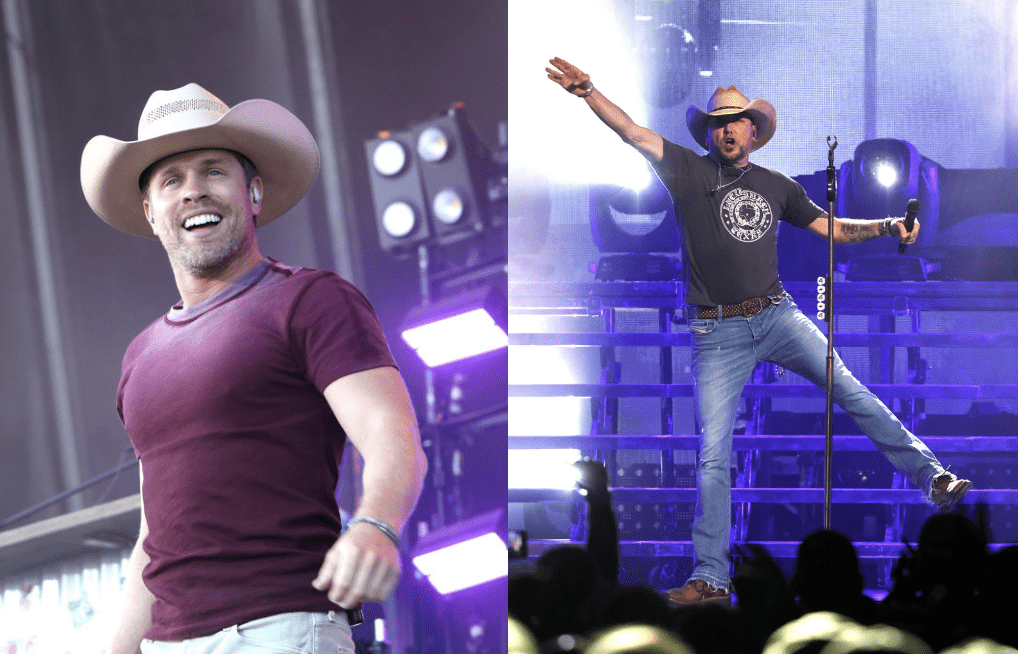 And last year…well you can probably already guess that, for the fifth year straight, there was an appearance from Florida Georgia Line on the list. There may have been trouble in paradise with the duo, but they still managed to drop the ear-splitting "New Truck." Kane Brown also made his second straight appearance with "One Mississippi." And then there was the most WTF moment of the year: "Where the Country Girls At" by the head-scratching trio of Luke Bryan, Trace Adkins and…Pitbull.
The Three Worst "Country" Songs Of 2021
Which brings us to 2022.
Overall, it's been a pretty good year for country music. The pendulum has definitely swung back towards more traditional country, Zach Bryan dropped approx. 482 new songs, and the music coming out of Appalachia is some of the best country music we've heard in a long, long time.
But enough about the good. That's for another article.
Let's talk about the bad – because there was plenty of bad too.
Now of course this year brought us songs like that nails-on-a-chalkboard remix of George Strait's "Carrying Your Love With Me" from TikTok rapper David Morris. But we kept our list to only singles that actually made an appearance on the mainstream charts this year, because otherwise we'd be getting into more obscure shit that nobody heard anyway.
So without further ado, here's the worst of the worst from 2022:
Honorable Mention: "Ain't Enough Cowboy" – Jason Aldean
This song was just an album cut, but it still got attention for being so f*cking terrible, so I felt like I had to mention it. Jason Aldean for some reason decided to go full T-Pain with the autotune, while singing a song about how he doesn't have enough "cowboy" in him to keep himself from running back to a bad relationship.
Pro-tip here for Jason: We can all tell there "ain't enough cowboy" in you. Cowboys don't use this much autotune.
And now on to the "top" three:
3. "Y'all Life" – Walker Hayes
Walker Hayes won the fan-voted worst song last year with (of course) "Fancy Like" after the entire world was bombarded with that damn Applebee's song.
But this year he moves onto our list with "Y'all Life."
Now at this point it seems like Walker's found his sound – and by that I mean all of his songs sound pretty similar – but the lyrics for "Y'all Life" are just all-time terrible.
"Turn that bass up, shawty show 'em how
Y'all we raise up, and y'all, we goin' down, down, baby
Your street in my Bronco
I'ma talk to ya real slow
Said where the crawdads crawl
Said living that y'all life"
Dafuq does that even mean? Is this supposed to be some ode to living in the country? While simultaneously ripping off Nelly's "Country Grammar?"
Whatever it's supposed to mean, it's just all around tough to listen to.
Walker's a great guy, but it seems like at this point he's found what works for him… and found a recurring spot on our list of the worst songs of the year.
2. "Party Mode" – Dustin Lynch
We've said it a million times…bring back the "Cowboys and Angels" Dustin Lynch.
Unfortunately that ship has long since sailed, and Dustin has taken a different path – one that's led us to songs like "Party Mode," which sounds like it was straight out of 2014.
But what really did it for me was his interview from the Tennessean where Dustin says that they spent "weeks" working on the lyrics to this one…
"We reworked and tweaked the lyrics and melody on that one for a few weeks and got it to the point where- we had a signature riff, and the hooks sounded like a hit to us."
So what was the end result of those weeks of work? Let's go to the lyrics…
"Party mode, party mode, party mode
That's how it goes, how it goes, how it goes
Neon lights, honky-tonks 'til they close
Party mode, party mode, party mode"
Time well spent. A masterpiece that would rival some of the poetry of guys like Tyler Childers and John Prine.
And all of those weeks of work paid off, because it landed the song a spot on our list of the worst songs of 2022.
1. "Rolex On A Redneck" – Brantley Gilbert ft. Jason Aldean
The worst song of the year unquestionably has to be "Rolex On a Redneck" by Brantley Gilbert and Jason Aldean. Not only does it have the trap beats and "hick hop" sound that I thought we had left back in the bro-country era, but my God, the lyrics are just cringeworthy.
It's supposed to be a blue collar anthem about how if you work hard you can buy nice things like… Rolexes and Yeti coolers. But then you get ridiculous lines about "giving the good Lord his 10%" and if you do "it'll do what it does," which apparently means if you give money to your church you'll be able to afford a Rolex.
That's some Joel Osteen-type gospel right there…
And the chorus isn't much better:
"It can put a Rolex on a redneck
It can put some inches on your big block Chevy
It can put a Yeti on your back deck, slap-full of long necks
Camo on your brand new Benelli
Yeah, it can put some pearl on your snap, some gator on your boots
Girl on your lap 'cause your paper's to the roof
This turnin' dirt life might not put a milli on a paycheck, but
It can put on a Rollie on a redneck"
Yikes.
The song was actually written by some pretty talented songwriters: Guys like Randy Montana, Hardy, and Taylor Phillips, who also wrote "Hurricane" with Luke Combs.
But when you start writing lines about how all it takes is "paper to the roof" to get girls on your lap, that's enough to land even the best songwriters on our list of the worst songs of the year.
So there you have it. But if you need a palate cleanser after that, we've also got our annual Best Albums coming soon.
Because thankfully, the rest of 2022 wasn't as bad as these songs.