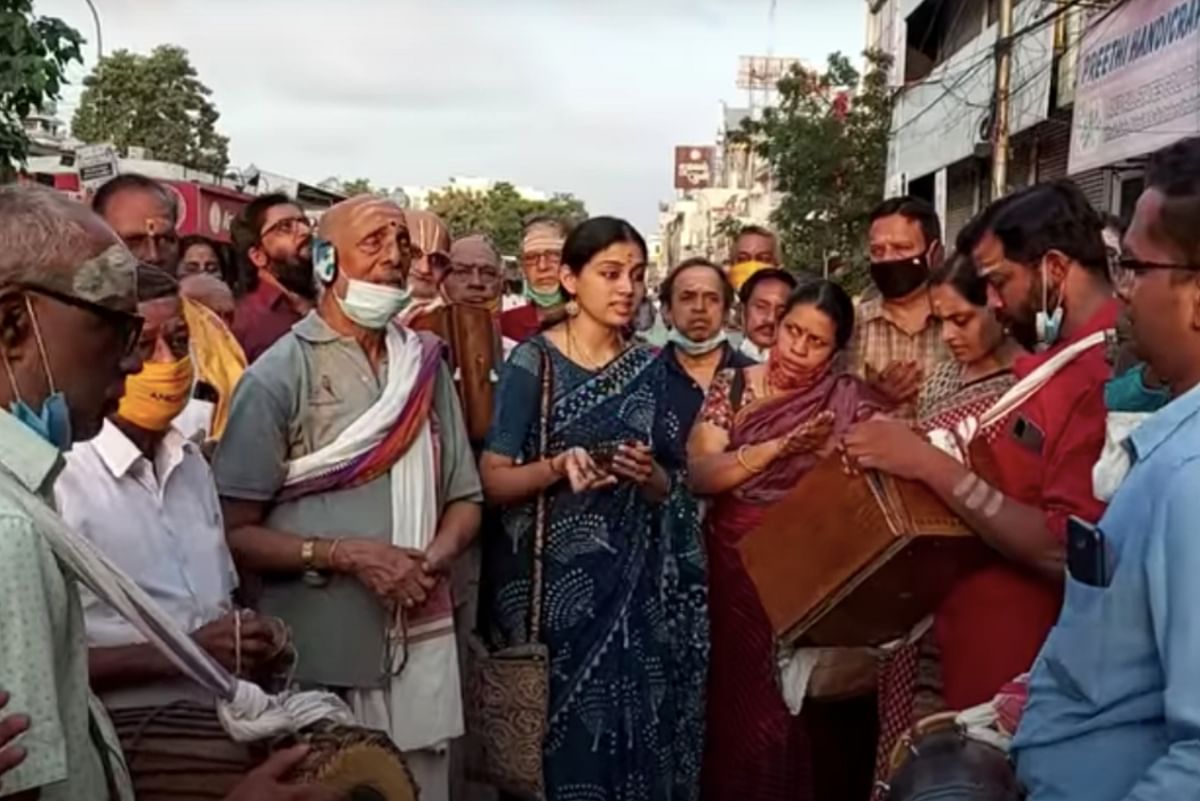 It is five in the morning in Chennai. Newspaper boys and milkmen are yet to reach homes. The first shimmer of the sun rays are not yet visible on the temple tank of Mylapore. But on a Friday morning in the month of Margazhi (December-January), the Mada Streets around the Kapaleeswarar temple slowly start buzzing with chants and the strains of harmoniums.
Groups of singers belonging to different bhajan mandalis are circumbulating the temple and are walking along the road adjoining the temple pond.  Lines from Andal's can be heard from a distance and yet another group is immersed in a rendition of Manickavasagar's .
And as the sun is visibly out on the eastern horizon, the entire neighbourhood is bathed in namasankeertans. In the months of Margazhi, several traditional neighbourhoods of Tamil Nadu in Chennai, Pudukkottai, Trichy and Kumbhakonam have the practice of organising namasankeerthanams, where bhajans, shlokas and simple Carnatic compositions are sung together by groups of singers. 
Today, there are several groups that organise these on a daily basis. 
Sreeranjane Kaushik sings bhajans along with the  in Chennai. Born and brought up in Chennai, she would wake up to the sound of cymbals played by singers who came for Unchavriti (an act of singing hymns and seeking alms door to door, often performed by mendicants) in the month of Margazhi. "Even before I performed for sabhas, this was my initiation into public singing as a child. Most of the singers in these bhajan groups have seen me grow over the years," says Sreeranjane, who is fond of singing abhangs in the tradition of Pandit Bhimsen Joshi. 
But all this requires a balancing act, for she has a day job as a chartered accountant in a leading accounting firm. "Singing with the bhajan groups is a huge source of motivation for me. I don't want to change this regardless of what other aspects change in my life."
Voice of Shiva 
While the bhajana sampradaya is several centuries old, in the late 19th century, lawyer Seshacahri began the practice of veedhi bhajans (street bhajans) around the Kapaleeswarar temple in Mylapore, Chennai. The initiative grew in size as many great stalwarts of the time such as Sriperumbudur Mudumbai Krishnamachariar, C Ramanujachariar, Umayalapuram Brothers, Mannargudi Sambasiva Bhagavathar and KC Adi Varahachariyar  joined it .
It was during the Mylapore temple festival in 1922 that the legendary singer and composer Papanasam Sivan visited Madras (now Chennai). He not only won the love and appreciation of everyone with his singing but also formed a bond with the presiding deities of the temple – Karpagambal and Kapaleeswarar (he composed more than 100 kritis on the deities), which remained steadfast till his end in 1973. 
In 1935 he came to Madras for good and made it his home. His daughter Rukmini Ramani began joining him in his bhajans in Mylapore from the age of five, even though she hardly knew what it meant to be a part of something that was to have a long lasting effect on the musical tradition of the city. 
"As the clock struck five in the morning, we would begin our singing. My father would sing to the strains of the tanpura, which he got from Thiruvananthapuram and people would watch him lost in ecstatic devotion. Kids would join us, seated on the shoulders of their fathers. The streets would be lined with kolams. Several artistes and devotees going by that way would pay obeisance to him as he sang along. Once we went on a full round around the Mada Streets singing songs, we would come back home and my mother would have prepared coffee and pongal for at least 25-30 people everyday. 
"Father would organise these bhajans during Sivaratri, Margazhi and the annual festival of the Kapaleeswarar temple. 
"Till 1972, he never paused, even when deeply troubled by asthama in the later years. Instead, he began carrying a moda chair on which he would sit and sing at various intervals and people would gather around him. We would memorise the songs even as he composed them at home and I still have the tanpura he used during his bhajans," says Rukmini, who remembers those days with a great deal of fondness and clarity.
"My father's disciple Panangudi Mani Iyer would sing Hari Narayana and it would resonate across the Mada Veedhi. His nephew was the great Sethalapathi Balasubramaniam, who learnt viruthams (devotional verses set to a raga, usually improvised on the spot) listening to my father.
Many bhajan groups thrived in Madras and there were many other wonderful singers like Nott Annaji Rao and Tiruppugazh Mani. Legends like Ramnad Krishnan, DK Jayaraman and Dr S Ramananathan would join father's bhajan procession. During one Sivaratri festival, he composed on the spot. Sometimes, people would get so engaged in singing that we would wind up only at 9am," reminisces Rukmini.
Losing oneself to find yourself
The sessions usually start with Vedic chants, an obeisance to Ganesha, a Thodaya Mangalam and these are followed by numerous bhajans of various bhakti poets over the centuries and namavalis. 
In traditional neighbourhoods, it is done circumambulating a prominent temple in the area, with groups singing at various spots on the way. This practice is seen not only in Tamil Nadu but all cities with a sizable Tamil population, such as Mumbai.
Today, Ranjani and Gayatri are the top vocalists in the Carnatic circuit. Growing up in Bombay (now Mumbai), they got a chance to experience this tradition in Matunga, which has a huge Tamil community. "Matunga was full of Palakkad Tamils. My grandmother would wake us up at 4.30 in the morning and we would set out through the streets of Matunga singing bhajans. Those mornings are unforgettable for us," says Ranjani.
Back in 1988, the RaGa sisters came to Madras from Bombay for the December music season and witnessed the veethi bhajans that happened in the streets of
Mylapore. Every waking hour of their stay in Madras was spent soaking in as much music as possible. 
"There were many groups that led these bhajans, such as the Haridas Giri group, Papanasam Sivan Group etc. When we visited Madras, Papanasam Sivan was no more but we got the fortune of listening to his disciple Sethalapathi Balasubramaniam, who would sing in those early morning hours during those sessions. When he sang viruthams in those hours of dawn, people would sit down on the footpath and tear up with devotion listening to  him," recollects Ranjani, who along with her sister Gayatri played bhajans on the violin back then. 
In the late 1990s, when they became vocalists, they were inspired by those very moments spent in the Mada Streets of Mylapore. People lapped up the viruthams (devotional verses set to ragas) they sang. "The are so powerful and we thought we should make it an important part of our concerts. This kind of music resonated with us and got us ."
Songs travelled the country
In his song Bhajana Sevaye, in Kalyani Raga, Saint Thyagaraja implores upon the mind to sing the glory of Rama, for even Brahma and Shiva dedicate themselves to this noble work. He further wonders when we can acquire the knowledge of music, scriptures and various arts, why are we indulging in arguments and counter arguments that are meant to divert us from the path of salvation. 
The bhajana sampradaya in Margazhi is an occasion to relive the high ideals espoused by the saint, even if for a few hours around dawn.
Carnatic vocalist Aruna Sairam grew up with a vibrant atmosphere of music and devotion in her home in Mumbai and has been deeply influenced by the bhajana sampradaya, thanks to the upbringing of her pious mother. She even delivered a lecture demonstration on this topic in the Music Academy's Annual Music Conference a few years back. 
"The bhajana sampradaya owes a lot to the three great seekers Bodhendra Saraswathi (17th century saint and guru of the Kanchi Mutt), Sridhara Venkatesa Ayyaval and Venkatrama Swamy (known as Sadguru Swamigal). This trinity put together a great body of songs that covered several regions of our country. Samartha Ramadasa, who was also the guru of Sivaji, walked to Thanjavur from Maharashtra and brought with him a lot of traditions, Harikathas and bhajans. 
"Even the art of playing the mridangam got some influences from the dholak thanks to this sampradaya. The bhakti music of all of India was popular in the south as well and this repertoire is not static; it is still growing. Everybody adds something as they sing," says Aruna. 
"My great grandfather wrote the Rama Nama over a crore times and got the name Ramakoti Bhagavathar and took up sanyasa later in life. Having been born in this set up, I naturally had a devotional atmosphere at home. I feel that people in the Kaveri belt have a natural taste for the bhajana sampradayam as it was established in this area."
Years later, this immersive experience emerged in her music when Aruna brought on a big scale to the rasikas of Carnatic concerts. "If people have experienced a connect in my music beyond its technicalities, it is the power of the bhajanai tradition."
Securing the future
Legend has it that Ratnakar, a dacoit, spent years chanting the name of Rama and became the rishi Valmiki. In the Mahabharata, Bhishma spends his last moments chanting the 1,000 names of Vishnu. Chaitanya Mahaprabhu created a new wave of Vaishnavism with the simple chant of Hare Krishna. Often, the name of the divine has been of greater significance than the divine itself. Namavalis are hence extremely popular during these street bhajans.
Vocalist Saketharaman grew up in Chennai and has been an active participant in the veedhi bhajans since his school days. Saketharaman remembers learning the Papanasam Sivan composition Karthikeya Gangeya in Thodi ragam from the legend's daughter Rukmini Ramani. "That is among my earliest memories of the veedhi bhajanai in Mylapore, Chennai, which was attended by many great musicians," says Saketharaman, who is now passing on this tradition to his students.
"Some of my students dress up as Andal and some as Narada or Thyagaraja. It's just adding something to get the kids excited about it. They need to know that before sabhas and halls came up, our greats like Thyagaraja and Purandaradasa sang this way. In the Mada Streets surrounding the Kapaleeswarar temple, you can feel that divinity effortlessly. 
"This devotion is intrinsic to Carnatic music. The element of devotion is what pulls me into this every year and what I draw from here reflects in my concerts as well. I don't think devotional music is something separate. As an , it becomes your second nature. Even today, as much as possible, people participate in this without wearing footwear because this is bhajana seva."
At 84, Rukmini still gathers her students and organises bhajan singing around the streets of Mylapore. "This walk in the month of Margazhi would give us energy to perform for a whole year. It is tougher to get people out of their homes today so early in the morning."
But she knows this will continue even in the time to come. "The great vidwans and vidhushis of today are still singing his songs and his music has outlived him. If not me, someone else will come and they will take this tradition of veedhi bhajans forward. It will carry on tomorrow as well. That is for sure."