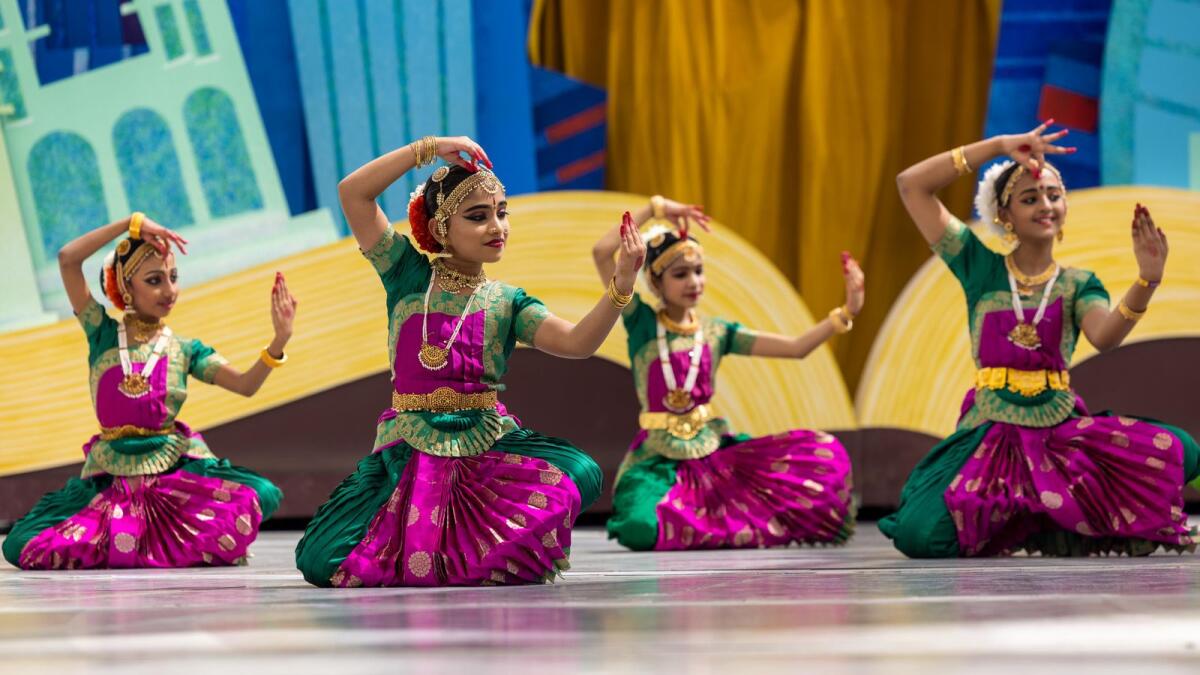 Nurturing students to become complete performing artistes is an organisation called Malhaar – a KHDA approved Indian performing arts centre
---
---
Indian curriculum schools like GEMS Modern Academy, GEMS Legacy School, GEMS Millennium School Sharjah and Amity School Sharjah have already embedded performing arts in their curriculum.
Head teachers of these schools note that these different art forms enable pupils to identify their emotional and physical needs, which in turn helps in personality development.
Nurturing students to become complete performing artistes is an organisation called Malhaar – a KHDA approved Indian performing arts centre.
Jogiraj Sikidar, Founder and Director of Malhaar Centre for Performing Arts, says, "in 2017, we approached Gems Modern Academy, Dubai to provide training on Indian classical music and dance to students, and we became part of after-school activities (ASAs). These after school activities are an extension of hobby classes. We also found that there is a lack of continuity in ASAs, as students keep experimenting with different types of activities every other term."
Shedding light on the challenges, Sikidar adds, "Indian classical music or dance is a practicing art, and it requires discipline, commitment and Reyaaz (practice). We realised that if, and only if, we can introduce it as a compulsory subject in schools, will students take it seriously and [fully receive] the benefits of learning them. Our idea was simple: catch them young. We thought to start this programme at the primary school level as younger students will have more time to devote to learning these traditional skills.
"To encourage students to pursue the Indian classical arts further, in December 2022, we organised an inter-school competition titled 'Sur Taal Sangam – Season 1', focusing only on Indian classical music and dance. We were overwhelmed by the response the debut season of the competition [received]. There were 136 entries across 24 schools from all over the country. Our panel of judges chose 54 finalists and 15 winners from across the art forms and categories."
The teaching module is called 'Listen, Learn and Perform', and it enables a holistic view of the Indian Performing Arts. Teaching modules are customised for the KG and Primary sections. In the KG section, students follow the foundation course of the Indian classical dance and Hindustani classical vocal music.
In primary school (grade 1-5), students can select one of the classical art forms such as Hindustani classical vocal, Kathak, Bharatanatyam, Violin or Tabla. Faculty members provide expert advice regarding which art form would be best for each child, based on their aptitude and inclination."
Each school is given a dedicated Guru, with dance and music heads of faculty personally supervising the training plan and progress.
Nargish Khambatta, Principal GEMS Modern Academy and Vice President, Education GEMS Education, explained, "There are two reasons as to why we decided to have the Indian performing arts in primary schools as a compulsory subject. First [is] the sheer discipline that it sets among the students. For them, the understanding of the rhythm and the way they respond to rules [is so important]; the whole "Guru culture" is fast disappearing.
So we felt that it's important for children to touch base with their roots, and for them to pursue something [with] all sincerity and over a [consistent] period of time to achieve success. The accomplishment that that gives is fantastic. This has also helped [with] instilling the right values in children."
"The feedback has been overwhelming. There was an independence day programme [where] we had the entire gamut, and parents were standing and listening in awe. That's when we decided to move from a sign-up programme to a more actual in-school part of the curriculum kind of a programme. I am happy about it," she added.
Research demonstrates that when music is heard from ages 0-6, there is a developmental window of learning how to "unscramble" or "organise" the sound.
Music lessons in childhood impacts the brain positively. Researchers at the University of Munster in Germany found that "the younger the musicians were when they started musical training, the bigger this area of the brain appears to be." Music lessons appear to strengthen the links between brain neurons and build new neural bridges needed for good spatial reasoning.
Asha Alexander, Principal and CEO Gems Legacy School, Dubai, says, "It has been a dream of mine for a long time that our students learn Indian classical forms. So, when we introduced Malhaar, we found that there was a great positive reaction in parents. They were delighted with the outcomes."
Archana Sagar, Principal, Amity Private School, Sharjah says, "More than anything else, it's so varied and vibrant. There is such a large variety on offer that it can cater to the needs and wants of everyone. It's very important to hit the right chord with children without imposing things on them. So, through this learning, children's potential is first explored, and then according to their potential, children are trained."
ALSO READ: