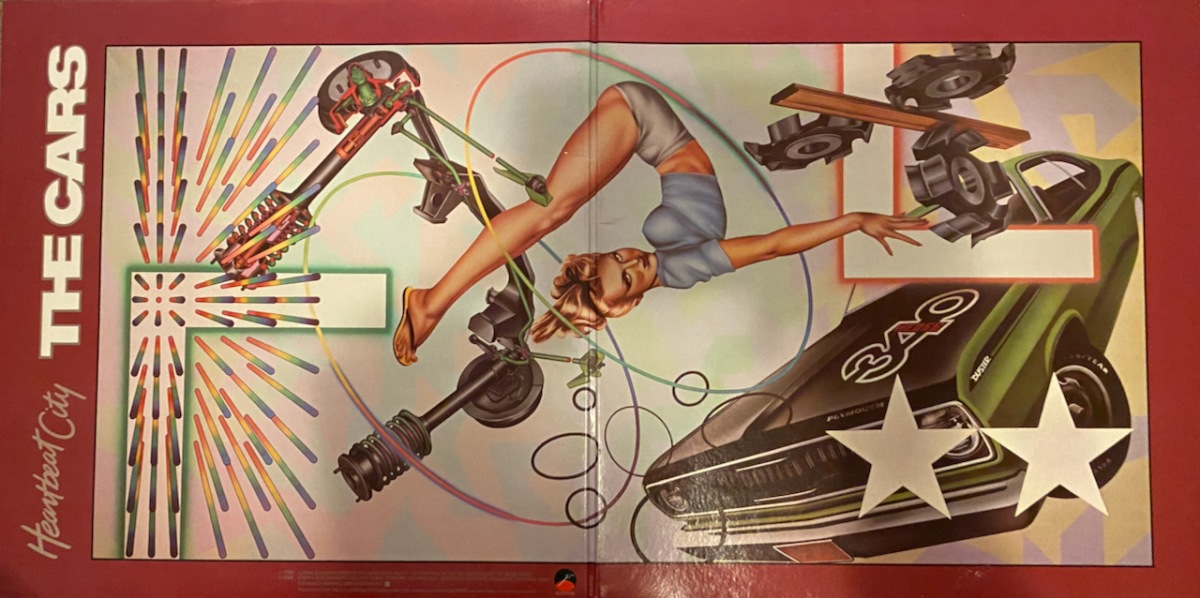 Alright…You Picked It! This one was really close as we almost ended in a tie, but one edged out the pack by one little vote. The one vote that made it not a tie was someone said that they wanted either one album or another that I should pick, so I always go with the first name on the choices. If I didn't, we would've ended in a tie. The winner for this month's picks ended up being The Cars with 'Heartbeat City' and I am real excited about this one. Here are the results.
The Cars – 'Heartbeat City' – 8 votes
Prince – 'Purple Rain' – 7 votes
Genesis – 'Invisible Touch' – 3 votes
U2 – 'The Joshua Tree' – 2 votes
Bryan Adams – 'Reckless' – 2 Votes
Thanks to all for participating. The February choices will be up on Saturday! And the choices are all now from my collection and the next one will be some albums I have from the 90's but probably not the ones you'd expect. Hopefully you can help me decide which one I should review.
THE CARS – 'HEARTBEAT CITY' (1984):
The Cars were now on their fifth studio album by 1984 and they made some changes with this one. Long time producer, Roy Thomas Baker, was replaced with some dude name Mutt…that is right…Mutt…Robert John "Mutt" Lange. I think you've heard of him before. Mutt had just come off Def Leppard's album 'Pyromania' so he was one of the hottest producers around, plus he had done 'Back in Black' and "For Those About to Rock, We Salute You" by AC/DC, '4' by Foreigner and 'High & Dry' by Def Leppard. Just a few massive albums. With Mutt signing on to do this album, he had to turn down Def Leppard's next album 'Hysteria'…but delay after delay allowed him to eventually join in and help with that mind blowing album.
But the Cars were different, they pure pop. They were not a hard rock band. The Cars also co-produced with the album as well. I do know that Mutt's influence on here is huge and obvious at times as I can hear hints of his other work in these songs. This saw the band return to form and even see elements of their debut on here as well. It might be slick and polished, but is quite incredible too! If this isn't their best album, it is pretty damn near close.
The album came out on March 13, 1984 and spawned not one, not two, but six singles, two of which reached the Top 10 on the Top 40. The album sold over 4 million copies going 4 x's Platinum in the U.S. alone. It was a massive hit thanks to a ton of airplay on MTV and many awards from them as well. The band was huge and at their peak! The band was Ric Ocasek, Ben Orr, Elliot Easton, Greg Hawkes and David Robinson.
One last bit of information, the cover art is spectacular. My vinyl is a gate fold and the cover runs across the front and back. The cover art (including an image of a 1971 Plymouth Duster 340 and an Alberto Vargas pin-up model) is from a 1972 piece by Peter Phillips called Art-O-Matic Loop di Loop. You got to love it. A Cars album with a "car" on it and a cool looking car at that. A very striking cover. Inside the gatefold it was full of pictures of the band. And my copy still has the album sleeve as well…see….
And now, let's get to the music…
SIDE A:
The first song and fourth single is "Hello Again". A song that went to #20 on the Billboard Hot 100 plus it's video was directed by the late, great Andy Warhol. The song kicks off with a slick, "Hello Again" vocal that sounds so Leppardy and almost sounds like Phil Collen singing. There is a ton of synths and sound effects in the song, but that electronic drum beat is catchy as hell. The chorus will grab hold and not let go. Ric Ocasek is on vocals and he sounds so good. It is an earworm and an exciting pop opening track. You immediately take notice that this is a serious band at the top of their game.
"Looking for Love" is another track with Ric on vocals and percussion that is the driving force of the song. It is foot tapping, head bobbing greatness. One of the non-singles that is just as good as the singles. I love the coolness that the song oozes, the soft vocals, the "here she comes' repeated over and over", all just sink right in and feel like home.
Then come the synth space sounds, the recognizable keyboard notes and that pounding drum as "Magic" kicks in. I remember hearing this on the radio and seeing it on MTV and being like, what the hell is this? I love it…and I still do today. It is new wave, pop perfection. The song will have you singing that chorus long after its over. And there is even a great guitar solo from Easton that is awesome and one of the more rocking ones on the album. It don't get much better than this…although it does on this album. "Magic" went to #12 on the Hot 100 chart and #1 on the Mainstream rock chart.
Then we get the first ballad and this might be one of the best ballads ever written. "Drive" was sung by the late Benjamin Orr and he had such a smooth, soulful voice that it touched a lot of hearts. The emotion he was able to pour in to the lyrics was amazing. There was a steady beat and bass groove that propelled the track and set the tone. The keyboards were used for accents and were brilliant touches of flair to the song. The song went to #3 on the Billboard Hot 100 and charted all across the globe. The video for the song was directed by actor Timothy Hutton and also starred Ocasek's future wife and super model, Paulina Porizkova.
The most electronica sounding song on here is "Stranger Eyes". It is nothing but keyboards, synths and electronic drums. It is another song sung by Orr, but he sounds a lot like Ocasek on this one. There is almost a Miami Vice vibe to it, before there was Miami Vice. It is a darker tone but still painted with vibrant colors. How cool the deep cuts are as cool as the singles.
SIDE B:
Then we get one of the most groundbreaking songs ever turned in to a video with all its computer animated graphics. Really ahead of its time. "You Might Think", though, is a great song even without the video. It is an upbeat, hell of a good time, fun, entertaining track. Ear candy at its best. It is sugary sweet and catchy with a great beat and those high pitched metallic sounding keyboard notes strike a chord with your ears and makes them instantly recognizable. Ric flys through the lyrics and he's never sounded better. A masterpiece of a pop song that went to #7 on the Billboard Hot 100 and #1 on the Mainstream Rock Chart.
"It's Not the Night" is one of the few rockers on the album. Yes, a rocker with even all that keyboard. The guitar riffs are good, the drumbeat is on point and the song chugs along beautifully. The guitars are the highlight which we don't have enough of those on the album. This is more of what the Cars do best, well crafter pop songs with a rock edge.
"Why Can't I Have You" was single #5 and broke the Top 40 as well going to #33. They could still do no wrong even on single #5. The song is moody, a little darker ballad and has some great backing vocals and some really interesting melodies that will hook you right in. Ocasek delivers that same moody almost desperate vocal that the music is mimicking perfectly.
Then comes "I Refuse", the last of the deep cuts (as there are only 4 since there were 6 singles). My least favorite of the bunch. I didn't say I hated it, just my least favorite. It is standard fare with the synths and electronic drums, just not as exciting and engrossing as the other tracks on here. The one misstep on the whole album.
The final single and final track is "Heartbeat City" which didn't chart. But there is an ethereal vibe to the song almost like a drug induced haze as the song has been discussed that is about heroin. I can see that. The electronic sound is almost hypnotic and entrancing as you get lost in the sound. I can see this being a little much for radio, but it might be the most interesting and engrossing song on the album. It feels epic and important and even a little artsy. And I love it…like I do this whole album.