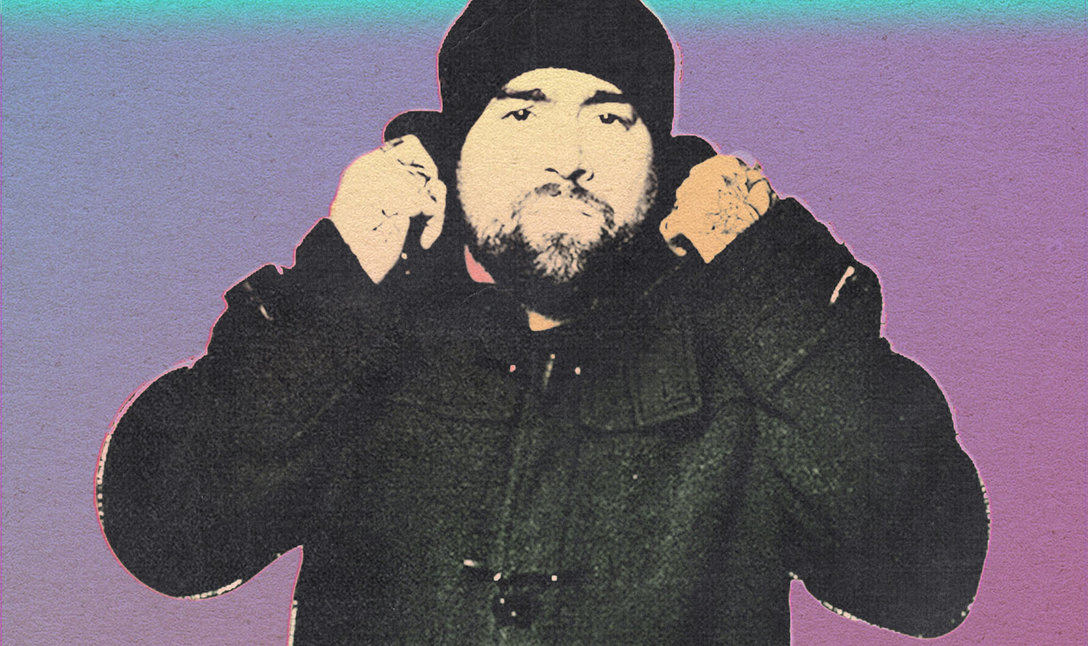 LISTS
Ulver's Epic Journey Through Electronica
By
Chloe Liebenthal
·
January 19, 2023

Since forming in 1993, Ulver have built a reputation for constant, drastic reinvention. Although they first rose to prominence as a black metal band, the Norwegian trio (whose name translates to "wolves") have spent the past two decades exploring various electronic genres, covering ground as varied as trip-hop, ambient, drone, progressive electronic, and synthpop. Their work is epic, exploratory, and often sneakily playful. Certain throughlines exist in Ulver's discography, but they are found less in the specific musical elements and more in the intention behind the music: a sigh of loneliness, a lament for the lost innocence of childhood, a dream of transcendence.
They also have a penchant for collaboration that has led them in the direction of drone metal and modern classical. The core trio of vocalist Kristoffer Rygg (the sole remaining founder) and instrumentalists Tore Ylwizaker and Jørn H. Sværen, alongside a frequently rotating cast of collaborators that have been brought into the wolves' den, conjure up a different musical palette with nearly every release. In some ways, exploring Ulver's musical universe does not mean discovering one great band but discovering many great and radically different bands that happen to share a few members in common. Rarely returning to the same musical style more than once, Ulver can now be counted among the most daring experimentalists in modern electronic music.
With 30 years' worth of studio albums, live recordings, and collaborative works to discover, Ulver's discography can be daunting. This guide covers seven albums showcasing some of their most drastic musical shifts.
---
The liner notes for Perdition City (Music to an Interior Film) read: "This is music for the stations before and after sleep. Headphones and darkness recommended." When Ulver released this downbeat, jazz-inflected electronic odyssey in 2000, it shocked metalheads and set a precedent for the musical experimentation to come. The record assembles glitchy trip-hop beats, noisy industrial flourishes, and mournful saxophone into a haunting and melancholy nocturnal soundscape. Though much of Perdition City is instrumental, its sparse lyrics paint a somber portrait of wandering a desolate half-empty city alone on a cold rainy night at some unspecified point in the cyberpunk future where everything has gotten just a bit worse, with only the crackle of untuned radios for company.
The long-form downtempo compositions that make up the first part of the record form a focused, cohesive mini-suite, followed by a more industrial-influenced second half rich with atmospheric ambient interludes. The influence of contemporary electronic artists with a focus on moody ambiance, such as Portishead and Boards of Canada, is undeniable, but Ulver also bring a focused intensity that's entirely their own. Throughout the album, Ulver carefully juxtapose the heavier, noisier elements with moments of true beauty, capturing always-resonant themes of alienation, loneliness, and longing. Perdition City remains one of the most captivating works in Ulver's discography, both because it signaled a shift towards experimentation and for its own inherent majesty.
On 2007's Shadows of the Sun, Ulver continued developing the somber, contemplative electronic sound they introduced on Perdition City, but with a new approach to arrangement and songwriting. In a departure from Perdition City's woozy trip-hop beats, Shadows of the Sun often eschews percussion altogether, instead focusing on the rhythms and textures of intricate, electronic-tinged instrumentation. Featuring the Oslo Session String Quartet, theremin contributed by Pamelia Kurstin, trumpet by Mathias Eick, and "supplemental shimmer" by guitarist Christian Fennesz, this album is a delicate wonderland of graceful desolation, like a sunrise after a long and troubled night.
With its ambient-influenced songs, Shadows of the Sun might easily appeal to fans of David Sylvian and Talk Talk, but its experimentation ensures that this album stands apart from such touchstones. A jagged sheet of noisy distortion might appear to suddenly split a song's soundscape in two, while an unexpected aesthetic turn, such as the Black Sabbath cover "Solitude," keeps the listener wondering what Ulver has in store next. This is music that revels in the smallest moments and decisions, from the whisper of a viola to the precise instant in which a wave of noise is deployed and the way those tiny moments shape our experience as a whole.
Commissioned by the Tromsø KulturHus and recorded in collaboration with the Tromsø Chamber Orchestra, Messe I​.​X​-​VI​.​X seamlessly melds intricate chamber music arrangements with drums, guitar, and electronics, building a minimalist classical work that treasures silence as much as sound. Burbling synthesizers twinkle across neoclassical soundscapes like stars in a dark sky, and intricate string arrangements nestle alongside electric guitars. Its mood varies from contemplative to haunting to playful, shifting through unexpected territory with confidence.
After years in each other's orbits, Ulver and the legendary drone metal band Sunn O))) finally melded their musical approaches into a set of free improvisation pieces that showcase what makes both bands so revered on 2014's Terrestrials. Ulver's poignant melodies are a natural match for Sunn O)))'s moody atmospherics, and the addition of strings and trumpet lift these droning explorations out of the gloom. This is gentler, more contemplative music than most drone metal, and its cavernous sonic environment seems calculated to uplift the listener rather than crush them under waves of heavy distortion. Across these three pieces, the two bands craft a soundscape shaded in subtle dissonances and enlivened by moments of instrumental beauty, like dark clouds parting to reveal a ray of sunlight.
In 2017, Ulver decided it was time to dance. The Assassination of Julius Caesar is a deliriously groovy, synthpop concept album about the decadence and fall of Rome and its long history of brutality that stretches from the classical era to the modern day. It differs from Ulver's previous breaks in tradition in its unashamed celebration of the dancefloor, which is re-invented as a site of pessimistic historical analysis critiquing the founding myths of Western civilization and exposing its violent underbelly. It's downright thrilling to hear Ulver remake synthpop in their own image, combining bouncy electronic instrumentation and blissful pop hooks with baroque flourishes of weirdness.
"Rolling Stone," the album's epic centerpiece, might just be Ulver's crowning achievement. Over nearly ten minutes, it develops from a piece of modern-day new wave, complete with sing-along backing vocals and a bassline so crunchy it must be heard to be believed, to an outburst of electronic noise and shrieking saxophone performed by the great Nik Turner, best known for his work with Hawkwind. Other highlights, such as the shimmering ballad "So Falls the World" or the dark, atmospheric closing track, display a full mastery of synthpop's sonic palette. Ulver's proud embrace of the genre may have come as a shock, but The Assassination of Julius Caesar proved that these iconoclasts were still growing and evolving with each new album.
Originally presented in 2018 as a two-night live performance enhanced by laser visuals at a storied Norwegian art museum and venue, Hexahedron is a transporting hour of industrial-tinged progressive electronic and ambient drone flecked with moments of spaced-out new wave. "Enter the Void," the shimmering organ-focused drone opener, is a textual meditation indebted to classic electronic and krautrock artists such as Tangerine Dream, but the album soon takes off into further-ranging territory as it evolves through a series of expansive grooves. Ulver even manage to work in a synthpop-influenced piece in the form of "A Fearful Symmetry," a return to their longstanding lyrical preoccupation with William Blake that features a masterful build of noisy tension before exploding into a pure pop confection. Ulver's musical practice has grown to increasingly encompass live sound and improvisation over the last decade or so, and Hexahedron is a gleaming document of one of their most recent incarnations in this mode.
Ulver celebrated Halloween in 2021 with the surprise release of this delightful piece of spooky kitsch. Inspired by their earlier performance of a live score to John Carpenter's classic slasher Halloween (1981), this album, labeled a "Pandemic Pastime Project," interpolates the film's iconic soundtrack with Ulver's own synthwave compositions and also features mixing from the underground horror synth star Carpenter Brut. It's a playful album that pays tribute to an increasingly significant influence on Ulver's sound, acknowledging the origins of the synthwave sound they've adopted while also winking at the band's own fondness for darkness.
Halloween music has a rich history, from its campy 1960s heyday to its recent electronic revival. Though few fans would have predicted Ulver's sudden outburst of holiday cheer, their entry into the Halloween music tradition feels in some ways like an inevitable step forward in the band's constant evolution. Equal parts atmospheric and nostalgic, Scary Muzak is a perfect album to listen to on the spookiest night of the year.